Please find a summary of articles published this week on Healthy Lifestyles Living Blog
Monday 20th February 2012 What is all the missing pieces? by Loddy Micucci
All the missing pieces is about being coached and guided to find your passion. Once you are comfortable with this you are guided, mentored and supported to develop a powerful blog in your own niche market.
Tuesday 21st February 2012 Take Responsibility for Your Life and Work by Larry Lewis
By taking responsibility for your life and work you will be taking responsibility for your own success and will see things lifting off in a big way. Believe me because maybe this one change made all the difference to my life.
Wednesday 22nd February 2012 Where Do We Eat? by Mary Hudak-Collins
Over the last several years, I have watched the interest in gluten free foods increase. So, where do we eat? Whether it is because yourself or family member has been diagnosed with Celiac, or an individual has decided for personal reasons to go gluten-free, the Gluten-free diet trend has been on the rise.
Thursday 23rd February 2012 Networking Not Likely! by Judy Murphy
I had some setbacks because of yet another home based business. This one seemed to be the last straw. Struggled for eleven years of my life believing what I was told, about traditional network business. I finally started making money, a little better than breaking even. The rug got pulled out from under me; and money that I planned on having just wasn't there anymore.
Friday 24th February 2012 Having Fun Together Blogging by Larry Lewis
I determined the best way forward was to create a team blog. A team blog has multiple authors. There are a lot of benefits of having multiple contributors, such as having a variety of voices, more content and a different perspective. We each have our strength subjects and therefore knowledge that will complement each other.
Saturday 25th February 2012 Find a Way To Serve by Larry Lewis
Success comes to those who find it natural to serve others. Ever since I turned not just my personal focus, but also that of my business to helping and supporting others over and above anything else, my business just keeps growing and growing. I feel unstoppable! Life is great!
Saturday 25th February 2012 Break the chains of your programming by Loddy Micucci
Break the chains of your programming if you can! Lets face it you are being programmed? What does programming look like for you? Is it peer pressure, your work colleagues, your friends, the media, your family, teachers and the list could go on and on. Your mind is continually bombarded by the feelings and thoughts that you have allowed to occupy that precious space in your head.
Score Your Way To Good Health - With Our Healthy Lifestyle Plan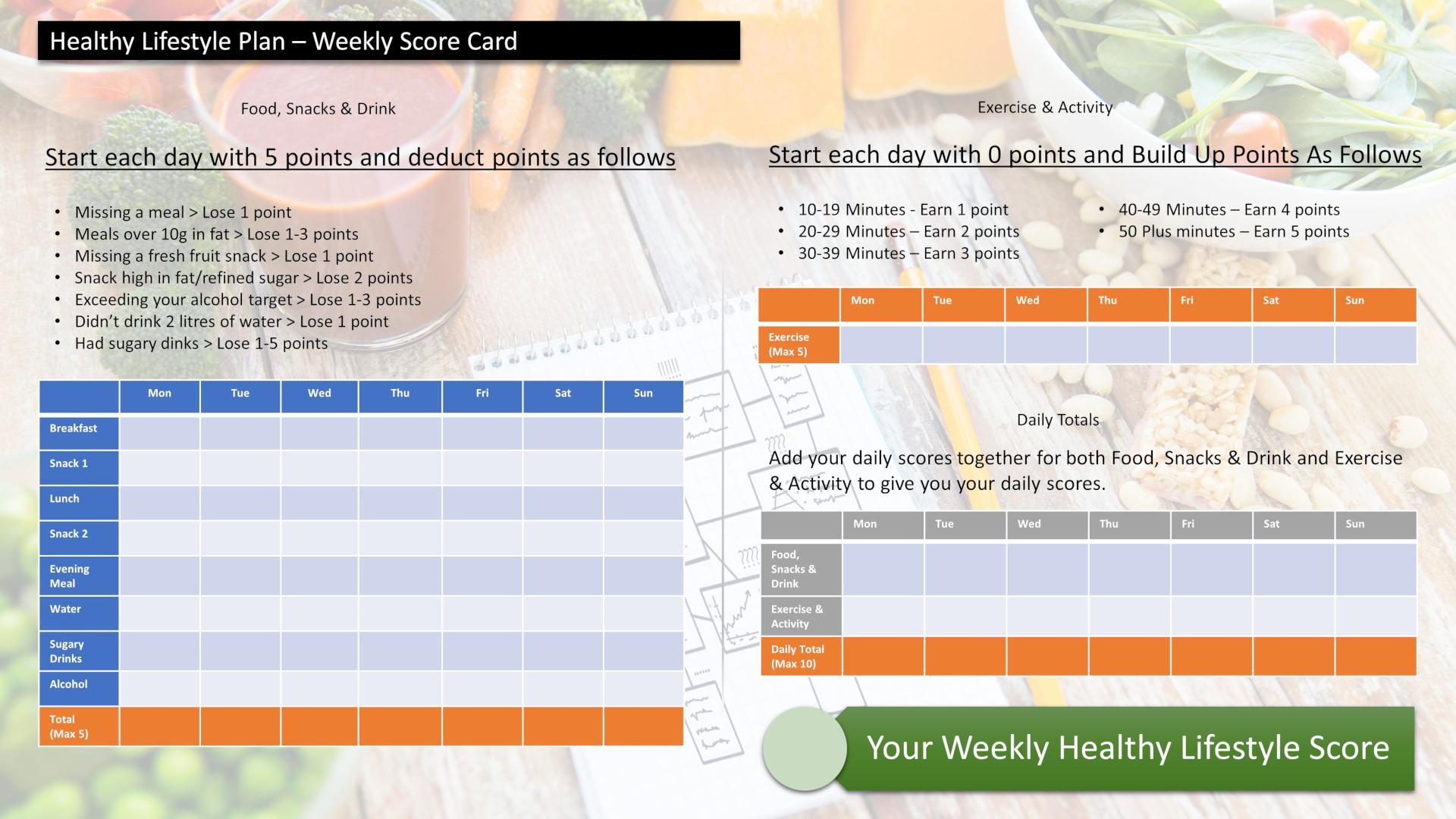 Score your way to good health with our healthy lifestyle plan and it's unique 70 point weekly scorecard!