Break the chains of your programming
Break the chains of your programming if you can! Lets face it you are being programmed?  What does programming look like for you? Is it peer pressure, your work colleagues, your friends, the media, your family, teachers and the list could go on and on. Your mind is continually bombarded by the feelings and thoughts that you have allowed to occupy that precious space in your head.
What are you thinking?
Well if you don't know then you are not in control of what enters your subconscious mind. This can lead to playing Russian Roulette, who knows what damage can be endured by what you allow to enter in?
You can close the windows and darken your room, and you can open the windows and let light in. It is a matter of choice. Your mind is your room. Do you darken it or do you fill it with light? Remez Sasson Quotes
So what do you choose the light or the darkness?
Not knowing or being aware that you can open the room of your mind is succumbing to the darkness. You can take control and open the door if you wish.
Break the chains of your programming
Break the chains of your programming to create the light for yourself. I am currently teaching a young adult to come to grips with his inability to read and write at the level he chooses to be at. He suffers from dyslexia a condition that inhibits him from coming to grips with the inconsistencies of the English language. His right brain dominance goes into melt down when things are not always compacted into a nice simple pattern.  The confusion throws him into negative and angry emotions. All his life he has developed avoidance tactics to mask this learning difficulties. His creativity has found ways to become highly articulate  and somehow avoid all situations that require him to read or write in front of people. He has been so good at it that very few people know he is dyslexic.
I see and feel his pain
Break the chains of your programming is a phrase he needs to pose to himself. This is his reality because he has programmed himself to feel anxiety, fear, tension, regret and many other negative feelings every time he has been required to express himself through reading or writing. He recalls doing it from a very young age. He tells a story of running a reading tutor a merry dance as he convinced him that kicking the soccer ball around was definitely more fun than reading books. This began at the age of five. Already he was keenly aware for the need to disguise his learning issues.  He goes on to explain how he would manipulate all of his friends to do things that required physical prowess rather than any intellectual ability through reading and writing.
The schools he went to were none the wiser or did no know how to address the issues.
Break the chains of your programming is easier when you can just move away from the people doing the programming. How can you run away from yourself? Everyday in many different ways you would be confronted with the thoughts of don't catch me out I don't want to show you that I can't read or write the way you think I can. It would be like having a mask on so that everybody could not see the face behind the mask. What would living all your life like this be like?. Can you imagine the constant negative programming that would be flooding your brain every minute of the day?
Courage to break the chains of your programming
As we all know the biggest part of dealing with this past programming is to face it and then leave it in the past to gather dust. I applaud this young person for having the courage to do this. I am buoyed by the trust and persistence shown to deal with this issues. I am confident as we approach the testing delicate partnership of moving forward and leaving the past programming behind. That we can learn to create a new now one that evolves into making the most of every minute. It will impacts our lives so passionately and positively as we explore dealing with dyslexia.
Score Your Way To Good Health - With Our Healthy Lifestyle Plan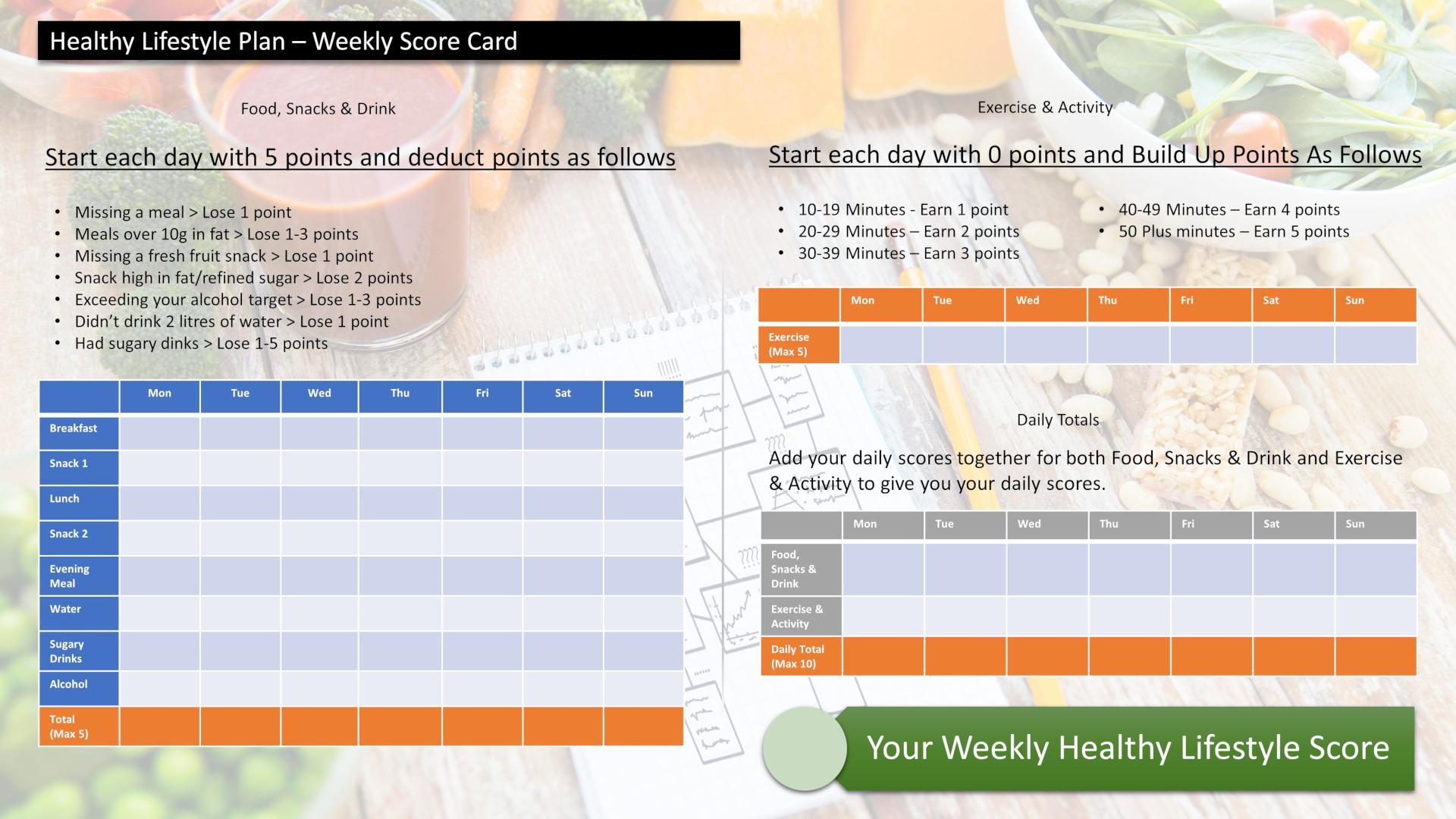 Score your way to good health with our healthy lifestyle plan and it's unique 70 point weekly scorecard!