It takes a lot for me to put my complete trust in to another person. So to trust Neil with my bread and butter, my sole income, was oh so scary. Yet that's what I did, and past him the key to my beloved Healthy Lifestyles Living Blog, and in truth I've never looked back. We work brilliantly together. We may not be soul mates, but we make awesome business partners. I'm the perfect front man, who loves to blog, speak in webinars and interact in social network communities, while Neil performs his miracles in the background, with his expertise in both WordPress and with all things SEO. It's been an awesome experience. We've really hit it off. We have tons of fun working together and we do it well. And things are just getting bigger and better all the time.
We seem to bring the best out in each other. When we take time away from our workstations, walk away from our laptops and just talk over a coffee we seem to just simply inspire each other, generating a whole lot of new ideas. We have had several of those AHA moments! One light bulb moment seemed to inspire another. It's opened a whole new world for us both and for the life of me, I can't figure out where it's going to stop.
We share the desire to make everything we do the best it can be. We aren't working just to make money, we are working to make the difference for those whose lives we come into contact with. So we are constantly trying to make improvements and make ourselves better at what we do. Mind you we aren't too bad at it already.
I can't even imagine where we will end up by the end of 2012, but I know we have had an extremely exciting time already in the first two months.
Blogging has evolved to new standards of professionalism. And no matter how strong our blog is we have to make sure we take it a few steps up.
One of the most important factor in creating a successful blog is to provide value to your readers for them to want to read your blog and come back for more. What is providing value? It´s the content you create. The service you provide. For me it has been writing articles with practical tips that people can use to improve their life. The more value I create the more people will notice my site, recommend it to friends and link to it.
One thing we have come to realise is the importance of teamwork. My desire here at healthy lifestyles living is to create a personal development resource to provide a place where normal people can be empowered by the information that we provide. As a blogger I do my best, blogging everyday, 7 days a week, and I am proud of the blog that I have created. But I wanted it to be able to achieve even more and make an even bigger difference.
I determined the best way forward was to create a team blog. A team blog has multiple authors. There are a lot of benefits of having multiple contributors, such as having a variety of voices, more content and a different perspective. We each have our strength subjects and therefore knowledge that will complement each other.
By definition, a 'team' is a group of people working together to a common goal. And an important element of team work is demonstrated by this well known saying:
"There is no 'I' in Team"
The management mnemonic frequently quoted is:
T ogether
E ach
A chieves
M ore
The togetherness and synergy of the right group of individuals can power our blog to a completely new level. Putting together the individual strengths, skills and experiences of every one of those in the right team, can produce extraordinary results. It will allow individuals to focus on their strengths, ensuring the best performance of the team. This values the individuals and uses the 'I' factor in a constructive and positive way.
The truth is larger goals can definitely be accomplished by a team far more than any one person could possibly achieve alone. The list of good reasons for pulling together a dynamic team is endless. I have been unbelievably fortunate in being able to blend the most diverse but perfect mix of people to contribute to this blog. Each has their own unique talents and individual voices which can only enhance this my beloved blog.
There's a point as a blogger when you have to ask, "What more can I do to grow this by myself?" The answer you get back may show you that it may be time to sacrifice your ego for the sake of helping your blog really grow. This is what I have done, and know the end result will be that I will have a blog with a far greater reach and that will make an amazing impact.
There is little more rewarding than working on a team with a diverse spectrum of individuals that have somehow managed to fit together seamlessly, and in do so, created something great. And that is what I expect us to be doing here at Healthy Lifestyles Living.
If any of you are trying to build any form of online business I want to make you think of one thing. leverage the power of a Mastermind. Don't try to be a lone ranger. Bring together a team who follow you, share your mission and support you. A group of people in return you would support and together you will help each other to get where you want to be.
Score Your Way To Good Health - With Our Healthy Lifestyle Plan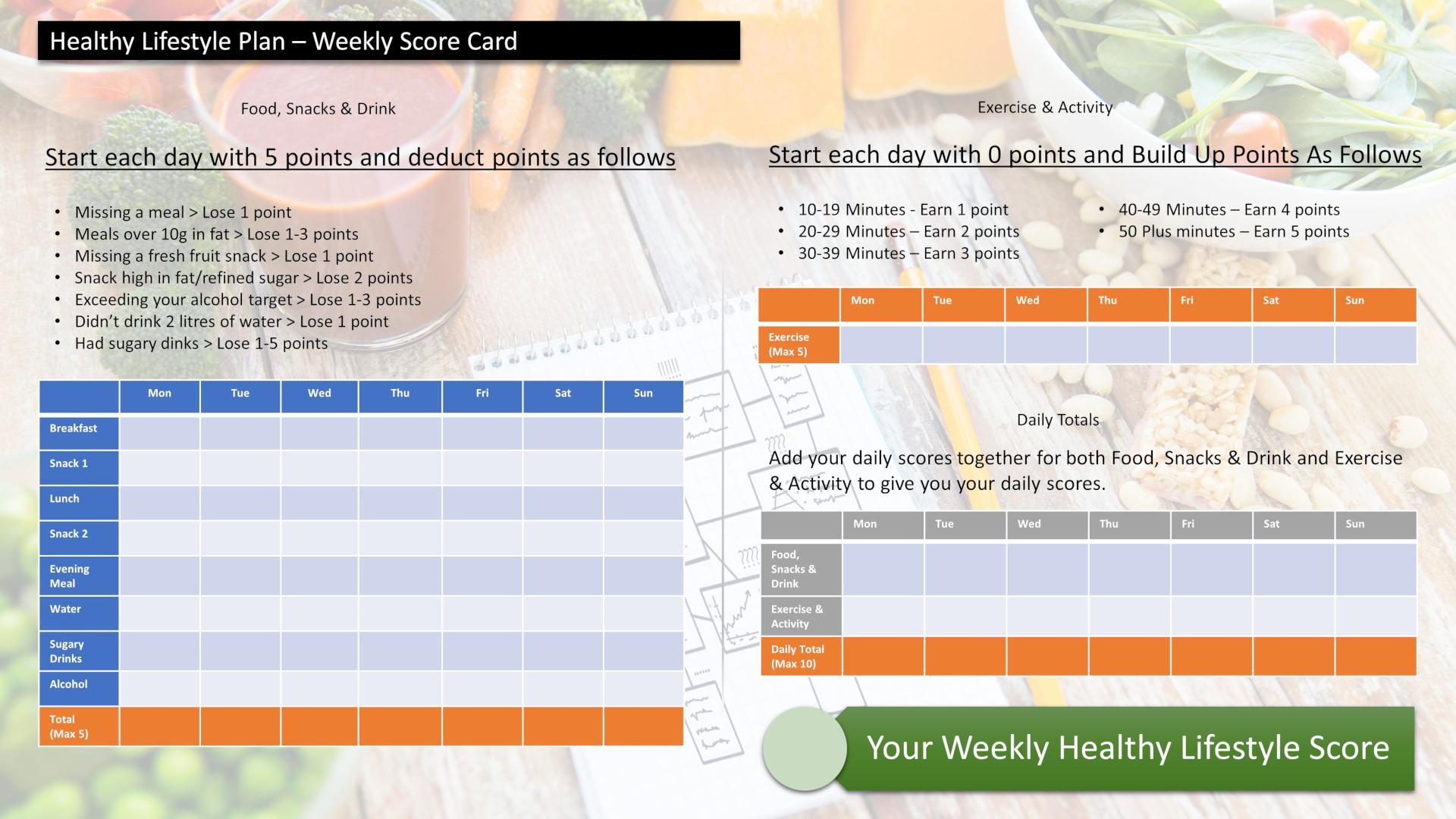 Score your way to good health with our healthy lifestyle plan and it's unique 70 point weekly scorecard!