It's a busy life for most of us. And keeping ourselves healthy is all too rarely near the top of our list of 'things to do'. Convenience often wins – we are all so busy that convenience is at a premium.
It is so important to make 'keeping healthy' a part of our day-to-day living habits. Your health depends on what you do throughout the day, everyday. A healthy lifestyle is absolutely vital.
Eating Healthily – the right nutrition is necessary to live a healthy lifestyle. Your body requires a well balanced diet every day in order to maintain the adequate amounts of vitamins, nutrients and minerals needed to maintain a healthy body.
"To eat is a necessity, but to eat intelligently is an art." ~ La Rochefoucauld
An Active lifestyle – you will need to include fitness as part of your life. Physical fitness keeps your weight in check, helps you sleep better at night, prevents heart attacks and strokes and other health problems, and generally prolongs your life. Basically there are so many benefits of exercising that you really can't live a full life without it.
"Those who think they have not time for bodily exercise will sooner or later have to find time for illness" ~ Edward Stanley
Stress Management – Emotional stress plays an important role in many illnesses, both directly and indirectly. People are also more likely to smoke, overeat, drink too much, work too hard, argue with others and so on, when they are feeling stressed. Thus, stress management is an important part of your new lifestyle, and meditation and relaxation techniques are truly a key part of living a healthy lifestyle.
"Diseases of the soul are more dangerous and more numerous than those of the body" ~ Cicero
Make friends with yourself – Loving yourself is a key to a healthy, happy lifestyle. Self-esteem is all about how much people value themselves; the pride they feel in themselves, and how worthwhile they feel. Self-esteem is important because feeling good about yourself can affect how you act.
The power of love to change bodies is legendary, built into folklore, common sense, and everyday experience. Love moves the flesh, it pushes matter around….
Throughout history, "tender loving care" has uniformly been recognized as a valuable element in healing. ~ Larry Dossey
Powering up your Mind and Body – programme your mind for total success. Develop a vision, a compelling future that excites and inspires you, and focus on it daily. Don't let anything knock you of course, or make you question its possibility. I promise you, by taking control of your thoughts, you will improve your life in a big way.
"In minds crammed with thoughts, organs clogged with toxins, and bodies stiffened with neglect, there is just no space for anything else" ~ Alison Rose Levy
Life Balance – If you want to achieve a healthy lifestyle you must take steps to ensure you maintain a certain level of balance… spiritually, physically, emotionally, socially, mentally and financially. You need to balance work and family, and all the other areas of your life without spreading yourself too thin and having a guilt trip when you do one thing, but think you should be doing another. All of the key areas of our lives overlap and interlink, effecting each other. Unless we create for ourselves satisfaction in each and every part of our life, we can never truly be fulfilled, or live a contented, happy and healthy life.
"No success in public life can compensate for failure in the home." ~ Benjamin Disraeli
Score Your Way To Good Health - With Our Healthy Lifestyle Plan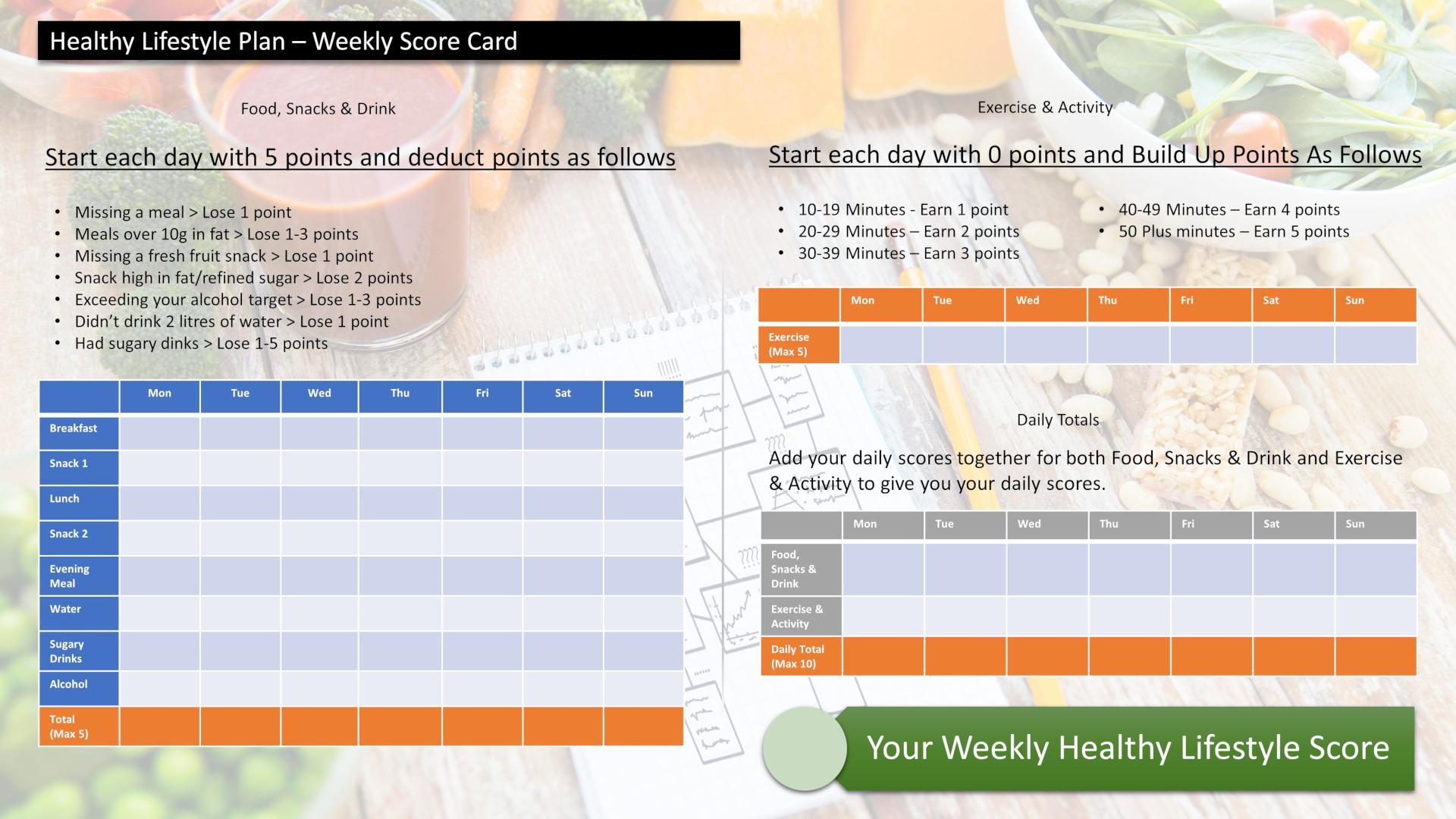 Score your way to good health with our healthy lifestyle plan and it's unique 70 point weekly scorecard!