Yesterday I wrote an article "What is a Personal Development Plan (PDP)?" Personal development means being able to understand that you are 100% responsible for your life, your finances, your relationships, your habits, your emotions, your career basically everything in your life.
It is not a quick fix, it will not happen overnight. If done on a consistent basis, you will find your life changing and becoming what you only dreamed of.
A Personal Development Plan will help you live life more consciously and give you the courage to pursue anything you desire.
Personal Development Planning (PDP) is a process that enables individuals to identify, manage and develop their skills, experience and learning. It is a dynamic process that helps individuals clarify and achieve personal, education and career aims. The Personal Development Plan, or PDP, is your roadmap allowing you to think critically about your own development and take appropriate action to achieve goals.
Here is an example of a Personal Development Plan for you to download
If you want to change your life and make your dreams a reality, you need a good personal development plan.
If you don't know the destination, you can't plan a travel route. You always have the opportunity to choose the destination, so you know where you go, and every detail of each single aspect of your life. You have the choice on how you want to live. Don't let your life pass by uncontrolled. Plan it! To be successful you need a definite life plan or a plan of your life change.
Planning your life is crucial for living a successful life. Make a list of what you want in life. What are your goals? What do you want to achieve. The short term plan has goals you want to achieve in the coming 6 to 12 months. In the medium term plan you set goals you want to achieve in the coming 1 to 5 years. The long term plan has goals you want to achieve in 5 to 10 years or longer.
If you want to profoundly change your life, start with a personal development plan. This is the moment where you may say: "I want to change everything about myself and my life." Then get into details and determine what and how exactly you want to change yourself and your life and plan your life change.
Let's take a look at the steps you need to take to create your personal development plan.
Step 1: Where Am I Now?
First determine what you like and what you dislike about your life. What you like is the basis on which you will build up your future. What you dislike will become part of the life change plan. Determine the present state of your life.
Step 2: Broad Ojective: Where Am I Going Next?
Determine what you want and what you await from your life and what you want to change in your life.
This is the most important step because you can only reach your dreams when you know what your dreams are!
Write as much or as little as you need to, to build a compelling, ideal picture of how you would like each area of your life to be. I use these 8 areas:
1. Career/Business
2. Friends and Family
3. Fun, Recreation and Entertainment
4. Health and Fitness
5. Leadership Skills
6. Physical Environment
7. Savings and Investing
8. Significant Other
Step 3: Self Appraisal
Taking stock of where you are right now in your life is not an easy undertaking, but it is important to get a realistic picture of your starting point in the personal development exercise. It involves taking a closer look at who you are by asking some searching questions about how you have arrived at this point in your personal life, work and education. To meet set objectives, undertake appraisal of yourself and overcome any potential barriers to meeting your goals, you have to be able to make a realistic assessment of your skills, qualities and the contexts in which you live, learn and work Undertake an appraisal of their existing skills, knowledge, qualities and contexts.
Step 4: Setting Personal Objectives
Think about your personal objectives and take each of these personal objectives and turn these into more specific actions. These actions should be SMART (specific, measurable, achievable, realistic and timebound).
Step 5: Action Planning
Targets should provide clear guidelines for action and be built into an action plan. It's all too easy to have good intentions, but we often find it more difficult to actually put our ideas and plans into practice and make real progress. Action planning is a way of making objectives clear and identifying steps we need to take in order to reach our goals.
Step 6: Implementing An Action Plan
Now it's time to put your life change plan into action. Start to make the changes you have planned step by step.
Step 7: Review And Evaluation
You want to keep in control of the progress of your life change. Look to see which of the points of the plan you have realized, what you have changed. How did you go about this? Did thinking about SMART objectives help you to create a practical plan? How could you use similar planning processes in the future? Did it go to plan or did you have to amend it as you went along? What things have you found most useful going through the PDP process/cycle? What things would you do differently if you started the cycle again? What are the main skills, qualities, approaches and objectives you wish to develop further?
Let me introduce you to the Single Page Plan – a simple yet powerful personal development planning system. So what is the Single Page Plan? It's a process, one that takes you through simple steps which will bring you clarity to how life is for you now, let you determine where you want life to go, getting you to ask yourself why you want this outcome, then how to achieve it. You will be placing all this the key personal information on one sheet of paper which will provide you with the focus and motivation to keep taking action and making progress. Once you have learnt it and used it, I assure you from now on every year you will create your new single page plan.
Having downloaded the example of a personal development plan pdf you may well want to now complete your very own plan. To help you I have written a book titled Goal Setting Made Easy With The Single page Plan that takes you through the step to step instructions of how to do it. You can get it in Amazon.
Score Your Way To Good Health - With Our Healthy Lifestyle Plan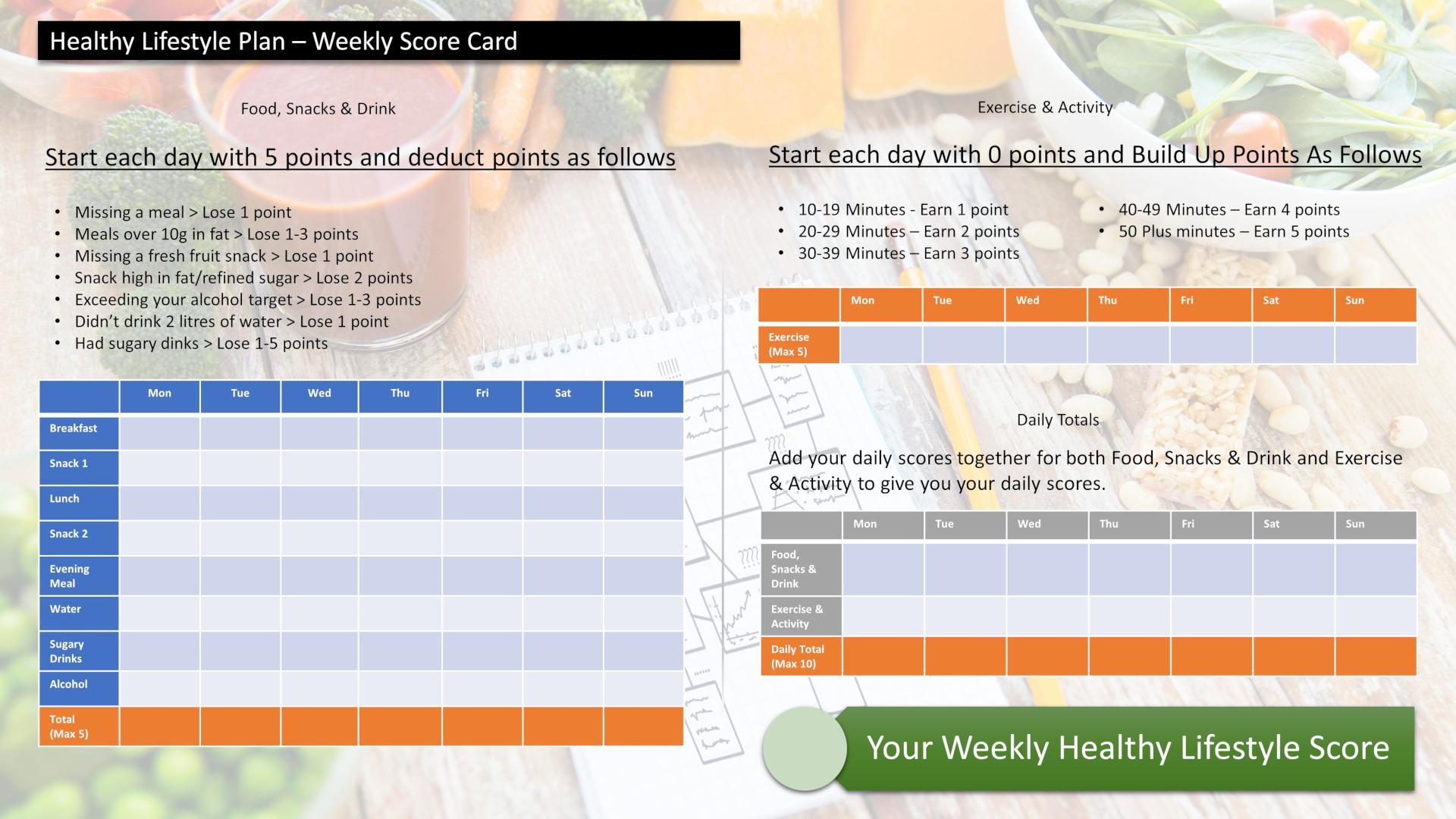 Score your way to good health with our healthy lifestyle plan and it's unique 70 point weekly scorecard!