Success comes to those who find it natural to serve others. Ever since I turned not just my personal focus, but also that of my business to helping and supporting others over and above anything else, my business just keeps growing and growing. I feel unstoppable! Life is great!
"You can get everything in life you want if you will just help enough other people get what they want." Zig Ziglar,
I can honestly say that a great part of my success, especially my more recent success, is a direct result of helping people get what they want. It's part of what I do. I enjoy helping other people. To me it's the only way of being. And it's the right way. It makes you feel good, and helps everybody you touch.
Find your calling to help others and I assure you that you will feel fantastic doing it. Once you find it, throw yourself into it. It will empower you, and everything around you will improve dramatically.
Develop the habit of serving because you genuinely want to, follow through, and you'll be amazed at the opportunities that come into your life. This cannot be something that is forced. Neither should it be in the hope of getting something out of it, a payment in return.
You should want to serve others , be caring, even go that extra mile because you genuinely want to without expecting anything in return. Just do it, never thinking "What am I going to get out of this?"
When your efforts are focused on giving rather than getting, I assure you that you will eventually receive back more than you have given. The world responds to givers more positively than to takers. This is the way things happen.
"In addition to the true inner joy that is created by serving others, it is a universal principle that you cannot serve others without it coming back multiplied to yourself".
I have a deep desire within me to be of service to others, I am driven by giving to as many people as I can, as much as I can.
I have met a number of special people through my blog. A number of these blogging friends contacted me when they noticed that there was a break in my blog posts. They felt that there must've been something wrong in my world, and they were right. The kindness that these friends showed me was touching. Granted, these are people I have never met in person, and they went out of their way to send their best wishes.
It is one of the beautiful compensations of this life that no man can sincerely try to help another without helping himself. Ralph Waldo Emerson
It's not enough to just ask what you can do to help. Make sure you follow through on it. Be someone people can depend upon. Don't just talk the talk, but walk the walk. See how much better your life will be by you being willing to help others. Knowing that you are helping others at the same time. It's a great way to live.
When we focus on adding value to other people's lives, contributing in a worthwhile way through everything we do, can you imagine how much a better place this would be for all of us?
I know that my passion for personal development is one of my greatest powers, and one of the things I have most important to share. They say passion is contagious, so if I can inspire another through these passions of mine, and provide them with the desire to follow a path of personal development I can see nothing more fitting for my responsibilities.
This blog of mine is where I love to share my knowledge and experience of Personal Development adding value to my readers life. Becoming the best you can be is a life long journey. I will continue serving you in every way I can.
Now get out there and start serving others, and bring value to this world of ours.
"You will find, as you look back on your life, that the moments that stand out are the moments when you have done things for others." – Henry Drummond
Score Your Way To Good Health - With Our Healthy Lifestyle Plan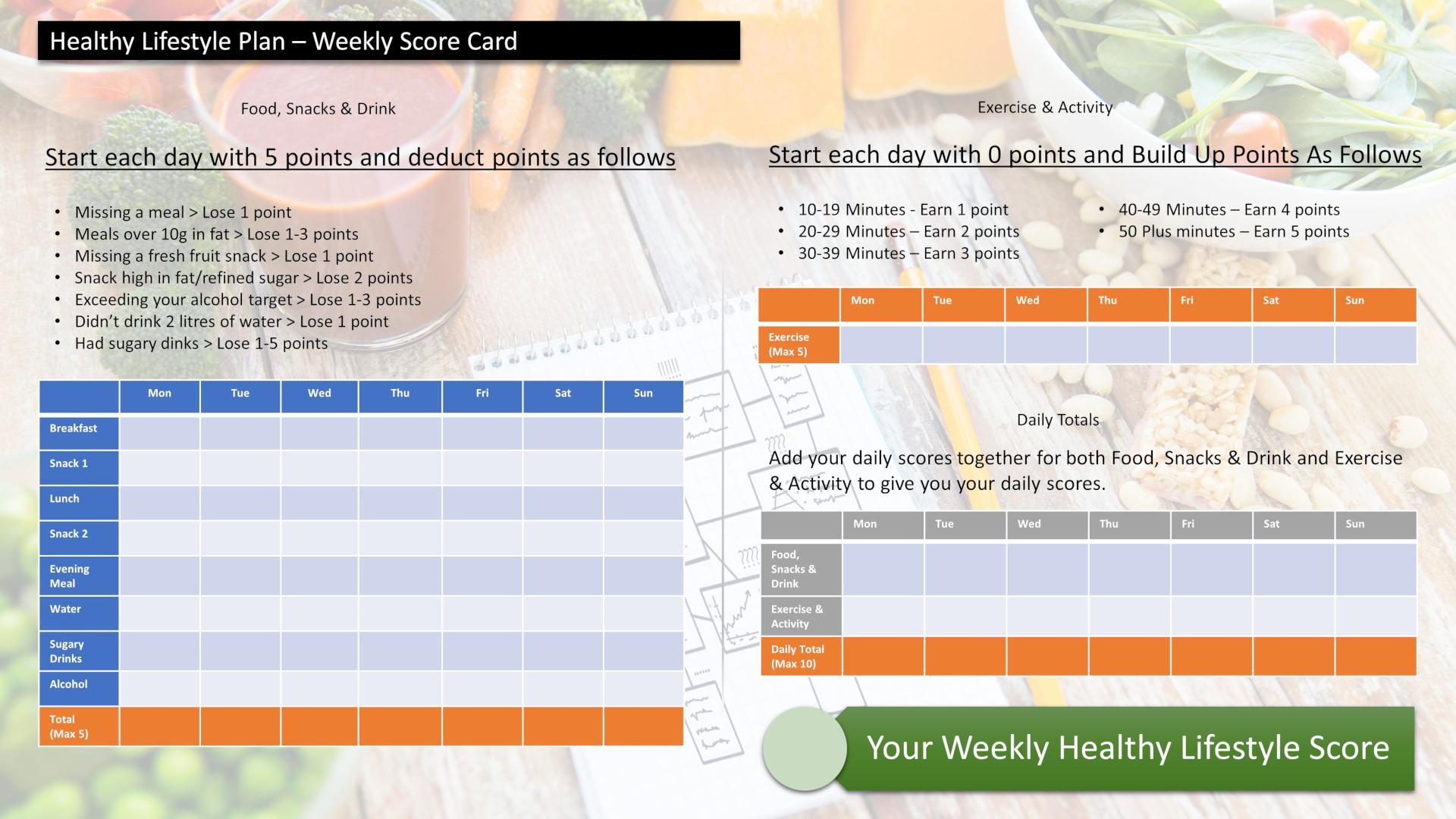 Score your way to good health with our healthy lifestyle plan and it's unique 70 point weekly scorecard!