Please find a summary of articles published this week on Healthy Lifestyles Living Blog.
Monday 23rd January 2012 How Can We Serve You In The Support Group?
The support group concept is designed to serve you according to your needs. We want to provide you with real value for investing your valuable time with us in the Healthy Lifestyle support group.
Tuesday 24th January 2012 Dealing with the Weeds in your Inner Garden
Tending the garden of the mind is one of the most under-utilized strategies we have at our disposal to make positive changes in our lives. Weeds in the garden of the mind are the thoughts, beliefs and perceptions that when left unattended choke the life of the ideas and thoughts you want to grow.
Wednesday 25th January 2012 No More 9 to 5 Instead Do Work You Love
Since starting The All The Missing Pieces Course I have challenged individuals to find their life passion. What I know is a majority of people have a passion. They just don't know how to find it or where to start making it the hub of their life. It's never too early or too late to discover your passions and act on them but first determine what you're passionate about. When you understand your own passions a whole new world of possibilities opens up.
Thursday 26th January 2012 The Lifestyle of an Internet Entrepreneur
So do you dream about being a lifestyle entrepreneurs and running a business online?
It's about figuring out what's important and fulfilling to you in both your life and work. Finding happiness doing what you love to do. Can you imagine waking up every morning and going to work doing something that you absolutely love. How do you think you would feel waking up, probably much happier than you are right now.
Friday 27th January 2012 Your Passion For Success
When choosing your passions, think about what lights your fire right now. It's your thought of what your life stands for and the contribution you're wanting to make, whether he be a contribution to yourself personally or too others, maybe even to society perhaps the planet. Your passion is what excites you, what you love doing. So start doing it.
Saturday 28th January 2012 What Is Your Passion In Life
Our passions are what give life its juice. It is time you discovered your passion. Today we're going to investigate how to identify your life's passion so that ultimately, you can build a happy and fulfilling life through it. Everyone has a passion, it's just a matter of whether you have allowed yourself to find it, live it, and follow it.
Score Your Way To Good Health - With Our Healthy Lifestyle Plan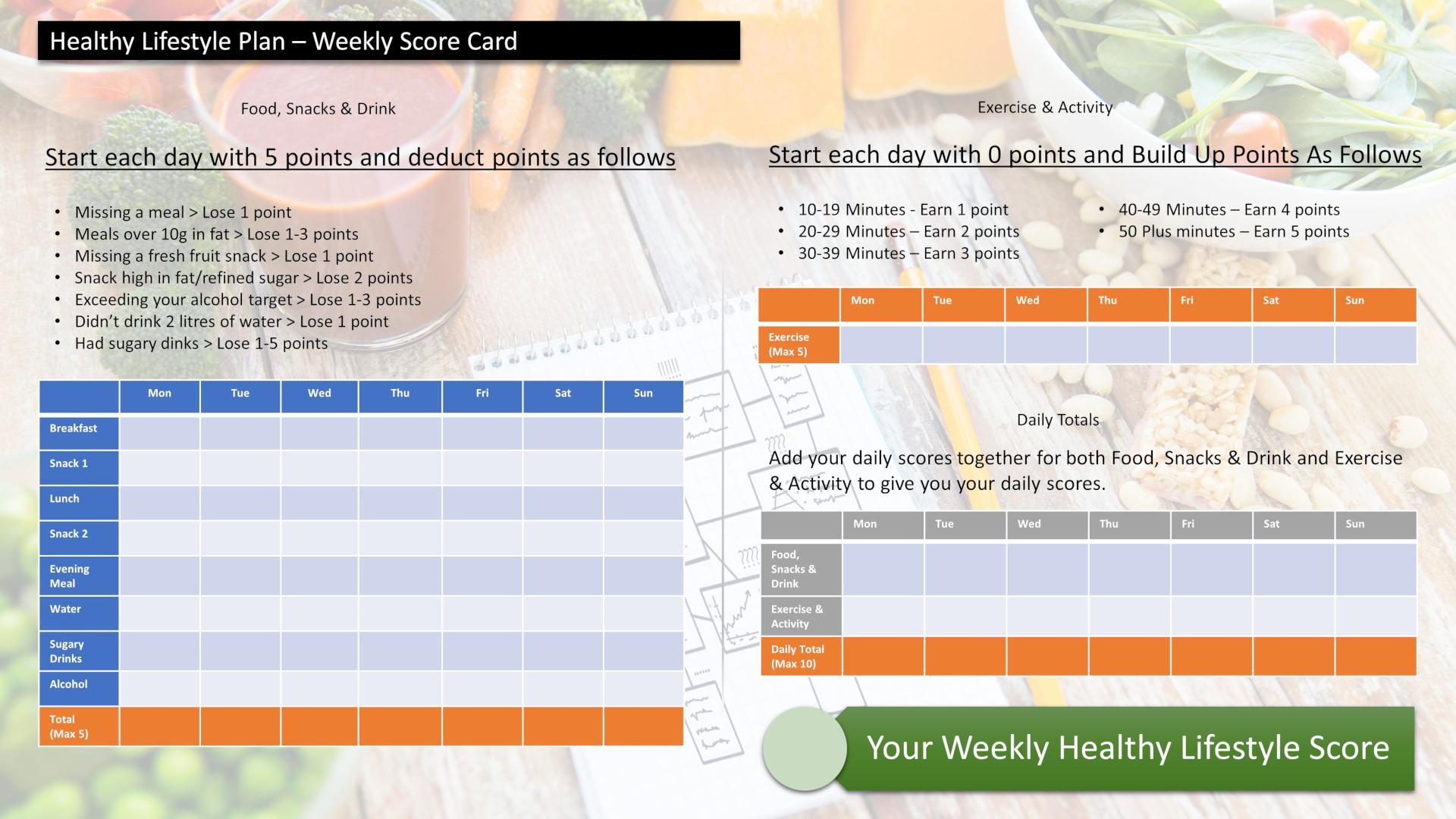 Score your way to good health with our healthy lifestyle plan and it's unique 70 point weekly scorecard!