I am living the lifestyle of an internet entrepreneur. Are YOU looking for a way to create for yourself and live your ultimate lifestyle. A way to live your life, free of long days at work, no longer struggling how to get through the next week until you receive your next salary payment, being happy instead of living by your nerves.
Do you see your life being more than it is right now? Do you want the lifestyle where you have the time and income to truly enjoy the ones you love most in your life, doing the things you want to do? Is that an impossible dream, or an opportunity awaiting you?
I have always believed that I am the architect of my life. It is up to me to create my own opportunities and make things happen. When you have the confidence in yourself, and a strong motivation and desire for something, you truly can make your dreams come true. I know with absolute certainty my dreams are all possible, and they are all within my reach, getting closer to me day by day.
Everyone has a purpose in life… a unique gift or special talent to give to others. And when we blend this unique talent with service to others, we experience the ecstasy and exultation of our own spirit, which is the ultimate goal of goals. ~ Chopra
Today, people from all parts of the world are launching all kinds of entrepreneurial ventures online. And many like me are doing it around subjects they love. My belief is that when you build your life around your passions you have infinite potential to create your dream life. That is exactly what I have done, by building my life and business around a lifestyle entrepreneur model. Anyone who has followed my blog knows I love personal development and I love blogging. I am passionate about them both. I am equally passionate, in fact I love nothing more than helping another human being finding their own passion and helping them turn this into their very own business model.
Whatever you dream of, if every day you work towards it with focus & excitement… then, something magical happens. Soon enough, you realize that you've created the thing you were dreaming of only a few months ago. Think about it, if you're ever going to turn anything into a sure way success, it's going to be something you love doing, that you love talking about. So surely it makes sense to you, to build your business around this one thing you are most passionate about.
So taking my passions I now find myself as a lifestyle entrepreneur. The name "lifestyle entrepreneur" is given to anyone who starts a business not for financial gains, but for lifestyle rewards. Where you create a business with the purpose of altering your personal lifestyle not just for the sole purpose of making profits. A lifestyle entrepreneur focuses more on the life rewards provided to people that enjoy and have a passion for what they are doing.
So do you dream about being a lifestyle entrepreneurs and running a business online?
It's about figuring out what's important and fulfilling to you in both your life and work. Finding happiness doing what you love to do. Can you imagine waking up every morning and going to work doing something that you absolutely love. How do you think you would feel waking up, probably much happier than you are right now.
Join our FREE SUPPORT GROUP. My promise to you, is I'll help you find your passion and show you how to convert it to a business that can change your entire world.
Let me assure you as a Lifestyle entrepreneurs that there is nothing better than having a passion you can turn into profits.
Buddha's teaching tell you that "your work is to discover your work, and then with all your heart, to give yourself to it".
The internet offers such a wonderful opportunity. The possibilities are endless. No brick and mortar, minimum overhead (laptop, power, internet connection), no employees, minimal start up costs, no meetings away from home, and no chasing my friends and family around! The internet marketing model is a game changer. Where you can be your own boss, have unlimited income potential, could work from anywhere. The ability to call my own shots, and have the freedom to go and do as I please and still earn a lucrative income along the way give me the lifestyle like no other.
Too many professionals struggle with an unhealthy balance of work and play, as their careers take over the majority of their time and leave them with little energy to devote to other priorities such as family, friends, and personal well-being.
My primary goal of moving to a sunny climate does not mean I have to leave my business ambitions behind. I am becoming an Independent Lifestyle Entrepreneur building a business as a means of living a dream lifestyle.
Living and making a living in another country is my complete dream, and running an online business means I can achieve both. I can have it all by building my business online where I can run it from anywhere making money from my skills, talents and ultimately what I do best.
We are building a location-independent lifestyle business that will enable me to live and work anywhere I please. While I want to enjoy a flexible and fulfilling lifestyle, I also want the ability to truly make an impact in the lives of others (around the world!). Come join our support group and let us make the difference for you.
Tomorrow we will talk more on finding your passions.
Score Your Way To Good Health - With Our Healthy Lifestyle Plan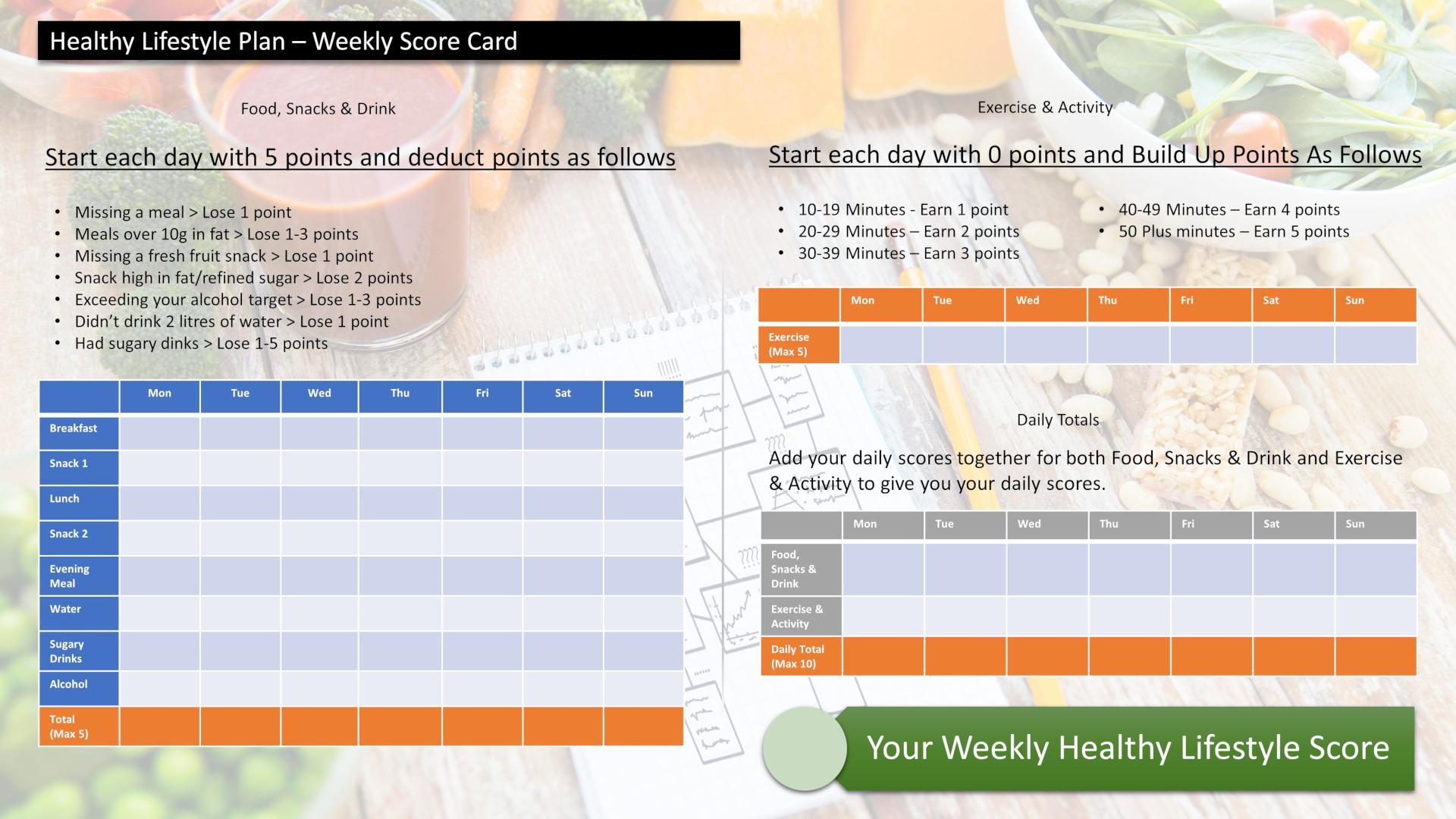 Score your way to good health with our healthy lifestyle plan and it's unique 70 point weekly scorecard!