Change the world by doing the work you love! No more 9 to 5, instead do the work you love! We get one chance to live life so it makes sense that we take every opportunity we can to seize it by the scruff of the neck and make the most out of it. To embrace every possibility. To make the most of every single moment. To creating our own happiness. To waking up every morning full of joy, and doing work that changes the world.
I have to admit I am so looking forward to leaving rainy Britain behind for a new life on the sunny island of Majorca. Things are moving forward fast, and in 18 months or so I should be there, blogging away, living the lifestyle of an internet entrepreneur.
I am not moving abroad to enjoy some sunny retirement years. Of course I dream of spending days walking the beach in shorts and T shirt, spending time in a favourite watering hole in the pleasant evening heat of the Mediterranean.
I will be living the dream. Located on the beautiful island of Majorca with its stunning beaches, nightlife, historic architecture and beauty. But my work is my passion, and I have no intention of leaving that behind, and I have no need to do that.
I will still work hard, long hours everyday because I actually love my work. I have made every effort to make sure my work and life complements each other. Blogging and running an online business means I can easily relocate myself anywhere around the world of my choice.
I have no intentions of winning the lottery, leaving the rat race, and taking off to explore the world. That is not my dream. There is no need for that because I love what I do so much, I just want to be in a location that is more to my liking.
I wanted a business that I could run from anywhere. I wanted more freedom, more time to spend with friends and family, and the opportunity to live and travel anywhere I desire. I wanted to build a location-independent lifestyle business that would enable me to make my base on a beautiful island that has far more sunshine than England where I have been brought up, and live now.
I am very fortunate. Hundreds of millions of blogs are online today. Thousands more are started every day. Anyone can create a blog, but very few people will create blogs that matter. I believe in the ability of blogs to change the lives of the people who start them and the readers who follow them. My life has been changed by my blog in a massive way.
A blog can be a fantastic platform to build a business around, the kind of flexible business you can run on your terms from anywhere in the world. It also give you the most fantastic platform to help you to change the world in a positive way, if this is important to you. Of course that's what it's all about for me, after all I'm a life coach and personal development blogger.
Through my blog I focus on strategies and techniques for personal growth and self improvement. This is a place that I've developed so my readers can read, explore, and find excellent personal growth and development resources. On each page they'll find encouragement, techniques, and tips to enhance their life.
My true passion is personal development. I'm passionate about personal development and how it can change the habits of a lifetime to create a better life for anybody and those around them. I want to spread the word and inspire others to realise that they can choose a life for themselves that they truly deserve.
I have experience and skills that can make a significant difference. My idea of changing the world is tapping into a powerful resource namely passion, the passion to do what you love. I love doing a job where my passion and skills meet.
Yet the work model we're living is not designed to produce passion. It leads us down well-travelled career paths of 9 to 5 jobs that once promised job stability but no longer does it even give that. The model does not place importance on an individual's love for the work, but on performing tasks in return for a salary. This model creates more unhappiness than anything in life. It takes away our individuality and destroys many of our dreams. People too often find they are living a dull, empty feeling. They have very little satisfaction in what they do.
What I know is there are a lot of people out there are struggling with making a living online and I am confident I can lend a helping hand to help them follow their passion and make money online. I write mainly about personal development, but as I make a living online, I now also write and coach about creating a successful online business.
Since starting The All The Missing Pieces Course I have challenged individuals to find their life passion. What I know is a majority of people have a passion. They just don't know how to find it or where to start making it the hub of their life. It's never too early or too late to discover your passions and act on them but first determine what you're passionate about. When you understand your own passions a whole new world of possibilities opens up.
With their passion together within our blueprint for online success anything's possible. We seize our day, every day. If you were to seize your day what would you do differently?
What gives you a fire in your belly? Ask yourself that!
You know this makes sense. If we all spent more time doing the things that excite us, the world will be better place for it. Are you ready to take the leap?
Join our support team, let us help you get started in the right way.
"You've got to find what you love. . . Your work is going to fill a large part of your life, and the only way to be truly satisfied is to do what you believe is great work. And the only way to do great work is to love what you do." Steve Jobs
Score Your Way To Good Health - With Our Healthy Lifestyle Plan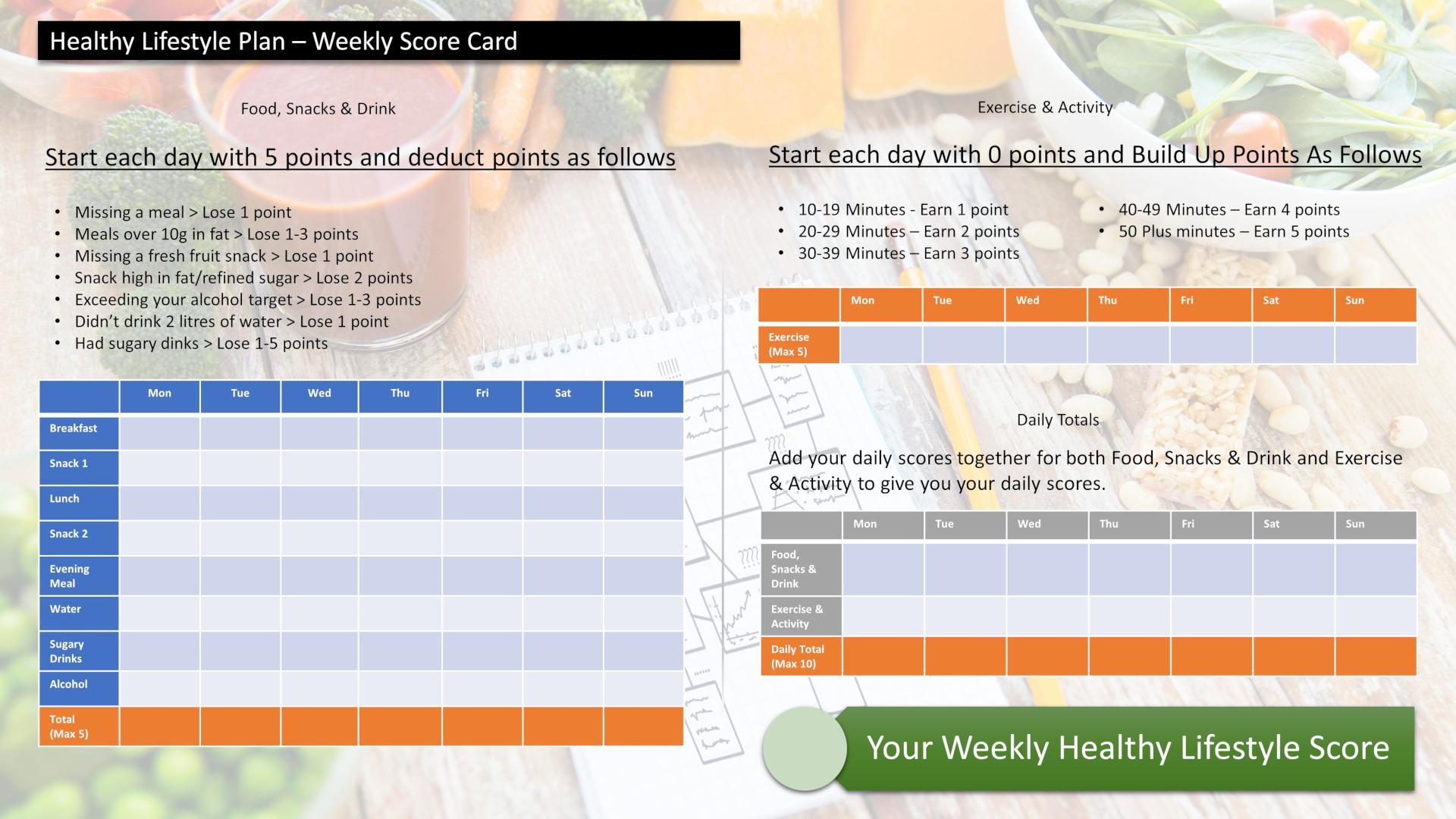 Score your way to good health with our healthy lifestyle plan and it's unique 70 point weekly scorecard!