Today I am suggesting that you spend some time thinking about the legacy you want to leave behind. I am not telling you to be morbid and focus on the end of time, your death, but just think about when that time does come, what you will leave behind.
Why do this? It will show you where you should be spending your time now. It will provide meaning to you and your life. It will give you a purpose.
Horace Mann said, "A person should be ashamed to die, until (s)he has made a monumental impact on mankind." How are you going to leave your mark? What will your legacy be?
"I may be here for a shortwhile, gone tomorrow into oblivion or until the days come to take me away. But, in whatever part you play, be remembered as part of a legacy…of sharing dreams and changing humanity for the better. It's that legacy that never dies"
The dictionary would define Legacy as a gift or a bequest, that is handed down, endowed or conveyed from one person to another. It is something descendible one comes into possession of that is transmitted, inherited or received from a predecessor. The legacy you want to leave behind is absolutely essential for you to figure out.
It is a vision you hold on to deep inside that speaks to your very soul. It's the thing we were born to do. It draws on your talents and gifts. It appeals to your highest ideals. It is the right thing for you to do.
What do I want to be remembered for?
To just stay alive is not enough! Most people simply let life happen to them. Others say they have no idea what legacy they want to leave and say "It's hard to say what I want my legacy to be when I'm long gone."
We all want to be remembered, to feel that we've contributed something to the world. This can be a driving force leading to great accomplishments and extraordinary contributions to mankind.
Throughout my period of ill health and difficulties it's been the legacy that I dream of creating that has kept me going. I refused to forego my dreams due to my ill health. At times I admit I struggled to stay motivated, or focus my energy, but keeping my long-term goals in mind allowed me to fight on and slowly move myself forward once again. Every time I felt down, struggling with health problems I would say to myself "remember the legacy you want to leave behind." I really did, and it would give me a lift every time.
My path has led me to fill the role of a catalyst to help others reinvent their life so they can have a powerful impact on our world. My book the Single Page Plan is designed to enable anybody to achieve their dreams, but today I want you to specifically think about the legacy you want to leave behind.
Our days are numbered. One of the primary goals in our lives should be to prepare for our last day. The legacy we leave is not just in our possessions, but in the quality of our lives. What preparations should we be making now? The greatest waste in all of our earth, which cannot be recycled or reclaimed, is our waste of the time that God has given us each day." Billy Graham
Why was I created? Each of us is different. No one else in the world has exactly the same gifts, talents, background, or future. Now it is time for you to consider the legacy you will leave.
Think about your unique mix of abilities, the resources available to you, your personal history, and the opportunities around you. If you objectively identify these factors and discover the desire of your heart, you will have done a lot toward discovering the legacy you will work towards.
According to psychologist and Concentration camp survivor Viktor Frankl, "Everyone has his own specific vocation or mission in life. Everyone must carry out a concrete assignment that demands fulfilment. Therein he cannot be replaced, nor can his life be repeated. Thus everyone's task is as unique as his specific opportunity to implement it." Each of us has a purpose for which we were created. Our responsibility—and our greatest joy—is to identify it.
A legacy may take many forms – children, grandchildren, a business, an ideal, a book, a community, a home, sharing what you have learned, making a meaningful, lasting contribution to humanity by serving a cause greater than your own. It's a way to make some meaning of your existence.
Entrepreneur Gary Vaynerchuk tells us:
"Please think about your legacy, because you're writing it every day." So today, right now, spend a few minutes thinking about the legacy you want to leave behind.
Check out these previous posts that arte related to this article:
RIP Mum You've left a Legacy to be proud of
What is your legacy? Will you be missed?
Make sure your life matters!!!
Your comments are always appreciated.!
"If you know when you have enough, you are wealthy, If you carry your intentions to completion, you are resolute, If you live a long and creative life, you will leave an eternal legacy" Lao Tzu
Score Your Way To Good Health - With Our Healthy Lifestyle Plan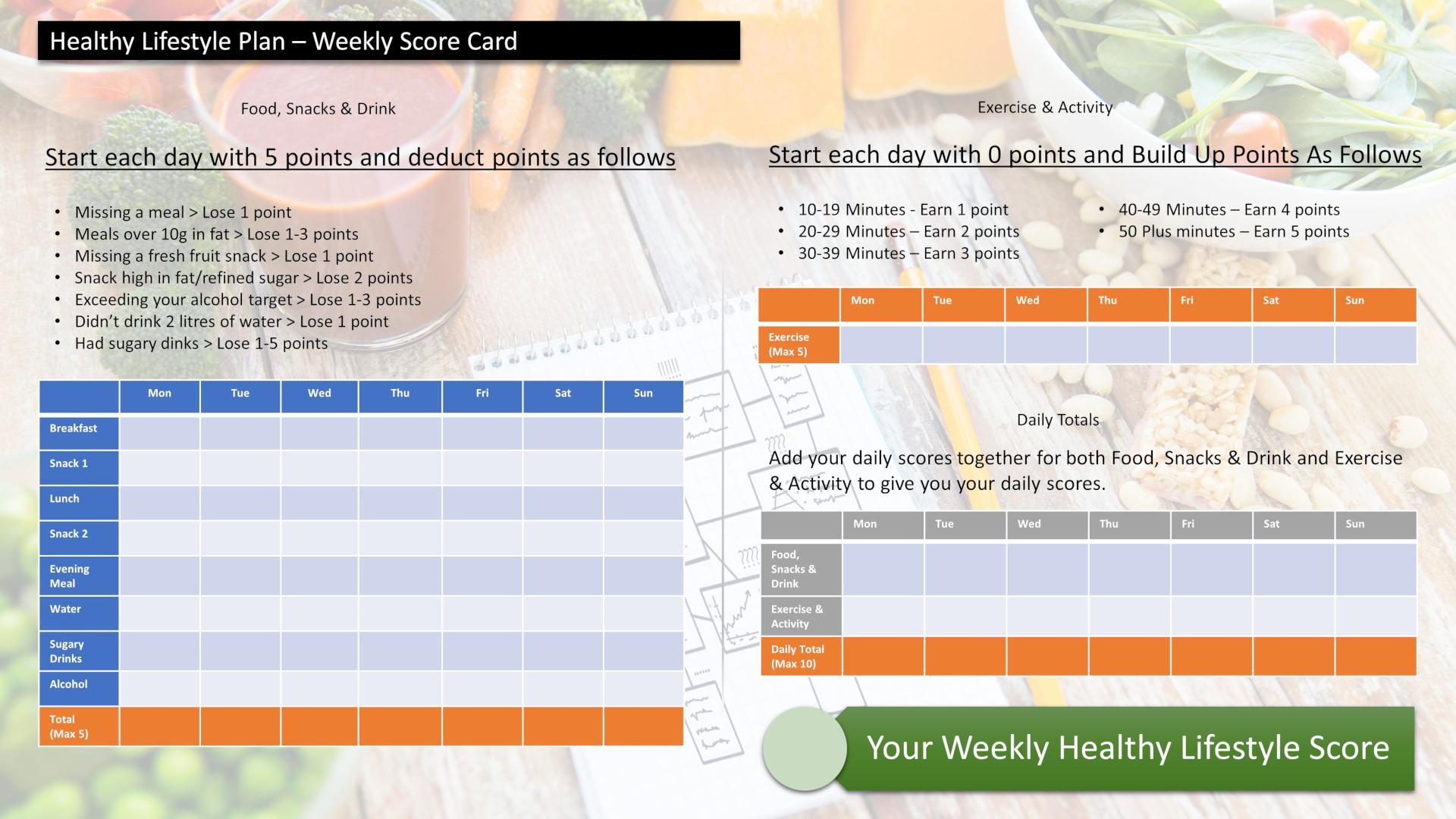 Score your way to good health with our healthy lifestyle plan and it's unique 70 point weekly scorecard!