That day, every son or daughter at some stage in their life comes to dread has arrived for me. The loss of their parent. Today, Saturday the 22nd of February 2014 at 6.12am my mother passed away.
I am not mourning the death of my mother I am celebrating the legacy of her life.
Long ago the best of her was taken away by the dreadful illness known as Dementia, but it couldn't take away that she had been a remarkable woman having achieved so much and leaving a tremendous legacy.
She lived to 83 stayed married for 63 of these, having 3 children and two granddaughters and one great grand daughter.
I am the person I am today because of the nurturing, care and teachings of my wonderful mother.
I am sitting at her house with my sister, father and eldest daughter in virtual silence. We are each obviously having our own thoughts reflecting on her life, her passing and trying to get our feelings in control. But we each know we are there for each other.
On the table in front of me is a booklet about how to deal with grief. I know the death of a loved one can be devastating and your feelings are like waves on a beach. You can be standing in water up to your knees and feel you can cope, then suddenly a big wave comes and knocks you off your feet. It's common to experience shock and numbness, overwhelming sadness, with lots of crying.
I wonder to myself whether I've had time to take in what has happened. I am feeling none of the above emotions. I had a little cry on my way to my families house this morning because I'd lost my mother. But now I'm thinking to myself that my mum has gone to a better place where she is reunited with her daughter Jan who passed away over 10 years ago. I see them hugging and crying, but not from sadness just the happiness of being together once again. They have a lot of catching up to do and I know my mum will be so happy to be with her again. I just believe this is the way things are and this takes away my sadness.
In a way I am fortunate because recent events have got me prepared for this day. My Mum has been in hospital for some 3 months during which time she's been asleep almost constantly. To me she seems to have been caught in no man's land, the place between life and death. Twice we were told by Doctors to prepare for the end, but my mum fought on. Yet we have known it could be any time. That time has now come.
Of course I will miss my mum but the way things have been for her with Dementia seeing her slowly disappearing, in a way it as a relief that she no longer has to be wrapped up in this disguise that it brings with it. Over the last few years she has slowly evaporated and we were left with a shadow of who she once was.
I want to remember her for the person she was before dementia struck. She was a rock, one of the strongest woman anyone could have had the pleasure of knowing. She was able to hold her family together through many trials and tribulations, always there when you needed support and encouragement. pushing you to always do your best, believe in the possibilities that life could offer you, encouraging you to take every opportunity that came your way.
She taught me the importance of constantly improving yourself. For as long as I can remember, right through her 60's she would be doing things to better herself and make the most of her mind. She would do a variety of open university courses. Mathematics and the sciences were her passion, challenging herself was her way.
She had to deal with so many difficulties but nothing would defeat her. She never focused on her problems always her solutions, never doubting that answers would come to her.
When I think of the things she had to deal with I see her as a warrior. I look at her now, lying in bed seemingly asleep at peace so restful no longer having to deal with the challenges of life. Gone to a better place.
I feel a powerful thought that she has past the gauntlet over to me. My responsibilities are coming clear to me. She has taught me so much, gifted me so much knowledge, shown me how to battle through all adversities, staying strong no matter what life has thrown my way.
I have this thought that I have to ensure I pass on to my own children and granddaughter this 'never give up' attitude, and to others so I can make a difference to this world, and show how important the belief that you can achieve anything you dream about as long as you put your all into it, never accepting mediocrity always pursuing big goals and dreams, like my mum taught me to do.
I know without a doubt that she is telling me to make the difference. become the best selling personal development author we have often talked about me being. To step up as the personal development guru I've wanted to be for so long. I owe it to her, to do it, to further enhance her legacy.
After all it was her that brought personal development into my life, showed me its importance and demonstrated to me that you can always change your life and climb out of any hole you find yourself in and fulfil your dreams.
She was stopped from going to university because girls didn't need do that sort of thing in her dads mind. They went to work, got married and have kids. But 20 something years later she started on her journey to notch up degree after degree qualification after qualification. My mum was one smart woman.
She did what her dad wanted. She married and stayed like that for 63 years. She had three children, 2 daughters and her son and heir, me. She then was gifted with 2 granddaughter and a great granddaughter.
She was more than just a grandma to my two girls. She was more like a confidante. She understood the importance of being there to listen, let them talk, to release their thoughts, share their pain, disclose their anxiety. She would never judge, just show care, give support, be there for them when needed. During my darkest days, my wife and I were working ourselves into the ground and both my parents would be there for the kids. They all grew so close and my mum played a big part in helping to develop such wonderful young women. To me this is a big part of the legacy my mum has left.
On a day like today, where we are all coming to terms with her loss, they both wrote such beautiful words in Facebook, it was a pick me up for all of us.
This morning the most amazing woman has been taken to heaven, anyone that has ever met my Grandma Paula will know what a funny beautiful lady she was, she is now finally at peace, love you grandma more than you will ever know, sleep tight. Lj Lewis

Today heaven got the most caring, incredible, funny and beautiful angel, my amazing grandma. I have no words to describe how much she meant to me and how much I will miss her. I know she is in a better place and will be looking down on us all with my auntie Jan. Love you to the moon and back grandy-ma, sleep tight xxxx Carly Lewis
I know my mum was incredibly proud of both her 'little girls.' Laura-Jayne has gone on to fulfil mums dream. She is now taking her final year at Northumbria University taking Forensic Science and Criminology. Carly is currently doing interviews at various universities for Nursing. Take the fact that both girls have shown their loving and caring natures, she was so proud of how they have developed.
Her final illness and virtual coma took place the night of her new family members 1st birthday party. Although my mum never had the health to enjoy her treasured great granddaughter there were never any doubts of her feelings when Amelia Mae came to visit. The smile on my mums face was the giveaway, as was her desire to have her sit on her knee.
I am now getting my head around the fact that my mum won't physically be here with me anymore but I just know she will be watching over me and the rest of her family. My determination is even stronger now to make her proud of me. I just regret she will never be able to read my book.
When your life has been so shaped around the strength of a parent like my mum you come to realise that what she has taught me has to be passed on and shared with others.
So I'm resolute in my refusal to mourn her loss instead I plan to celebrate the person she was.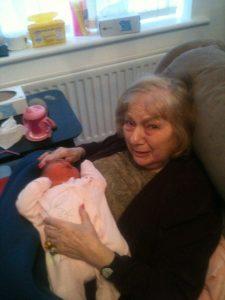 I have some wonderful memories of her some of which thinking about even now are making me smile. Her dancing at my wedding. Now there was someone who had no sense of combining movement and music, it was hysterical. Then her driving. She never went over 30 miles an hour. You just wanted to get out the car and walk, you'd get their quicker. Then her combinations of foods. Kippers and Marmalade; Haddock and Strawberry jam. This was prior to her Dementia. I remember going to lord's cricket ground to watch England play the West Indies. I don't remember how much cricket she saw but certainly saw how drunk she was on the Pimms. I used to do the marketing for a chain of Indian restaurants and the owner would always send me home with a curry for my mum specially loaded to make it hotter than a foul. Once my wife tasted it by mistake and her tongue was burnt for a week.
My only regret is never having taken the time or found the opportunity to delve more into my mum's life. On a visit from her sister to her hospital bedside I overheard Marlene talking about things that they had both done together. I stood transfixed at the door just listening, enjoying hearing so much of what these two young girls had done. It was wonderful to listen to.
So I'm sure this won't be the last time I write about my mum, but today as I finish this just before midnight strikes, today is the first day of my mum no longer being here. I hope she enjoys now her new time and I just want to thank her for being my mum and pray that she rests in peace.
She was my mentor, teacher, my guide through life … now she's gone I will miss her but know she has given me the greatest gifts anyone could.
Bye Mum, I Love You.
Score Your Way To Good Health - With Our Healthy Lifestyle Plan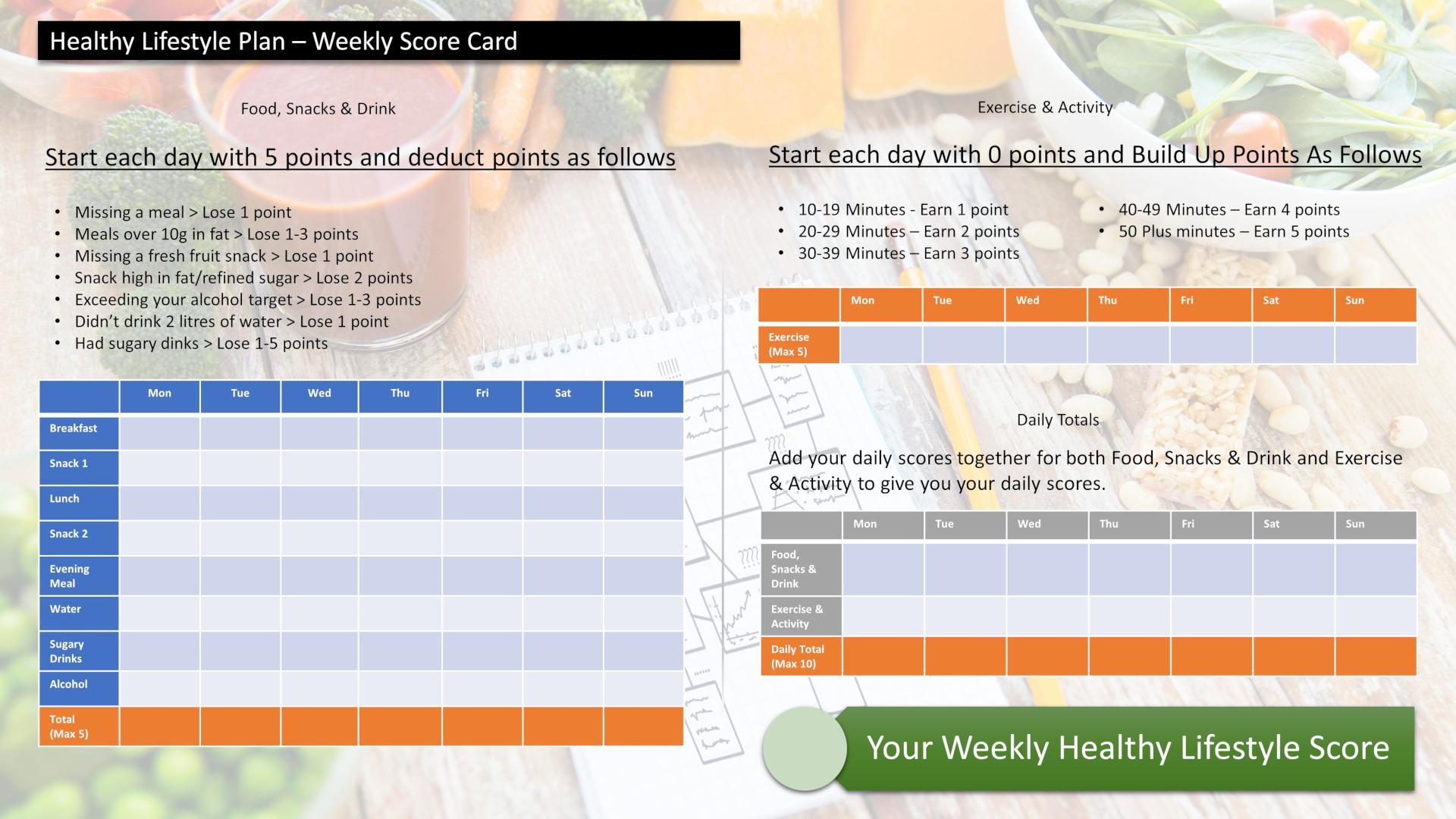 Score your way to good health with our healthy lifestyle plan and it's unique 70 point weekly scorecard!