Today I want you to think about something. This is the first step in building a legacy. Initially the idea will frighten you. You will be very uncomfortable doing what I'm about to ask. Yet it will I assure you bring great reward.
I want you to imagine in your mind, using your ability to see, feel and hear through your imagination that you are at your funeral. Your family and friends have gathered to honour your life together with the people you have significantly contributed something positive to.
How many people are in attendance? What are they saying about you? Do you get the feeling that you will be badly missed by many but also that there are so many who are giving thanks for what you contributed.
When I first did this exercise there was only a handful of people there. My family cried, a lovely eulogy was read, but in truth my life sounded as though it was virtually meaningless. This was one of the major reasons behind me making big changes to my life. It made me realise that financial gain and possessions have their uses, but there are so many other more important things, particular making the most of the time we have and to use our lifetime to contribute something significant, meaningful important. I now, when visualising my funeral see 1000's of people attending, hear powerful eulogy's talking about how I had helped change people's lives for the better. To me it matters what I do with my life and what I leave behind. It should matter to you as well, what will have been your contribution.
Today I want to examine the concept of leaving behind a legacy to be proud of. This is what remains behind even after you've passed away? Your legacy is something you create during your life solely to benefit future generations – the gift you leave behind without expecting anything in return.
I'm 53 years old currently suffering from the worst health that I've ever experienced. By telling you this I'm not showing that I'm preparing to say my good byes and letting the fight leave me and accepting life hasn't long left for me. In fact it's the opposite. I am fueling my life with the reason I will go on, the thing that truly empowers me to stop my failing health and carry on with my life journey. I'm determined to leave a legacy to be proud of. The desire to do this is so strong that it acts like medicine and will ensure I survive and prosper.
You're building a legacy, like it or not, regardless of whether what it is intentional or accidental.
Three particular life experiences have forced me to face the reality and importance of creating a legacy.
My recent struggles with visual impairment and the consequences of this particularly with the physical limitations it has brought about. For the first time in my life I felt fragile, limited and powerless, then it hit me, I was allowing myself to be defined by my disability, and this woke me up to the necessity to follow my cause of helping others by teaching them what I've learnt through my life's journey. The wonders of living a life where you believe in yourself and the never give up philosophy to see you through all those times of hardships and difficulties. One thing it woke me up to and that is our time is limited and we can't afford to waste a second.
Then there are the health scares I have gone through in the last few months. It seems that most of my time has been spent at doctor surgeries and hospitals, having examinations, scans, x-rays, and blood tests. So far nothing has been conclusive. The tests will continue, and a exploratory operation is scheduled for September. That could be a busy month with the cataract removal operation and potentially one to repair my central vision if this is deemed possible. So I feel fallible, yet my future I'm convinced will be full and long. There are too many things I want to contribute, to many people whose lives I want to change, and it is this thought that drives me on and enables me to overcome my health problems. We all need to believe we can leave a legacy it really does give us empowerment to overcome all our challenges.
Then there's the birth of my new loved one "It's a boy!" My grandson Joshua. I want to be there as he grows up, as I do with my granddaughter Amelia-Mae. I want to share so many happy times with them. Then of course my two daughters. They will all achieve so much and I don't want to miss out. So I fight on, carry through with my never give up philosophy. And importantly, in fact crucially I want them all to see that their Dad/Granddad did good, and ultimately, when the time comes, I did something special.
I'm sure like me, every one of you can find brilliant reasons why you simply must build a legacy to be proud of.
The legacy you create won't happen overnight but neither will it happen by accident. It will be deliberately crafted over years of hard work and dedication. So don't waste any more time, decide what kind of legacy you'll leave for posterity.
Author Ken Dychtwald introduced the four "pillars of legacy":
values and life lessons,
instructions and wishes to be fulfilled,
possessions of emotional value,
property and money.
My desire is to share what I've learned, to pass on lessons of a lifetime, to teach, to feel my life meant something, to be used to help others have an easier journey, to show them that they can overcome all challenges. This will be my legacy.
Similar to how I wrote the other day in the article 'what matters to you?' the answer to what will be your legacy, will be found within. In deciding exactly what you want to put out into the world, what you want to leave behind, you need to look inward first. Start by identifying your strengths. Then causes you feel important to you. Also, consider what topics and activities you're passionate about and that you find interesting. Think about how you want to spend your time. Which of your core strengths could benefit others in their pursuit of success and happiness? Where do you see unrealized potential, and how can you unleash it? What problems do you have answers for?
Your legacy needs to be a labour of love and to define what it is you need to contemplate what you see as being the purpose of your life.
Taking everything you've learnt through your life time see yourself as an elder statesman, a learned man, caring, compassionate and wanting to help others. Who will be the recipient of what you have to offer? Who will you invite to sit at your feet, that you can mentor them? Picture your life and see what you've learnt that will help others, or what you have that can be put to good causes. Now think about how you can impart your legacy upon your family, friends and complete strangers.
Life is about loving, enjoying happiness, not solely about making money. Life becomes meaningful the minute you contribute to people's lives and share your wisdom.
So what legacy are you ready to build? Who will you forever impact? Whose lives can you radically improve? What do you know that others need to learn? Who will you impact so deeply that they will continue your work even after you are gone?
Like Rosa Parks your actions can change the world. We should all know that on December 1, 1955, Rosa Parks boarded the Montgomery City bus to go home from work. On this bus on that day, Rosa Parks initiated a new era in the American quest for freedom and equality. What can you change that will see you building a legacy?
Score Your Way To Good Health - With Our Healthy Lifestyle Plan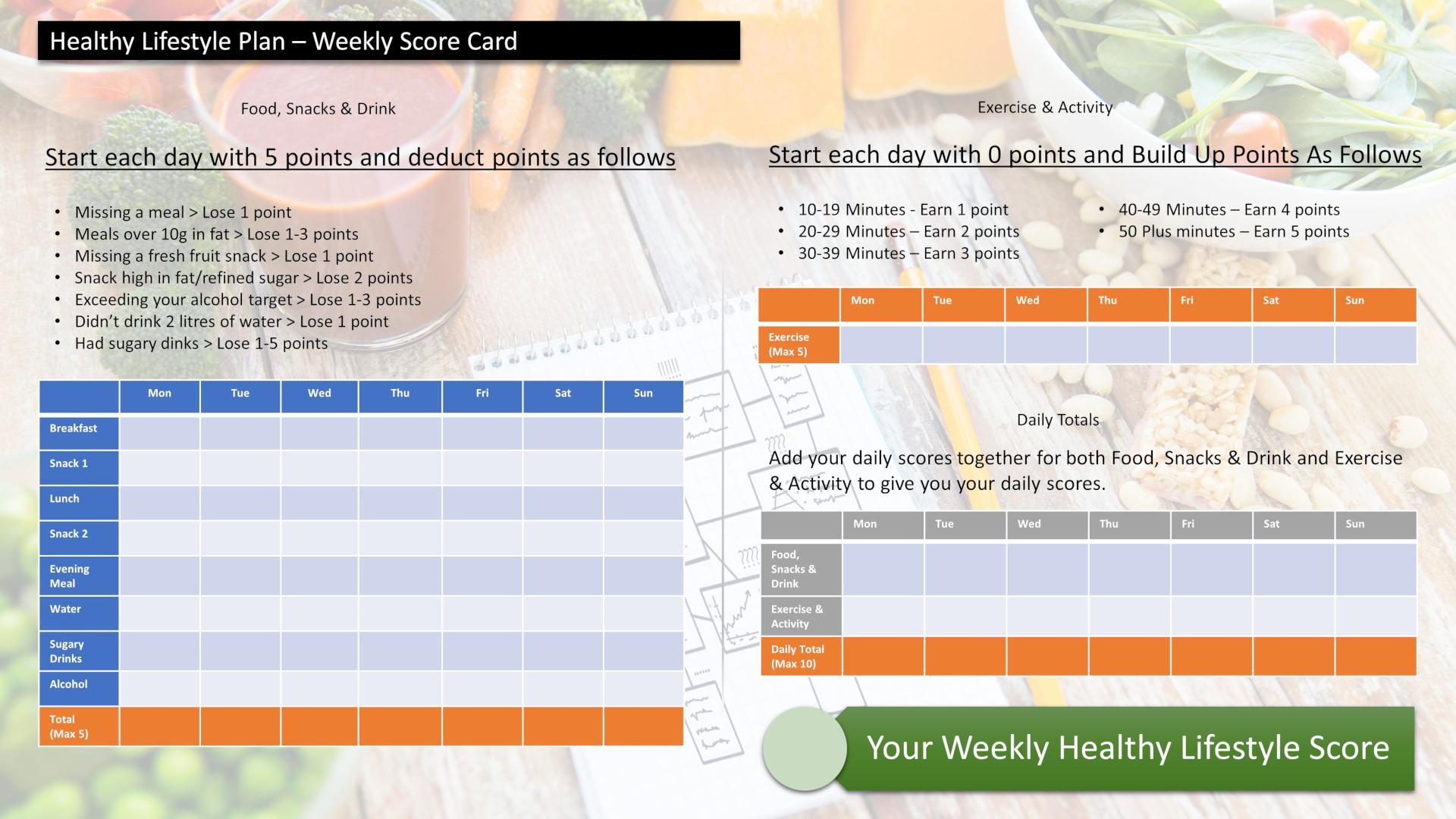 Score your way to good health with our healthy lifestyle plan and it's unique 70 point weekly scorecard!