Here we have my 3rd Rule of Life. If you have missed the previous posts, check them out here:
1. Rules of Life: Be True to Your Word
2. Rules of Life: Do Something For Somebody Every Day For Which You Do Not Get Paid
Are you right now, who you want to be, what you dreamed you'd be, doing what you always wanted to do?
Today I am bringing to you the idea of beginning with the end in mind, this is something that can provide you with a personal direction to guide your daily activities, without which you will accomplish little of what you truly want, never truly taking control of your own life.
This principle was introduced to me by Steven Covey's Seven Habits of Highly Effective People.
As a personal development coach I envisage the tangible impact my work has on the communities and people with whom I interact. I systematically consider both the short-term and long-term strategies that will help me achieve my desired end result. I always have my end result clearly in focus, it is my guiding light.
To me strategic thinking is not just about thinking, it is about thinking, planning, and acting on a daily basis to get your desired results. Clarity of purpose first, then using this to determine the way forward in every meeting, dealing with every problem, and making every decision.
"No one can go back and make a brand-new start, my friend; but anyone can start from here and make a brand-new end." ~Dan Zadra
Building clarity of purpose is what beginning with the end in mind is all about. Everything you do needs to be analysed to see how all the parts support each other. By thinking from the future back to the present enables you to move forward strategically. How many of you are struggling because you are living day by day, with no strategy just depending on your piecemeal thinking.
The ABCs of Strategic and Systems Thinking gives you five strategic thinking questions:
Where do we want to be? (i.e., our ends, outcomes, purposes, goals, holistic vision
How will we know when we get there?
Where are we now? (i.e., today's issues and problems.)
How do we get there? (i.e., close the gap from 3 to 1.)
What will/may change in our environment in the future?
Strategic Thinking is a broader and more innovative way of thinking on a daily basis. It is thinking with a focus first on the helicopter view of your desired outcomes, starting from the end and working backwards.
How many of you are hindered by:
A lack of clear purpose or outcome
Depending on knee-jerk solutions
Reliant on quick fixes that more often than not fail
Making decisions without first exploring whether they fit within your overall plan
Keep feeling that you're getting nowhere
Begin with the End in Mind means to begin each day, task, or project with a clear vision of your desired direction and destination, and then continue on your journey ensuring you are always remaining on the right path.
This calls for you to be able to envision in your mind what you cannot at present see with your eyes. It is based on the principle that all things are created twice. There is a mental (first) creation, and a physical (second) creation. The physical creation follows the mental, just as a building follows a blueprint.
If you don't make a conscious effort to visualize who you are and what you want in life, then you empower other people and circumstances to shape you and your life by default.
"Our thoughts create our reality-where we put our focus is the direction we tend to go." Peter McWilliams
Your journey will also be supported by your unconscious, because you will benefit from intuitive guidance helping you every step of the way.
To hold focus with the conscious mind, we need to develop a single point focus for our life. That is, we need to become mindful and aware of how we make every decision in our life. We need to be aware if what we choose is taking us toward or away from what we desire to create. Since any journey we take will lead somewhere, it is essential to keep the end in mind in some way so that you don't get lost on the journey.
Probably the single most difficult thing to do in life and in our creative endeavours is to hold focus. That is to keep our mind focused on what you desire to create. This principle keeps you on the path. The better defined your end in mind the greater your chance of arriving there.
"Deep down in every heart is a hidden longing and ambition to do something fine and enduring." Grenville Kleiser
Focus on what you want to be and do. Then make your plan for success. Make sure it reaffirms who you are, puts your goals in focus, and moves your ideas into the real world, making you the leader of your own life.
"If you don't know where you are going, than you probably won't end up there." Forrest Gump
Now is the time to start putting your plan together and the best way to do that is to begin with your end in mind. You have a clear vision of your outcome, you got some leverage on yourself and know why this is important for you to achieve, and you have created a list of options.
"Twenty years from now you will be more disappointed by the things that you didn't do than by the ones you did do. So throw off the bowlines. Sail away from the safe harbour. Catch the trade winds in your sails. Explore. Dream. Discover". Mark Twain
Score Your Way To Good Health - With Our Healthy Lifestyle Plan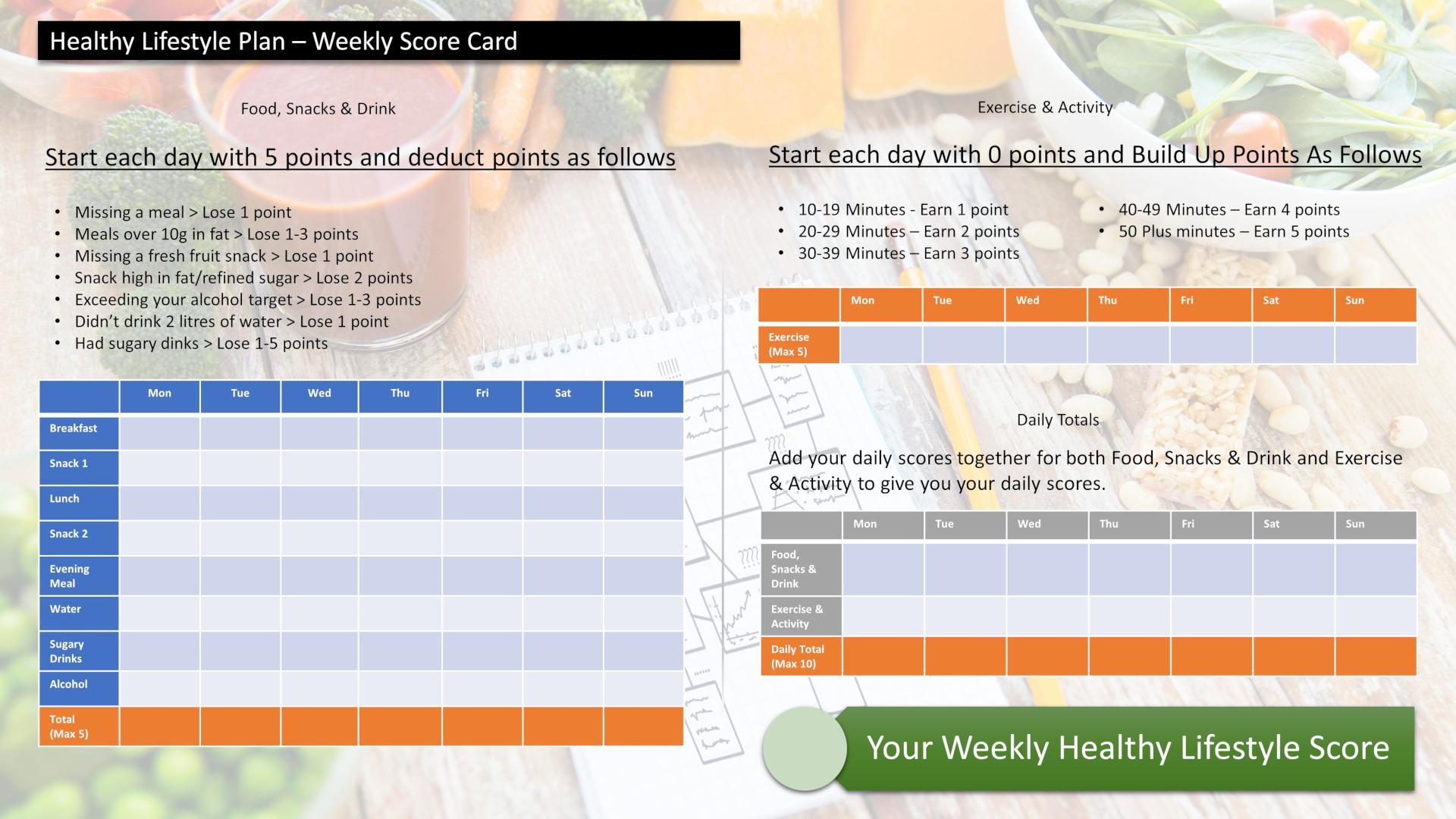 Score your way to good health with our healthy lifestyle plan and it's unique 70 point weekly scorecard!