This is the second article in the series 'Rules of Life'. The first was 'Be True to Your Word.' My next Rule of Life is to invest time to share knowledge and passion with others so that they can grow, the title of this article is taken from a quote by Albert Schweitzer .
Through my journey to finding my passion, I discovered blogging as a stage where I could share my knowledge and ideas regarding my existing passion of personal development and which has proven a fantastic way to serve others.
Most of us begin blogging because we have a specific know how or passion to share with others, and to me there is nothing more exhilarating or fulfilling than sharing knowledge, driven by passion.
We all can make a difference to others lives by what we choose to do in our own life. There can be nothing better in my mind than to share your talent, skills, knowledge, and time with others. I also believe that everything you invest into others will return to you many times over.
For me I cannot express the joy I feel while writing my articles daily for this blog or how I feel my emotions building within me when I read some of the feedback I get from my readers.
Regardless of what our dreams are or what our current life story consists of, we have the choice to live deliberately, consciously and purposefully. By serving others, it gives you compassion and a sense of connectedness with others.
My advise has always been to find your passion, and then look for ways to use this passion to provide massive value for others.
"I cannot believe that the purpose of life is to be happy. I think the purpose of life is to be useful, to be responsible, to be compassionate. It is, above all to matter, to count, to stand for something, to have made some difference that you lived at all." – Leo Rosten
Our mission in life is to better the lives of others. In doing so, our life is made better. There can be no more noble mission than positively impacting people.
One person can do a lot when they want to make a big difference in the world around them. You have the ability to impact others, shape futures, change lives, and make an eternal difference. You have the potential to make a powerful impact in the lives of others for the better.
"To do more for the world than the world does for you – that is success." Henry Ford
"How can I make a difference in someone's life?" you say.
The saying goes that we all live to serve. Its true that by helping others we get a sense of fulfilment, and happiness, feeling a sense of purpose and surge of energy.
To make a difference and be remembered you do not have to do incredible things, just being there for the people around you can save someone from a meaningless life and help them lead the life they were meant to live.
"The more I help others to succeed, the more I succeed." Ray Kroc
Each of us has numerous opportunities to make a difference in the lives of others or the world in general. Each day people cross our path: strangers, clients, friends and relatives that give us the opportunity to touch them in a positive way.
There is no greater feeling in the world than knowing you have contributed to improving another person's life or that something you have done has made a difference.
How different things would be in this world we live in if more people were inclined to help others without asking anything in return?
I challenge you to make a positive difference – today – in someone's life.
"Life's most urgent question is: What are you doing for others?" Martin Luther King, Jr.
Score Your Way To Good Health - With Our Healthy Lifestyle Plan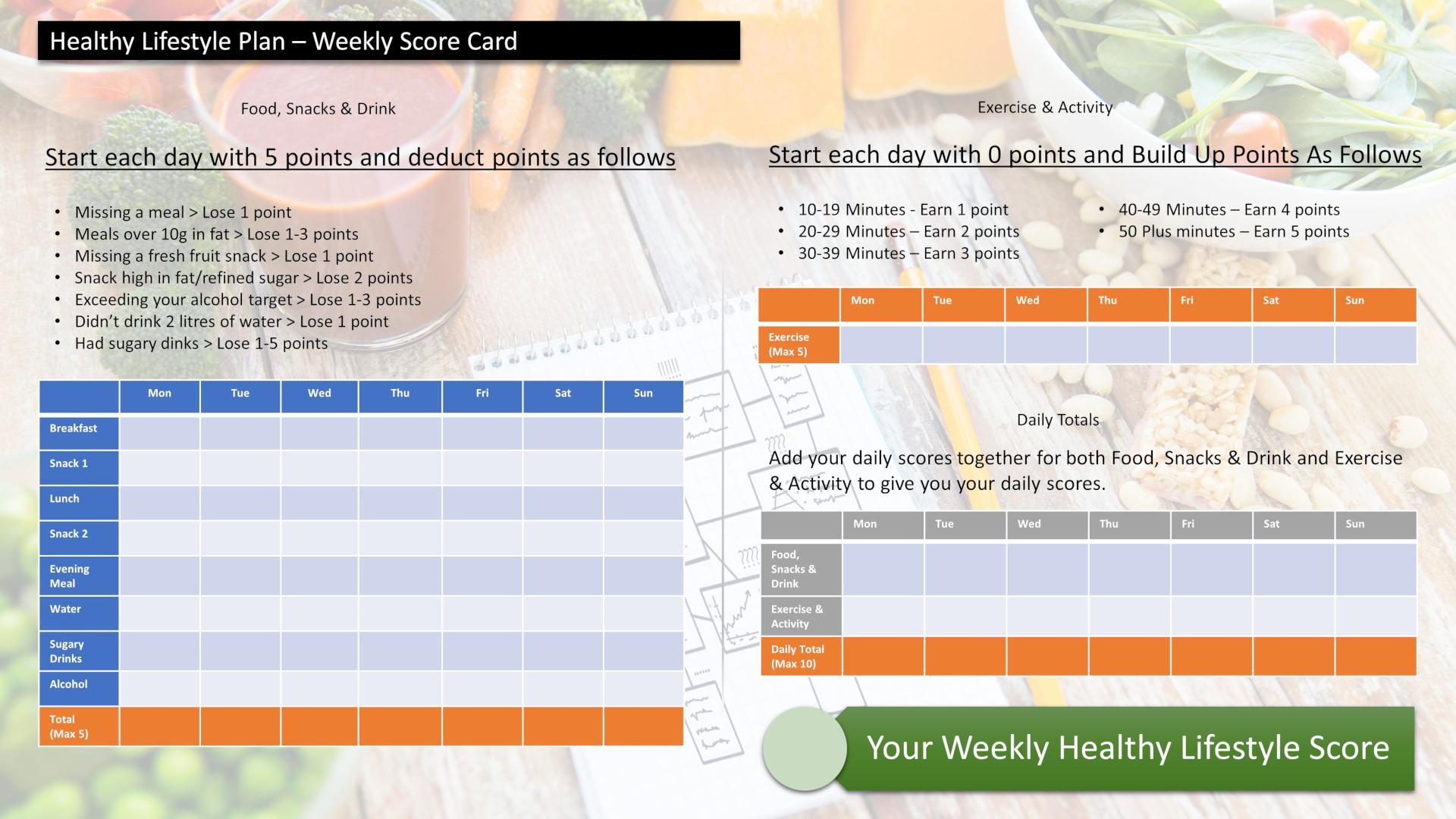 Score your way to good health with our healthy lifestyle plan and it's unique 70 point weekly scorecard!