Such a simple phrase. It didn't really catch your attention, did it? Not a great title if I'm trying to build traffic here to my blog. So why am I just taking up a post with these two words "Healthy Living".
Well let me explain. I'll put it in terms that I'm sure you will understand … HEALTHY LIVING EXTENDS LIFE. Pretty dam important in that case really, isn't it?
I'm fifty years old on my next birthday, as my friends try to remind me, constantly. But truth be told I don't care, as long as I am fit, healthy and still have an active, astute mind. I certainly have no desire to live to 100, unless of course I knew for certain that I'd be as fighting fit as I was in my 40's.
Although death is a natural part of life, the thought of dying understandably still frightens many people. This though isn't the case for me at all. I fear far more not making the most of the life I have been given. I want to make sure I can enjoy every minute I have, and achieve many things. To do this on an on going basis it is important that I benefit from healthy living. My approach to life is to do the things that will enable me to live as fully and as well as possible.
All I want for myself, and everyone, is the years we do have left spent here, that we can make the best of them due to having good health. Surely, each of you reading this, must long to live a healthy and long life. However, the problem frequently as I see it, most of you are not prepared to change bad habits into good so as to benefit from healthy living.
Lifestyle choices do make a difference in how long you live. Have no doubts about the effect of smoking, drinking, eating too much or the wrong things and not exercising. They are bad for you. Following healthy lifestyle habits can extend our lifespan eight to 15 years, various studies suggest.
I was speaking to a good friend on Skype yesterday. She just dropped into the conversation that both her and her husband suffered from diabetes 2. I got the idea that she thought that diabetes is a disease of older people, but that is not the case. This condition can occur in individual's age 20 years, and in some cases far younger.
Diabetes is the consequences of excess weight and poor lifestyle choices. The good news is type 2 diabetes can be prevented by following a healthy lifestyle, including exercising regularly, avoiding stress, healthy diet, and regular health checks.
There are no magic potions available. Healthy Living is about making healthy choices every day; healthy choices that keep us fit physically and mentally as well as helping us to stay healthy. When we do we can help prevent chronic diseases and reduce our risk of becoming ill.
Living healthier is a personal choice. You have the key to unlock the door of good health. So even if you are ILL now, you will see improvements, by changing the way you are living right now. Healthy Living is not a 'maybe' but a necessity!
When you begin to focus on the basic keys for healthy living you will begin to experience optimal health as every positive thing you do affects each and every aspect of your life – health – physical and emotional well-being.
That's how simple it is. And, that's why we call these "Basic Keys". Simple and basic – a solid foundation for your health.
Key 1: Make a Decision to start focusing on healthy living
Key 2: Make a permanent lifestyle change. Don't just go on a diet. After all every diet you know has a beginning and an end, which is why most people gain weight back.
How To Live A Healthy Lifestyle
Key 3: Practice Stress Management.
Top 10 Stress Buster Articles from Healthy Lifestyles Living
Key 4: Eliminate negatives where possible
Key 5: Exercise Regularly
Active over 40 – It's Not Too Late To Get Fit
Key 6: Get sufficient sleep
Sleep Your Way to a Healthy Lifestyle
Key 7: Expend More Energy (burn more calories) Than Is Being Taken In (eaten)
Key 8: Eat healthily
There is nothing there that is difficult to implement in your life. Every one of them will pay massive dividends. You only get one life, so it's best that you make the most of it. Looking after your health must be one of the most important things you can do for yourself. Surely you see this?
Are you ready to take charge of your health and begin feeling better?
I highly recommend Ultralife products, I have personally used them, and would strongly recommend their detox products.
At Ultralife they understand that getting all the necessary vitamins and minerals can be a daily challenge so they have created a wide range of nutritional supplements to combat any deficiencies within your diet, as well as products to aid weight loss..
Score Your Way To Good Health - With Our Healthy Lifestyle Plan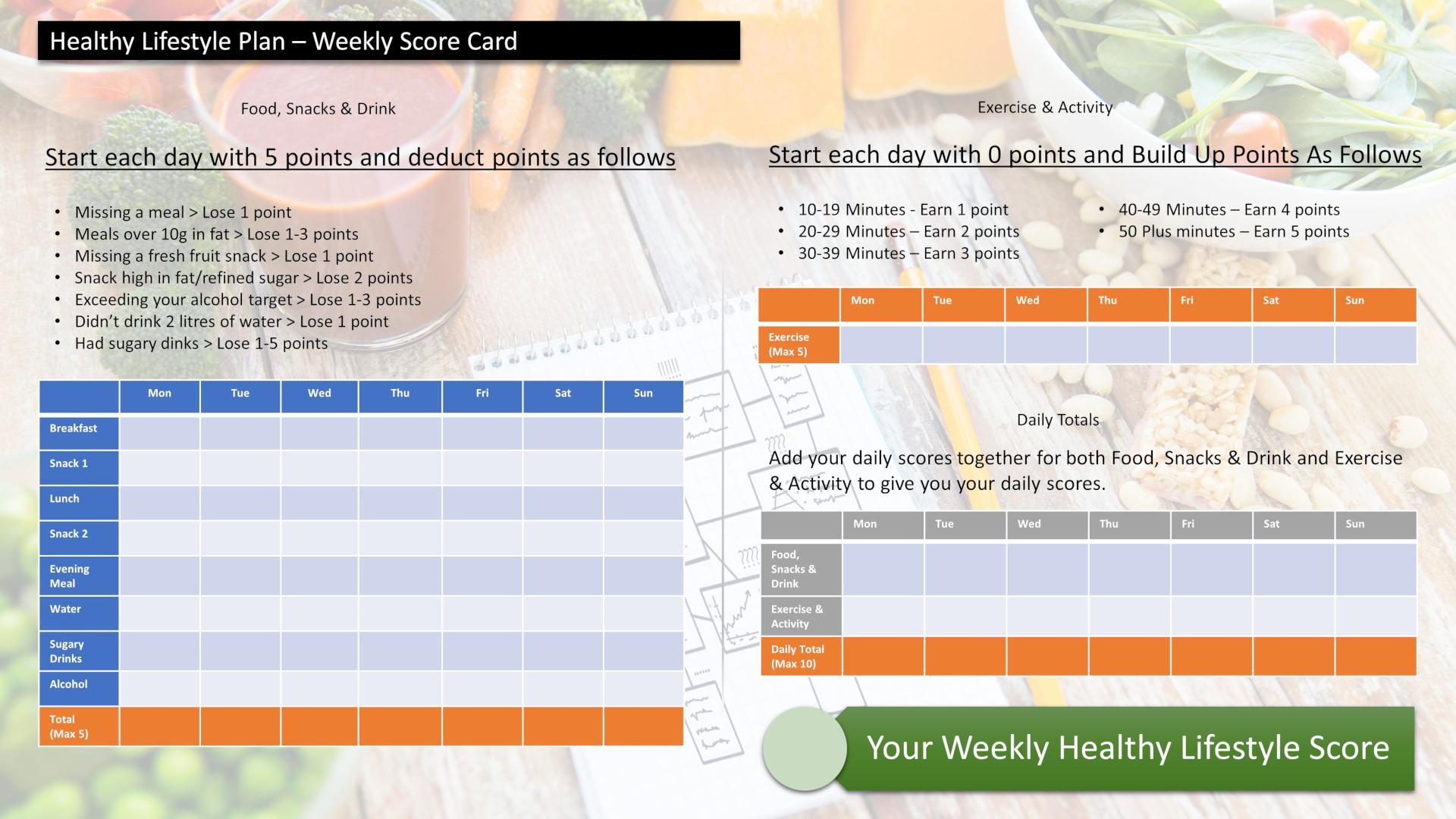 Score your way to good health with our healthy lifestyle plan and it's unique 70 point weekly scorecard!