Today begins the first full week of the year 2015 and I hope you realise it is amazing what you can achieve in a year. No matter where life finds you right now, you have the power within you to transform everything.
I was talking this morning to a young lady who has without a shadow of a doubt proven this very thing. Back towards the end of 2013 she was very unclear of the path she wanted to take. She was struggling through college, with no true goal she lacked the drive or ambition to excel. Then in November her grandmother was rushed into hospital in a type of coma and was very close to death. This young lady was traumatised by this event but as I teach others there can always be good taken out of bad situations.
While constantly visiting her grandma during the first month in hospital she was touched by the wonderful care and attention that was been provided by the nurses. Although this lady she loved lay there in a coma unable to wake up, these nurses where fantastic not just to the patient but the family too.
By the time this young lady returned south to her home and returned to college she was a different person. She now had a goal. She wanted to be a nurse and follow in the footsteps of these wonderful nurses looking after her granny, so she made the determined decision that nothing would stop her now she knew what she wanted. This was the beginning of 2014.
She found a new lease of life driven by her empowering goal. She suddenly started working so much harder putting all her time and effort into her assignments and got them in on time. She went back over the work she had been late on and got it all completed. At the same time she began studying a particular subject that she had struggled with for so long which she knew she had to pass to be able to achieve her dream. She had taken the exam for this twice already but had been unable to pass. But now here was a girl ready to shine, driven by her goal, nothing would stop her.
She took a big knock in February when her grandma passed away. Of course emotionally she was shattered but it only gave her goal more power because she believes her gran was watching over her and she's was more determined to make her proud.
She went back a few weeks later and applied to universities then visiting each of them at their open days. She didn't have time to wait and sit back to see if she got accepted but just ploughed through with her studies totally committed to doing the best she could.
Well the interviews were granted and places were offered. She weighed up her options made her choice and kept going. She had already achieved so much in such a short space of time.
Seven months into the year she completed her course and sat her exam. Now she had to wait. Would her efforts be rewarded? Would an empowering goal truly be able to make such a difference?
She achieved the level necessary on her college course and now it was down to the exam she had struggled with previously. She went to get her envelope the day the results came out. She was so nervous but kept thinking of her grandma and knew if it was meant to be then it would be. On seeing her result which was better than she'd ever dreamed of she knew her life had just totally changed. She had done it.
In September 2014 this young lady having accepted a place at her chosen university in Canterbury and found a place of accommodation for her first year began her nursing degree.
Today, the 5th January 2015 she begins a placement at Herne Bay hospital as a trainee nurse. An incredible journey and proof that it is amazing what you can achieve in a year. One year ago struggling through college unsure of her path to now beginning her first day as a nurse.
I have no doubts her grandma in heaven watches over her with pride. I know as her father I have a tear in my eye at what a transformation my daughter Carly has created in a year. She truly has reinvented herself.
She will be a great nurse.
The timing of this is incredible considering that on Wednesday 7th January I will be teaching through a Webinar how to create your One Page Plan, an absolutely brilliant tool to power up your goals. It is totally free and everyone's welcome. Check it out here.
Score Your Way To Good Health - With Our Healthy Lifestyle Plan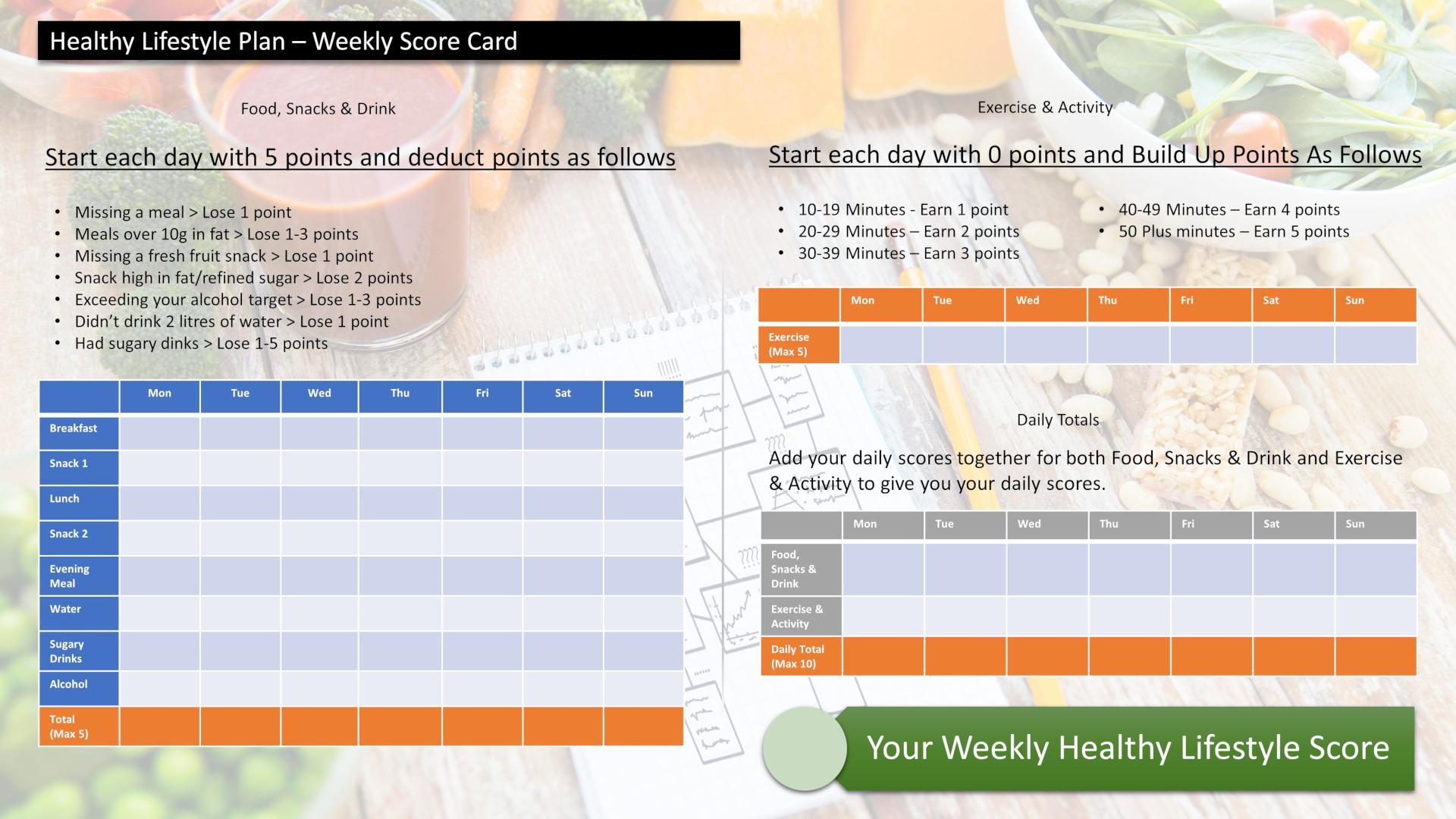 Score your way to good health with our healthy lifestyle plan and it's unique 70 point weekly scorecard!