Please find a summary of articles published this week on Healthy Lifestyles Living Blog.
Monday 5th December When Coping With Stress Isn't A Bad Thing
Description: We often talk about coping with stress as being a bad thing. But at times stress is good for us. Have you ever noticed how productive you can be when you feel a sense of urgency for yourself to get things done?
Tuesday 6th December Personal Development Planning
Description: Finding meaning in our lives starts when we begin investigating who we are and what is going on around us. We are the only one that can say for certain what is deeply important to us, so if we get so very busy that we don't take the time to stop and look at our life, it may fill up with things that don't give us the kinds of joy and meaning we truly want.
Wednesday 7th December Be True to Yourself – Life Coaching Principle
Description: To be true to yourself means to act in accordance with who you are and what you believe. If you know and love yourself you will find it effortless to be true to yourself. Just as you cannot love anyone else until you love yourself, you cannot be true to anyone else until you are true to yourself.
Thursday 8th December When the Day Doesn't Go As Planned
Description: What happens when your day doesn't go quite as planned? Do you get knocked off balance? Do you shift and adjust? Or do you obstinately stick to your original plan… "no matter what."
Friday 9th December Stress Management Strategies
Description: If your life is filled with stress, and you feel at the end of your tether both emotionally and physically, it's time you learnt to deal with it better.
Saturday 10th December Make Peace With Yourself
Description: Don't you think it's time you give yourself a break and relate to yourself with a true sense of kindness, compassion, and acceptance? Isn't it time you took back your power from the negative voice that hides inside of you that constantly reminds you of all your flaws and failures. That pessimistic voice that assures you of impending doom and disaster.
Score Your Way To Good Health - With Our Healthy Lifestyle Plan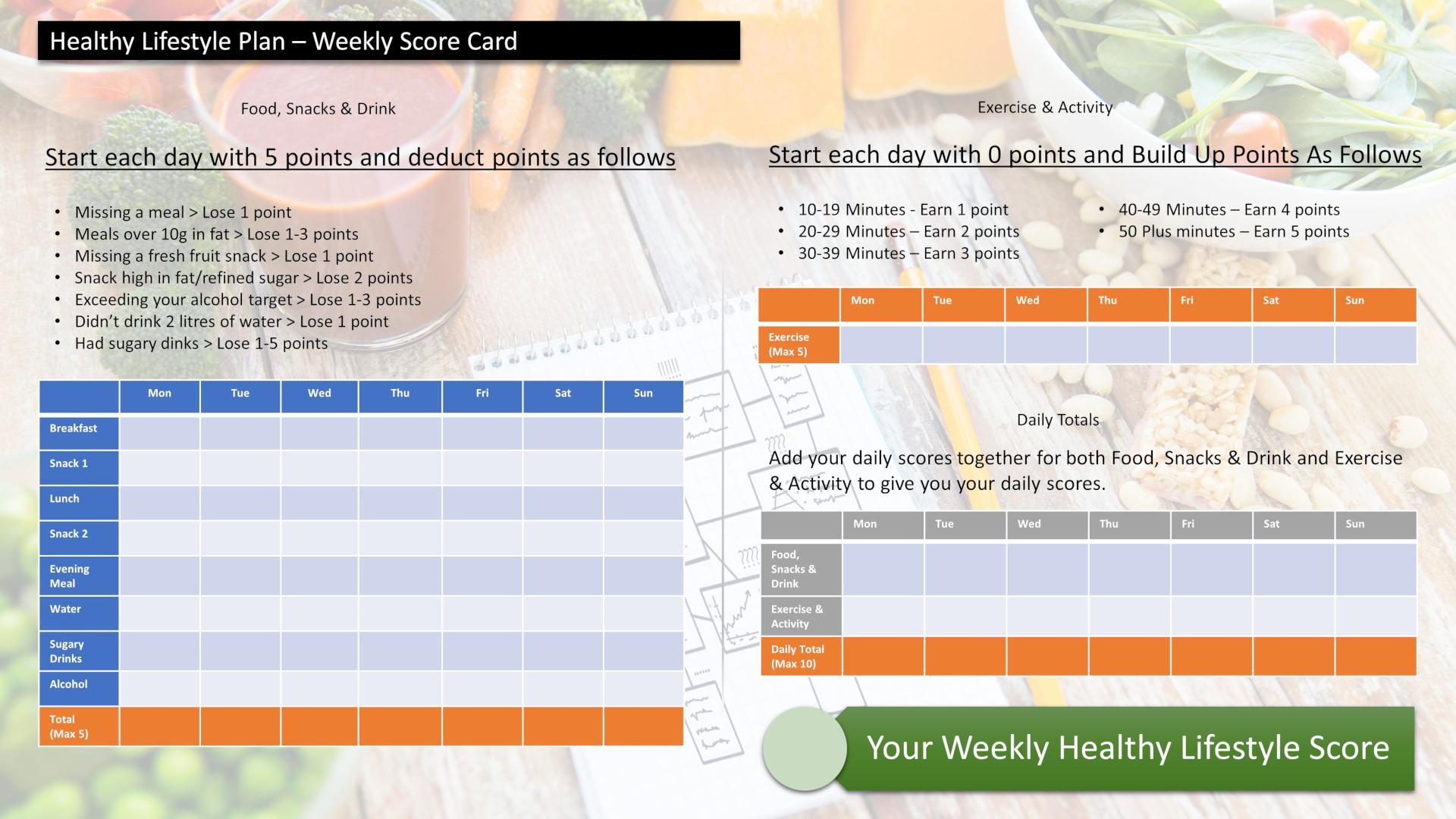 Score your way to good health with our healthy lifestyle plan and it's unique 70 point weekly scorecard!