The Greatest Salesman in the World was one of the first personal development books I read and it will always be one of the catalysts to my growth. So I include this  book as it inspired me in all the area of my own personal development.
The Book
Og Mandino. wrote this incredibly popular personal development book: The Greatest Salesman in the World. The book was first published in 1968 and has sold over 13 million copies in the 30 years since.
When one hears the title of this book one feels that this must be just another book teaching you how to sell things. I too thought the same, until I read the book. In fact I think this book is a must read for anybody that is looking for inspiration.
Summary
The story recounts the legend of Hafid, a camel boy who lived two thousand years ago and came into the possession of ten ancient scrolls that contain the wisdom for achieving all of his ambitions in life. He became a master salesman and a trader; a very wealthy man. He lives in an elegant palace equipped with every possible comfort. "All the success, happiness, love , peace of mind, and wealth that I have enjoyed is directly traceable to what is contained in these few scrolls. My debt to them, and to the wise one who entrusted them to my care, can never be repaid." Hafid explains that each of the ten scrolls contains a principle, or law, that together will enable their possessor to accumulate all the wealth he desires.
The scrolls are as follows:
1. Today, I begin a new life. ( contains instructions for forming the habit that will lead to the successful adoption of the principles contained in the following scrolls)
2. I will greet this day with love in my heart.
3. I will persist until I succeed.
4. I am nature's greatest miracle.
5. I will live this day as if it is my last.
6. Today, I will be the master of my emotions.
7. I will laugh at the world.
8. Today, I will multiply my value a hundredfold.
9. I will act now.
10. I will pray, but my cry for help is only a cry for guidance.
The book is written in a really interesting way. The story is captivating. You will read it in a matter of hours. These 10 scrolls when fully explained, will help you restart your life.
Conclusion
Repeating these scrolls  to yourself every day for 30 days is guaranteed to have some effect on your thinking, and thus your actions. If you really think you can change your life, and that your success depends on your habits and your attitudes, this book could start some very powerful changes. "I will not fail as the others, for in my hands I now hold the charts (the Ten Scrolls) which will guide me through perilous waters to shores which only yesterday seemed but a dream."Mandino's recognized that all successful people take on their own lives by "charting" or consciously choosing both the desired destination and the path to reach it.
He encourages you to build good habits, to live according to the laws that govern abundance and to find a vigor and joy in life as we learn to stand at the helm of our ship charting its course into the safety of the harbor instead of just waiting for someone else to bring it in. If you're interested in this book find it here.
Score Your Way To Good Health - With Our Healthy Lifestyle Plan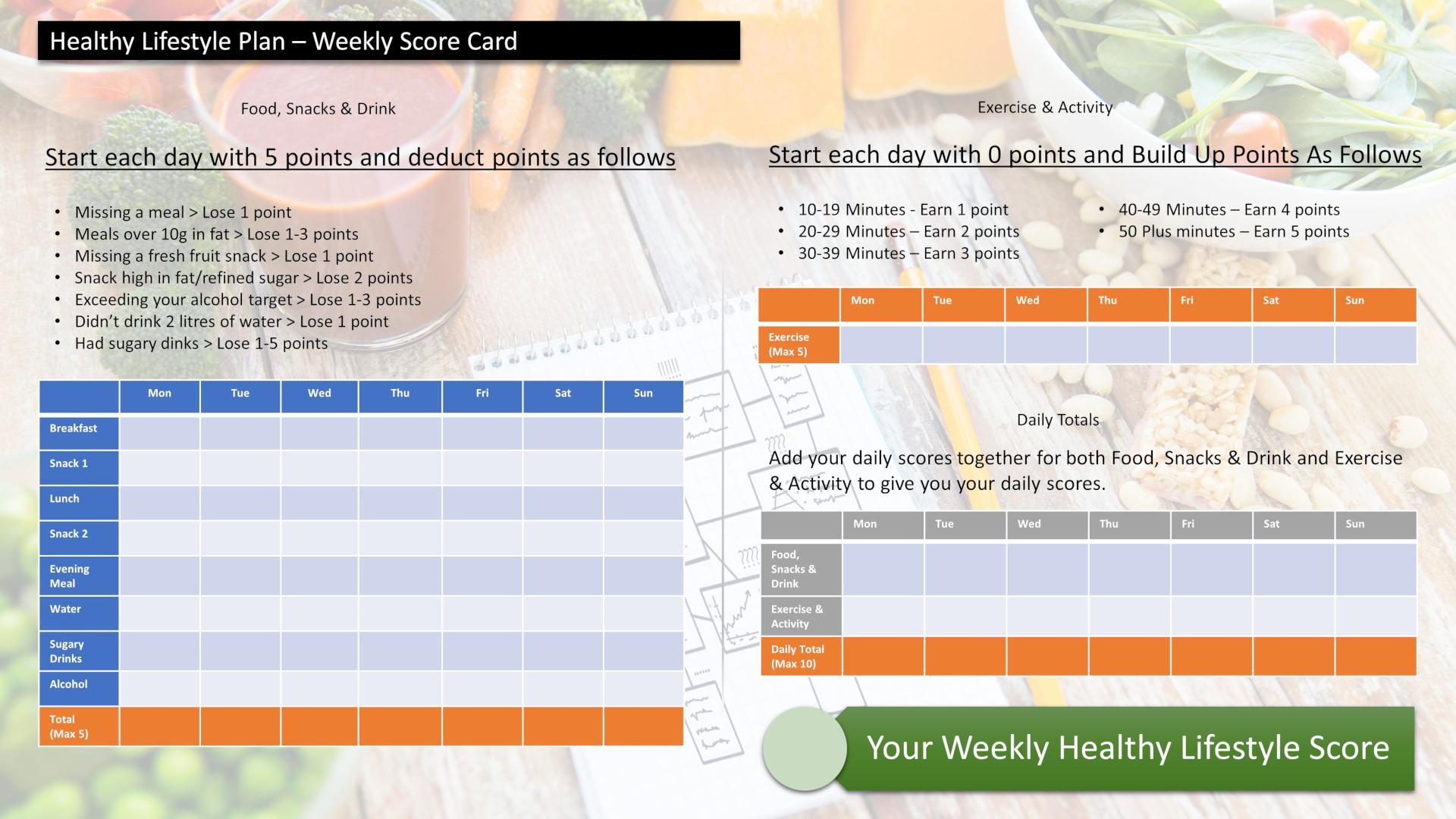 Score your way to good health with our healthy lifestyle plan and it's unique 70 point weekly scorecard!