Body for Life by Bill Phillips
The Book
Bill Phillips' Body for Life is an inspiring book that outlines a comprehensive diet and fitness programme. The Body-for-LIFE book is simple and easy to understand.  It will help you to lose fat and gain muscle, but won't leave you feeling tired or fatigued.
A summary
Body for Life is an intense exercise and nutrition programme based on the goal to achieve quick results in order to keep you motivated to continue in the long-term.
It offers an intense 12-week diet and exercise programme incorporating weight training exercises and aerobic exercises to people's regular schedules.
The entire beginning of the book is focused on inspiration, goal-setting, and taking action to achieve the new you. He shares success stories that go beyond "I lost so many pounds on the scale" but relatex ordinary people like you and me who achieved extraordinary results in their lives through this programme. They didn't just lose weight, instead, they learned how to live again. Then he moves onto the importance of visualization, shares how to set goals, and steps into making those first crucial steps.
The Body-for-LIFE fitness programme includes daily, brief, progressive workouts. You alternate 20 minute aerobic workouts using intervals, and 45 minute weight training workouts using a "high-point" technique. These are designed in a way that periodically drives you to reach higher highs.  You will complete 3-20 minutes  aerobic sessions, and lift weights 3 times a week for 45 minutes.
A 20-minute "High Intensity Interval Training" (HIIT) aerobics workout. You start with two minutes of warm up at a level 5, then move to level 6 for a minute, then 7. This portion of your workout is aerobic. You should be able to carry on a broken conversation, breathing deeply but not out of breath. Your level 8 should have more effort and drive to it, taking you slightly out of your comfort range. Your level 9 effort is a "high point" and should be somewhat anaerobic. After your level 9, you drop back down to a level 6 aiming for active recovery. Then you repeat the cycle again. The fourth time through this cycle, you add a "high point" – a level 10, after your 9. After your 10, you'll get the most benefit from your 10 if you get your breath back to a fully conversational level before stopping.
A 45-minute weight-training workouts focus on hitting intense high points.  The first set of 12 reps is an essential stretch and warm-up. You then move to a higher weight for 10 repetitions, higher again for 8 reps, maximal weight for 6 reps, then dropping to lower weight for a "compound set" – 12 reps followed immediately by another 12 reps using a different exercise for the same part. The last couple of reps in your final 12 should require everything you've got.  The exercises are all shown, with pictures which helps, and they are all simple but effective moves-nothing fancy of dangerous here.
Weight training can elevate the metabolism for up to 48 hours post workout — a benefit not provided by cardio. You must be willing to exercise regularly in order to use the Body For Life plan. When people diet without exercising, their bodies burn muscle in addition to fat. This results in a lower metabolism, which is exactly what you want to avoid if you are having difficulty with your weight.
The Body for Life diet programme consists of frequent, limited, high-quality meals: Six meals a day, consisting of a portion of protein, and a portion of carbohydrates, and since you'll be building muscle and burning fat, about a gallon of water daily to support these metabolic processes. You judge your portion size by the size of your open palm or closed fist. Add  water containing vegetables such as spinach, carrots, broccoli, lettuce, celery, green beans and cucumbers, among others, are excellent, and have very low caloric content. One day a week you take a Free Day, an opportunity to choose "unauthorized" foods. The free day may help counter the risk that your body senses a fasting state, you're trying to convince your body that it doesn't have to lower its metabolism, shed muscle, or defend its fat stores in response to the change in its "environment". The book provides lists of foods and sample meal plans.For one day each week you are allowed to 'cheat' and eat your favourite foods.
Conclusion
Body For life is an excellent programme for people who want to lose weight, or to lead a healthy lifestyle. The programme is a great way for beginners to start their journey, because it simplifies everything. There is no guessing what to do, but instead your schedule is laid out for every day of every week during the 12-week.Programme.
Score Your Way To Good Health - With Our Healthy Lifestyle Plan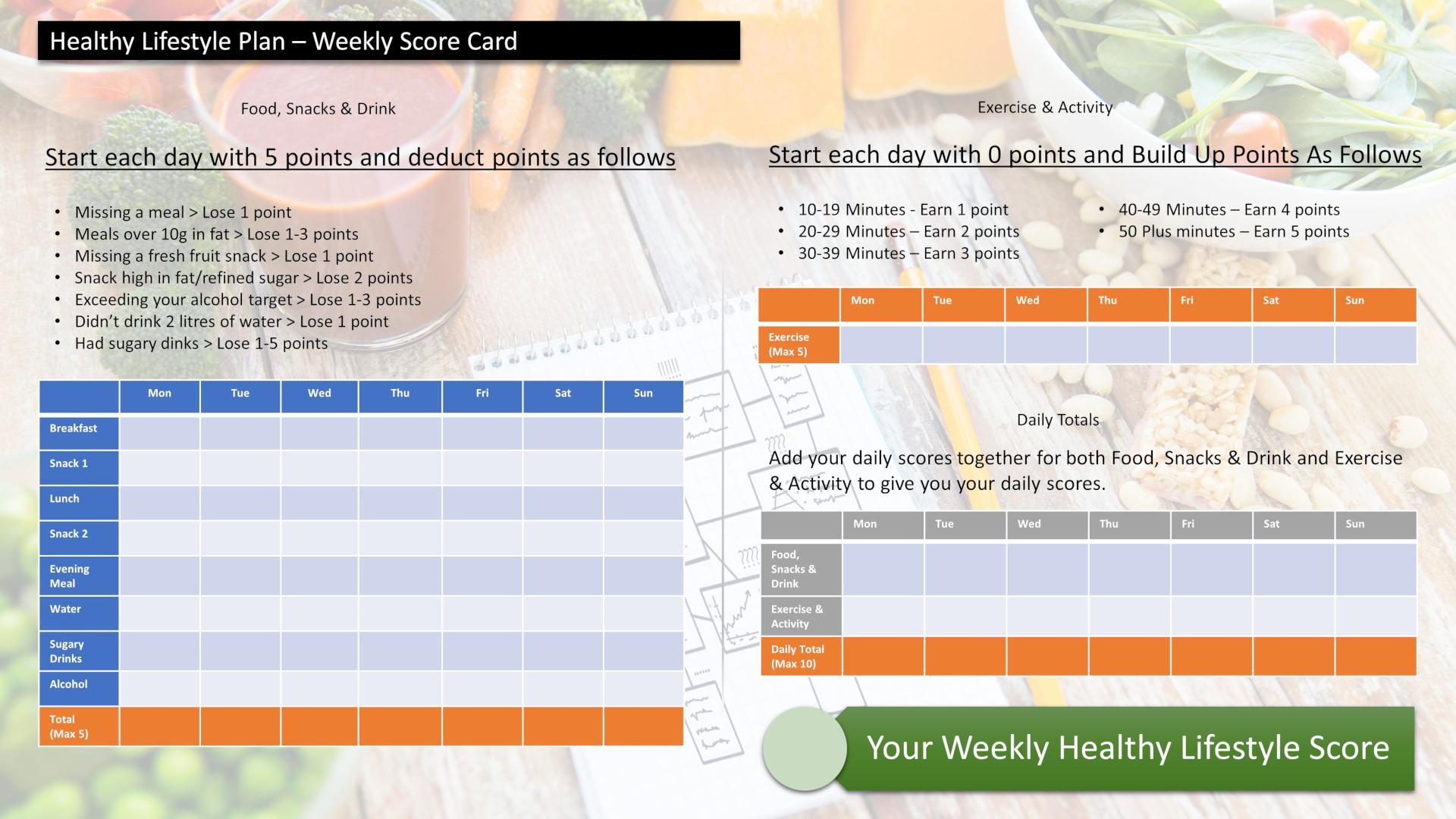 Score your way to good health with our healthy lifestyle plan and it's unique 70 point weekly scorecard!