Many people are now embracing blogging in greater and greater numbers. It is a great way to get your voice heard and even make a little money. The beauty of blogging is the low initial investment. That means anyone can give it a try. No one is excluded
I haven't been doing it for that long, just 18 months. It wasn't planned. It came about with a conversation I had with another Marketing Consultant. He said to me "Larry, you care, you want to make a difference, you are passionate about personal development, you want to help people, well there is an outlet for you, BLOGGING!"
I was in my late 40's when I discovered blogging. Now I use the power of the internet to change the world through a personal development blog. What an awesome concept. Today things have come a long way since my first hesitant steps into the blogosphere. I have now entered the world of business blogging. My blog has allowed me to attract new customers, build brand awareness, and inspire more people than I could ever have dreamed possible to focus attention on their personal growth.
I'm very aware that blogging for most bloggers is not a business. For many of you blogging is a hobby, it's done for pleasure and a way for you to release anxiety and tension.
I have finally found where I am meant to be. I am a blogger. Blogging is my business. I came to blogging for a stage to offer personal development to the world, as my passion. Now Blogging has become my business and it's great! It has allowed me to express myself and educate others. I love what I do and love as much supporting those seeking personal development.
The Blogosphere has exploded over the past few years opening the door to endless opportunities. For me it brings the potential of implementing a location independent bloggers lifestyle.
I'm very much in the early stages of this lifestyle design journey. Location independent lifestyle basically means intentionally building a business that can operate from anywhere in the world supporting me while enjoying my ideal lifestyle. Blogging and everything that comes with it offers me the opportunity to create my ideal life that I want to live. It has helped me identify my dreams and goals, and provides me a way to turn that vision into reality.
I now want to be a pro-blogger, allowing me to be a full-time blogger. It has become a dream of mine, and by this time next year I will have fully achieved that. Blogging has already allowed me to make a gradual transition from the hours I spent on my day job to blogging. Slowly, I've increased my blogging income and the time I spend blogging while reducing the hours I spend on my day job.
In a recent blog post on Healthy Lifestyles Living called Blogging for my Future I say "Blogging is my future and I find it so fulfilling. And the best part is, I'm making money changing people's lives. I will continue putting in the hours, and that may get me my dream of an independent lifestyle I desire and then I'll be living in Majorca. But I'll still be blogging".
I am doing the work I'm passionate about so as to play my part in changing the world, making a difference, and leaving a legacy, and providing me a way to achieve my dreams. I looked at what kind of lifestyle I wanted, what kind of place I wanted to live in, and realized that it could be mine thanks to blogging. Majorca is my destination, and I have given myself two years to make it happen. Although my residency may change, my blogging will continue unaffected. That's the beauty of an independent lifestyle.
Making a great income from my blogs is a goal I'm committed to. I'll make it happen. All it takes is being willing to put in the work to make it happen. If you are willing to put in the effort you can make anything possible. To me making a really good living doing what I actually enjoy is within my grasp.
"If you have persistence to keep pursuing your goals, eventually you'll get there."
I love Blogging and Personal Development and it's now a huge part of my life. I have made unbelievable progress in the last 6 months, and have come on leaps and bounds and couldn't be happier.
You can achieve anything you want from blogging, as long as you put the effort in. Please tell me why you blog, just leave a comment.
Twenty years from now you will be more disappointed by the things that you didn't do than by the ones you did do. So throw off the bowlines. Sail away from the safe harbor. Catch the trade winds in your sails. Explore. Dream. Discover. – Mark Twain
Score Your Way To Good Health - With Our Healthy Lifestyle Plan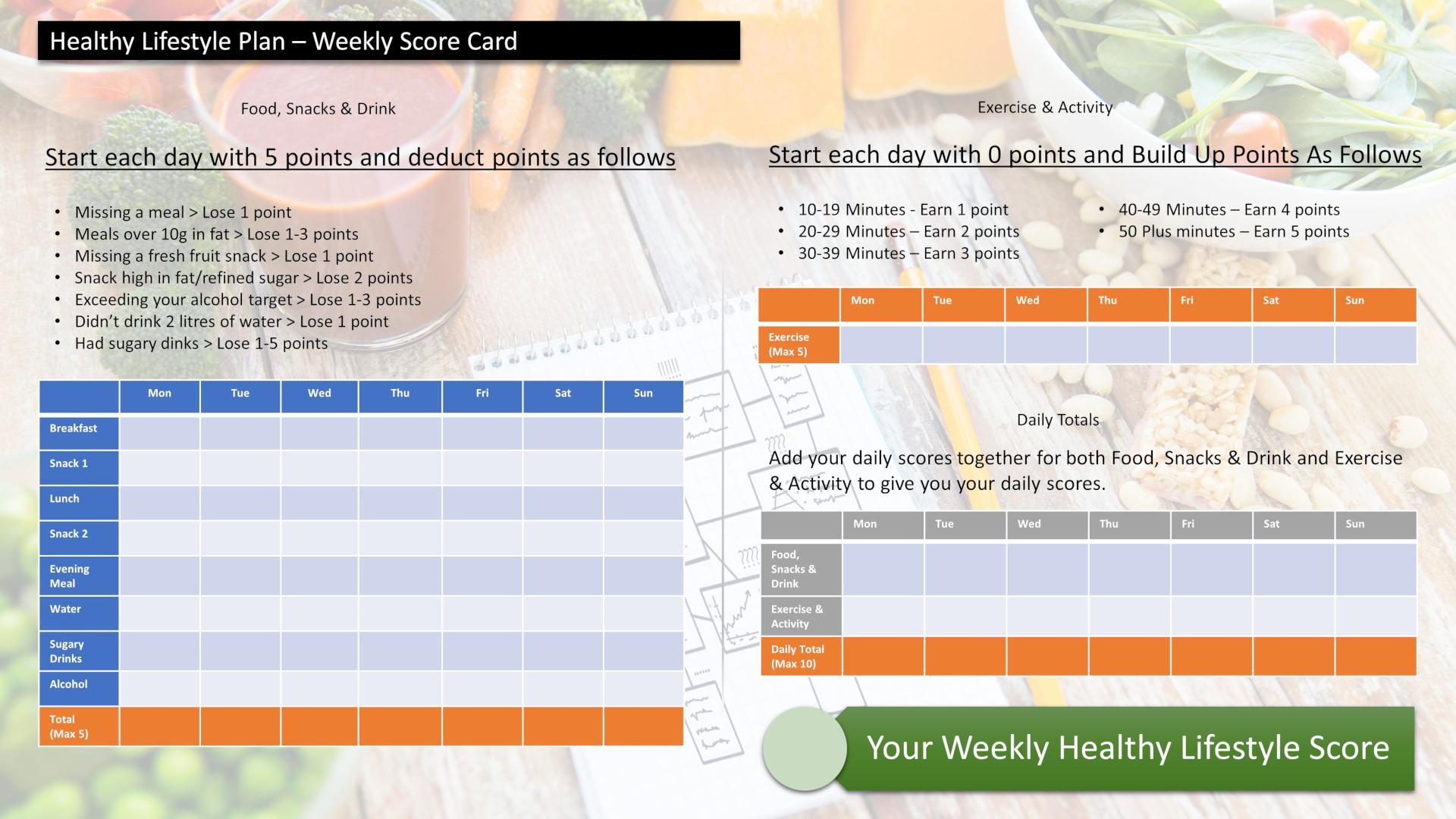 Score your way to good health with our healthy lifestyle plan and it's unique 70 point weekly scorecard!