As a personal development coach I enjoy spending time online establishing my blog and building relationships. It's fun! It can also be hard work with so much needing to be done, but so rewarding.
The fact is that I am helping people, doing what I love, and it feels incredible. I love writing, personal development and supporting people. Personal development is not only my business, it's my passion.
The blogging lifestyle can take a toll on your body and overall quality of life – if you let it. But it does afford you so many exciting opportunities.
There are no guarantees, you can't know for sure, with 100% certainty, what will happen to you today, tomorrow, or at any time in the future. You can't be sure if your blog will achieve anything for you in the long term. To me this is part of the excitement of what life brings to me and how challenging blogging is.
I've never doubted what's possible. I see my blog as taking me down a road of unlimited possibilities. It's my gateway to a wonderful future.
My site has been growing steadily ever since its opening. To succeed in an online business you have to believe that what you want to achieve is possible. Fast forward about 18 months from my starting point, and I'm now making a respectable sum every month from blogging. But this is only the start.
Goal Setting
Goals help you achieve your highest potential. They ensure you are making the most of your life. We have to reach for those things that will make us contented and fulfilled. Having inspiring goals make certain that we are directing our time, energy and effort into those things that really matter to us. Goals provide us the fuel which moves us forward and keeps us going when the going gets tough.
I have always been able to dream, to imagine, to visualize the future I want to live. I have always asked myself empowering questions keeping my motivation high, and my aspirations glowing.
What would I do if I could never, ever fail? What would I do if I had unlimited resources or time? What are my biggest goals and dreams? What do I want to achieve in my life? What is your ideal life? What could make me say "I'm truly lived to my fullest capability?"
Have you ever woken up one day and realised you don't want to be where you are?
I know I want to dedicate my time to helping people and making the world a better place but I'm already on that track. Then it hit me, if I could become a full time blogger, a pro-blogger, I could do my work from anywhere in the world.
And that thought excited me.
Independent Lifestyle Business
A location independence lifestyle allows me to utilize my laptop, iphone and blog sites to create a lifestyle that allows me to live and work wherever I want, be it from home, a coffee shop, on the beach, or even from the other side of the world.
My dream is to establish a highly successful lifestyle business that allows me to inspire others doing something that I truly enjoy, making a huge difference in people's lives, and to have a very enjoyable lifestyle, living in a restful, beautiful place.
Living Abroad
There's no escaping the fact that England is known for its long, gloomy winters and short virtually non-existent summers.
I can just imagine writing my blog, sitting on my balcony of my villa with my laptop, watching the waves washing up on the white sandy beach 100 yards in front of me. It's a sunny day with the bright rays of the sun caressing my face, there's a nice breeze, and I'm thinking about taking a gentle stroll down to the local tavern, wondering if life could get any better than this.
I would love to live abroad. The lifestyle, weather, culture and location of Majorca really is a temptation I can no longer resist. It is now time to turn that dream into reality.
As I can blog from anywhere, it makes sense for me to aim for this to become my full time profession. As long as I have access to the Internet, I can log online and make money.
Living abroad is a dream so many have, but so few make happen. I believe in my abilities, and aiming high. So although I know earning my target income of £5,000 a month from online businesses, and becoming location independent, is going to be one hell of a ride I know it's possible. I've always been goal driven, and once I get my mind on something I'm usually fixated on it until it's firmly in my grasp. I'm thinking big and aiming high. Very few businesses offer this kind of location freedom. An online business offers all this and more.
On line business
Having a specific goal in mind allows me to focus and keep my eyes firmly fixed on the end result. Creating a location independent business is key to me, and that is the beauty of having an online business.
You must develop multiple income streams by combining different online methods. Some of those that I look at are:
Coaching e.g. exchanging knowledge for money
Providing Professional Services e.g. setting up word press blogs for others
Selling Goods e.g. lifestyle products
Selling Information Products e.g. ebooks, audio programs, video training modules,
Affiliate Marketing e.g. selling other peoples products (I'm yet to find the one that truly excites me, any recommendations?)
Blog Moneterisation e.g. Adsense, Selling Advertising
Blogging is my future and I find it so fulfilling. And the best part is, I'm making money changing people's lives. I will continue putting in the hours, and that may get me my dream of an independent lifestyle I desire and then I'll be living in Majorca. But I'll still be blogging.
You've got to have a dream. You must identify what you want to do and then act on it. Having a Dream is really important to get where you want to in life. Without a dream you will just let life pass you by.
What's your dream?
"If you see a difference between where you are and where you want to be – consciously change your thoughts, words, and actions to match your grandest vision." Neal Donald Walsch
Score Your Way To Good Health - With Our Healthy Lifestyle Plan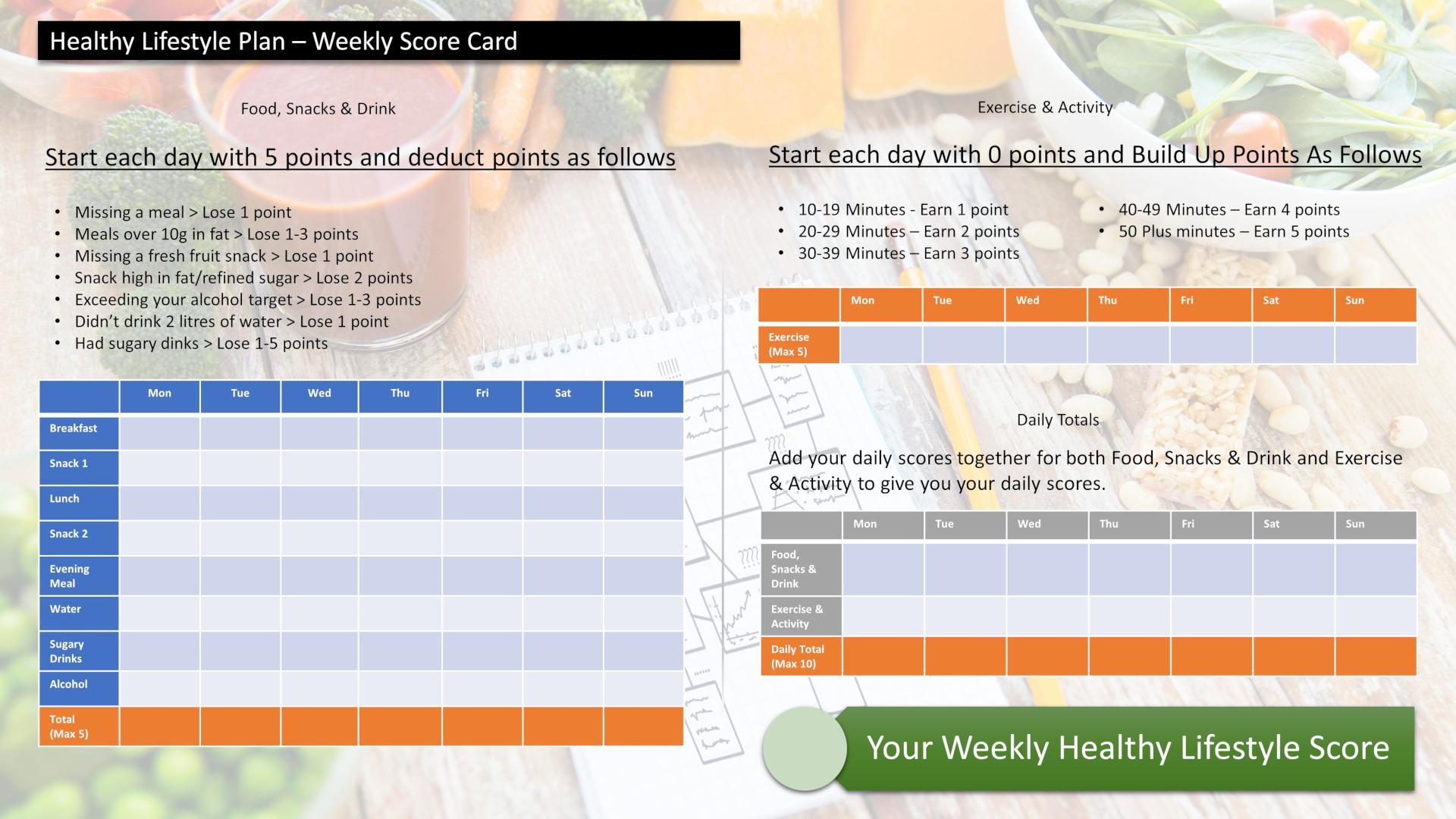 Score your way to good health with our healthy lifestyle plan and it's unique 70 point weekly scorecard!