I figured out a long time ago that there is never enough time to do everything. However, I discovered that you can find the time to do all the important stuff, so long as you decide to stop reacting to unimportant events.
People frequently get side tracked from the important things that need to be done by being distracted by the many unimportant things that always seem to crop up. So the key to getting more done in less time is to first determine for yourself what's important, and secondly avoid allowing yourself to get off track through those unimportant tasks.
Have you ever had the experience of looking back on your week with the depressing feeling that you didn't get as much done as you'd wished? Do you feel like you're always busy but never actually get anything done?
The last 6 months have been pivotal in building our business. It has been absolutely essential that we spend our time doing those important things, and not getting side tracked spending time on activities which aren't of any value. We realise that when there is only two of us, time is one of our most essential assets. We work long hours that I can't deny, but we're building something big which already is paying off in a big way but will ultimately be beyond what even we dreamed about originally. What's been key to our development is that we have always kept our productivity and effectiveness at the utmost level without having to try to work harder than we already were.
We have come to realise that the time we spend working is sacred. That's not to say we don't allow ourselves some enjoyable distractions. When we get to our offices we always spend the first ten to fifteen minutes chatting to the guys in the shop underneath us. The conversation is always entertaining and never fails to put a smile on our faces. We find this a great way to start the day. Well that's not actually how we start our working day. We believe in having a brainstorming session first thing and confirm our plans for the day, so we meet up at Starbucks for our early morning coffee and directors meeting. So if our Accountant is reading this that explains perhaps the rather large number of transactions you will find at Starbucks.
Anyway having done this we are extremely focused on what needs to be accomplished in the hours ahead. It's of course written down in a traditional Job To Do List, which generally is itemised in priority order. This may be something written about a million times, but it's still the best method by far to get the most out of your time for a working day. Keeping a list is a valuable technique and putting your jobs into priority order is just magical.
Let me be honest about both me and Neil. No I'm not going to confess we are gay, I'm sure our girlfriends would be happy to dispute this. The point I want to make about us is that we are both incredibly creative, seemingly always coming out with amazing new ideas and Ah ha thoughts. But we also are both plagued by terrible memories. As quickly as these ideas pop into our brains they can also disappear from our minds equally as fast. So we write everything down. And when we determine the things that we need to do, if we didn't put these into a list we would end up sitting in our office thinking what should we be doing now no matter how much time we may have spent planning it out previously. So we know we need to make a list to ensure we forget nothing and we can work towards a clear purpose to the day.
Once we get going we give ourselves the best chance to stay focused by eliminating time-wasting distractions. Switching between tasks too frequently like the things I used to do such as checking other Blogs, Google Plus, Facebook, Twitter, texts, and emails completely disrupts your workflow. I loved it when I was merely a blogger, writing my posts and then networking with people across the different social networks and spending a lot of time reading other people's brilliant blog writing and leaving a comment. Although this was getting me known, and building me a great following and creating many friendships it wasn't helping me to pay my bills. Neil I admit had to keep working on me to take myself away from this and put my energy into areas which were far more productive when considering the end result.
There's the key, thinking with the end in mind. What is it you're trying to do? What end result are you going for? Once you know this then you just need to make sure that you focus your time on the activities that are going to bring this end result to reality.
We are in control of our time. We know what needs to be done and focus on doing the right tasks so as to achieve the desired output, without having to worry that we have missed something that's important.
What I am saying is that no matter what time management techniques you use, in my mind there are two keys to making the best use of your time. The first is to focus on the important stuff you need to do, and the second is avoid at all costs the distractions that can so easily come your way.
If your time is being spent building a business, you know time is of the utmost importance, and the priority for you is to get the most out of each and every day. So make sure you start with a list of objectives, made up of all the important tasks you need to do, in order of priority, and get them done one by one. Those that you don't achieve simply put on your list for tomorrow because remember you can't do everything at one time. Put your all in to the day so when you end for the day you can go home satisfied with what you have done.
People now try and play down the advantages of working to a Job To Do List. Well I confidently say that I find it an invaluable tool to both keep me focused and ensure I'm concentrating on the important tasks, and the momentary highs we enjoy when we check off the items we have completed does bring immense satisfaction.
Make sure you manage your time and focus well. Take it from me nothing can be more important to your business than optimising your effectiveness at work.
I meet many people trying unsuccessfully trying to build a business who are crippled in their attempts by their use of time. They manage their time dreadfully. They spend only a small fraction of their working time doing what can be considered priority or important work. Much of their time is spent socializing taking coffee breaks, eating, indulging in non-business chatting, shuffling papers, tidying their desks, reading emails, texting friends and doing lots of other non-work tasks. None of these things help their productivity or success
"It is not enough to be busy… The question is: what are we busy about?" Henry David Thoreau
Score Your Way To Good Health - With Our Healthy Lifestyle Plan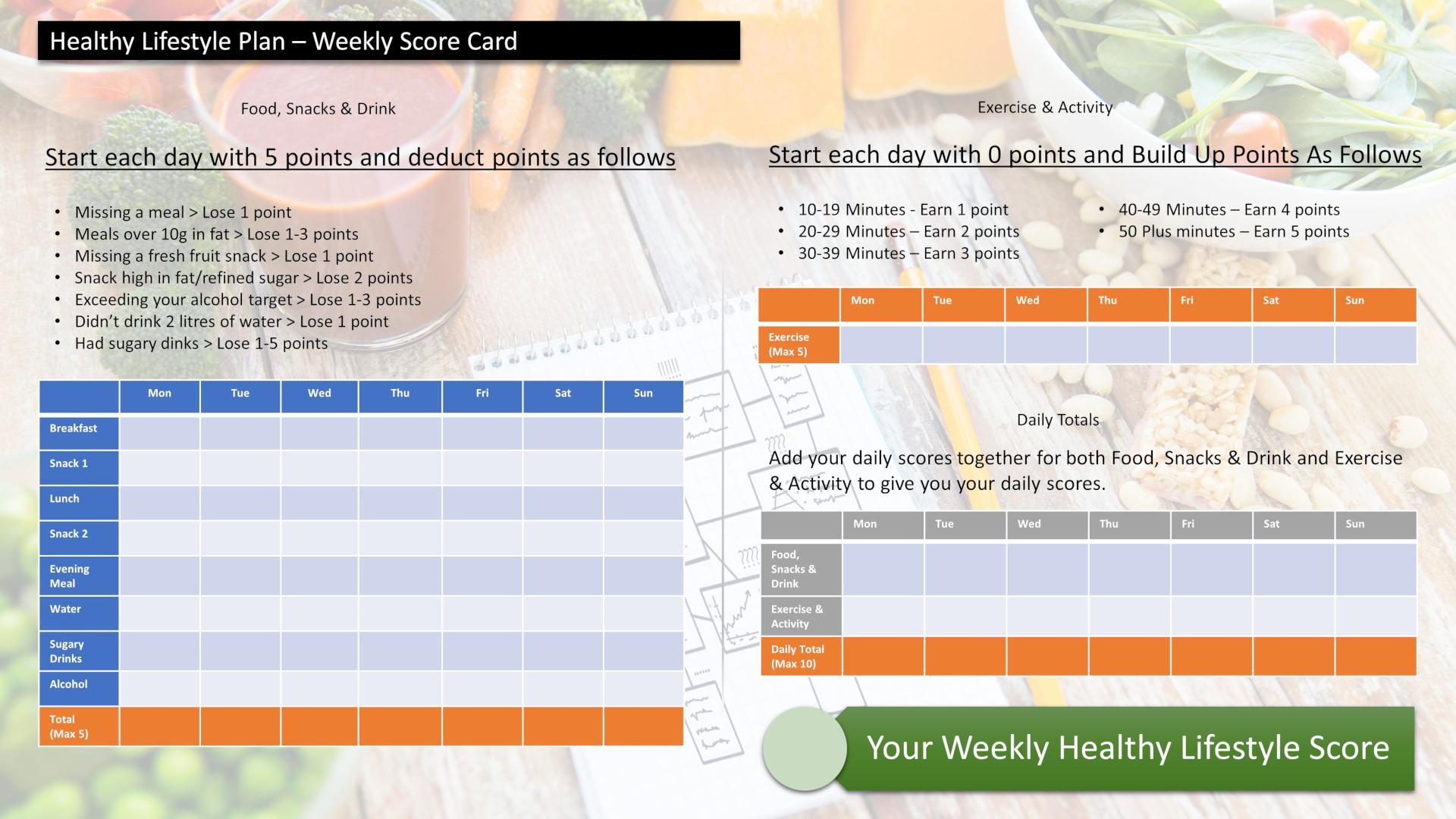 Score your way to good health with our healthy lifestyle plan and it's unique 70 point weekly scorecard!