Through this blog I frequently talk about following your passions, as illustrated by this post last month called 'Live the Life You Desire Follow Your Passions' . I ask questions such as are you looking for a way to follow your passion? Have you struggled with trying to work out what your passion is?
I have often said before that it is never too late to work out what you love to do and to create a life around living your dreams.
We all have daydreams of finding our perfect job and making all of our dreams come true. Alas more often than not, that is as far as we get, idle daydreams which we give up pursuing before we've even started.
That is one of the reasons why I started this site … to help people who are searching for their passion and do not know where to start … or how to transform their passion into their dream job or life's work.
The most important question you can ask yourself is: "Am I really doing what I want?"
What does following your passion mean anyway? The only standpoint I can give you is my own, but for me, following my passion means doing what I feel incredibly excited about. That is what 18 months ago brought me to blogging.
In early 2010, I went from being a fitness club owner and gym consultant to doing something I was even more passionate about, which was building a blog and bringing my knowledge and passions for healthy lifestyles and personal development.
The benefits of blogging are countless and in my mind so wonderful. It has brought me a wealth of opportunities I would never otherwise had. It's awoken my passion for writing. I've connected with so many other wonderful people and allowed me to forge new friendships with some.
I update this site 5 times each week with positive self improvement ideas and tips to help my readers reach their full potential. Every article I write brings me fulfilment, no matter how much it challenges me.
Blogging provides you with a platform to be heard and seen. One of my primary goals is to make the difference, to help others make positive changes in their lives. Well because of my blog I have received emails, Facebook messages, tweets, comments, and more from people thanking me for what I do, and helping them on their journey of life. There is no better gift than that for me. .
Following your passion is a step-by-step process. As long as you're moving in the right direction, you're making progress. There's no doubt about the fact that turning blogging into a full time perfect job, capable of bringing in sufficient income doing what you want to do, takes a lot of hard work and time, but I love every second I spend doing everything that blogging requires.
If you're serious about making blogging or anything work, you can succeed. Of course it took me a little while to find what worked and what didn't but now I am starting to make a living online, and loving every minute of it.
When I first started, I was completely out of my depth, but I did my best, and I kept working at it and moving forward. I took one day at a time. Making sure I took action each and every day.
I love following my passion. The road has not always been easy and I certainly have not yet become a full time pro-blogger, but I'm well on my way and in my imagination I can see exactly where I want to get to. Opportunities keep opening up for me and as long as I keep taking action they always will.
I can sit down and read other blogs and write for hours on mine and still feel energized to do more. Time never goes slowly for me. I look at so many people around me who keep looking at their watch throughout the work day and wondering why time seems to go so slowly. That is the difference between working with your passions, and doing a job.
I know it is impossible to jack everything in on the spur of the moment. Success cannot happen overnight. But if you really feel passionate about doing something, you will make time for it. Put a few hours in early morning before work, in the evenings when everyone else is watching tv, and on the weekends when others are sleeping in.
By me giving my best over and over again, my blog started getting noticed more and more. I wrote a while back about how my Alexa rank was something I paid attention to in my post 'Alexa drives me out of bed every morning'
When I first started out blogging, my Alexa ranking was in the millions. They say a decent Alexa ranking is under 200,000, and if you can get under 100,000 then you are really making progress.
I made it a major goal for me to get my Alexa ranking under 100,000. Today feels like I have achieved a monumental moment.
Healthylifestylesblog.co.uk has cracked into Top 100,000 Alexa Ranking! Right now, it is at… 98,583!
If you have a site that is in the top 100,000 in the Alexa Rank that means you have a well visited site. Alexa computes traffic rankings by analyzing the Web usage of millions of Alexa Toolbar users. I am also fully aware that tommorow when i download the up to date Alexa Top Million List there is the possibility that i may have slipped ot of the top 100,000. But today I'm there.
If you want it bad enough and you have the passion and excitement my belief is that the law of attraction will kick in and you will get there. As Neil of Call the IT Guy says 'all is happy in Larry Land'
I would like to make mention of one person who made a world of difference to my progress. Her name isSarah-Jane Klemis who set up a facebook group for bloggers called Blogplicity. I was invited into that group on the day of it's creation. She and others in their shared so much knowledge with me, visited my blog frequently and left lots of comments. When things weren't working for me in the blogging world, one of this group would be there to help. Without them, I have no doubts my blog would not be in the top 100,000 and more than likely I wouldn't still be here. Sarah I know you have taken a rest from blogging, but know your contribution will never be forgotten.
So ask yourself: "Am I really doing what I want?" If the answer is no, it's time to change something. I did and I couldn't be happier.
Score Your Way To Good Health - With Our Healthy Lifestyle Plan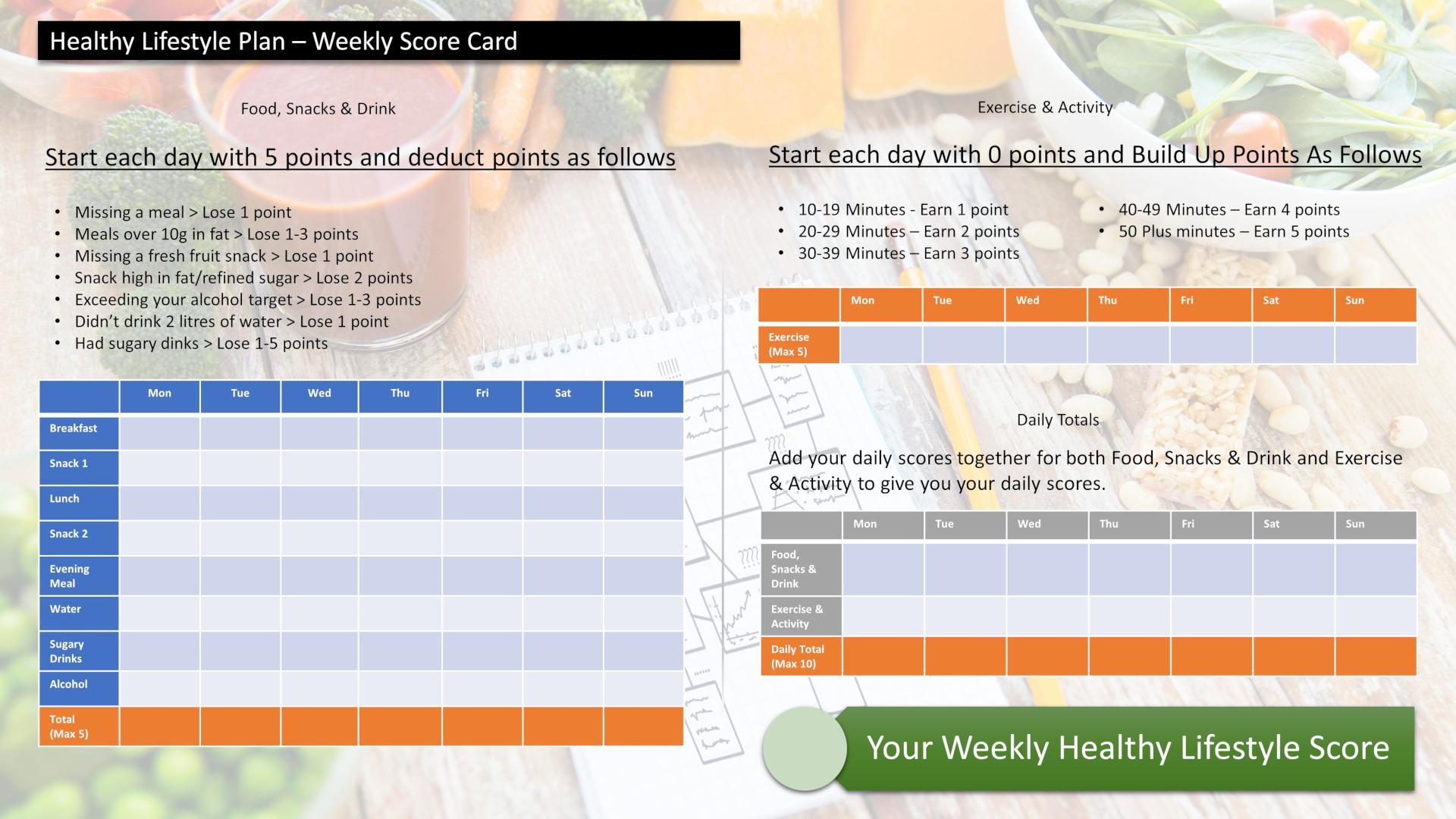 Score your way to good health with our healthy lifestyle plan and it's unique 70 point weekly scorecard!