Recently the German Chancellor Angela Merkel said that people should retire later and take fewer holidays.
When you ask a majority of people 'What day of the week do you dislike the most?' the reply is usually 'Monday, because I have to go back to work.'
So the question I ask myself is 'why do they continue to go back week after week?' Isn't quality of life more important than earning a living by doing a job you hate. How would you feel if now you had to do more hours, take less holidays and do it all for an extra 10 years?
It amazes me how many people are simply bored to tears with their job, finding themselves unchallenged and uninterested in their work.
Can you really just keep going on in this 9 to 5 rut, or isn't it about time to consider other possibilities.
There are no guarantees to how long we are going to live. After all we could be crossing the street and get run over by a bus. None of us know when we are going to die but there is one thing that we do know – we all will die someday – could be in another 30 years, could be tomorrow morning. So shouldn't we make the most of every second we have.
This is a controversial issue, but I'm sharing with you my thoughts. My belief is that we owe it to ourselves to make the most of the time we have here. In this I would certainly say we need more from life than just earning money – we want to be happy. To be happy we need to fulfil the need to live our passion. We could die at anytime. So surely it makes sense that we ensure that we spend as much of our time as possible died doing what we love most.
If you are stuck in a rut at work and keep asking yourself 'surely there's more to life than this?' then it's a sign telling you that you are not living your passion. So how much longer can you go on being discontented?
Do you want more in life? Do you want to follow your passions? How about doing your dream job in something you are passionate about.
Time is not on your side – so don't wait for to long before you make the changes that you dream of. Don't be your own worst enemy creating your own obstacles through the excuses you make why you can't make these changes. If you really want something, you have the ability to get it.
You can easily find excuses, such as lack of money or time or resources making it impossible. In truth it is fear holding you back, stopping you pursuing your dreams.
Take small steps if you have to, but do what you love, patiently and persistently, the rewards WILL come.
If you are unhappy with your current job and presuming that you work for 8 hours, doing the conventional 9 – 5 shift, 5 days a week, you are spending 2080 hours a year, less maybe between 80 to 160 hours for your holidays, doing something that you hate.
Are you willing to spend most of your life doing something you dislike to bring in the money which pays the bills?
I was a marketing consultant. Earning a really good living. Travelling the country. But I wasn't happy. I was offered advice given to me by one of my mentors more than eight years ago 'Larry, do what you love, and the rewards will come.'
Although I was sceptical, I really wanted to believe that this could be true. If I followed my passion, and pursued what I loved for a living, would the rewards really come.
The answer, I have discovered, is "yes." If you do what you love the rewards will come." Maybe not immediately, but they do come.
Many people are reluctant to take a big step like this, but proper planning and analysis, should go a long way in helping you make the right steps.
Leaving your safe comfortable mundane but paying job to go into the land of the unknown is of course a frightening prospect. Taking this type of risk could affect your standard of living, even your ability to pay bills, particularly at the beginning.
I knew life was not just about being comfortable – its about living your passion.
When I came to make this decision, and take my steps towards my 'new life,' I truly believed in myself, my skills and ability. I took the risk, turned my back on my well paid job so that I could follow my passions.
I set out to follow my passions, and work at it for my living. The death of my sister, was the final piece in the jigsaw, that determined for me that now was the time for me to make the change. Life was to short not to.
For all of my adult life I had been passionate about personal development. Both learning it, but also teaching it. Now I wanted to make the difference. I took various courses to give me the qualifications I needed, and then became a Personal Development Coach. In time the money started rolling in, and I never looked back.
Then I started blogging. I didn't do it for money, but because I loved it, and was passionate about helping more people than I could through my work. And I still do, and I still blog with passion. However, I've been lucky enough to start making a second income doing what I love, and this is growing month by month.
So my personal experience shows to me that when you focus on your passion , and find ways to allow your passion to impact others, you have a winning formula! When you are passionate about what you do, you give 110% and the results show.
Ask yourself 'What am I deeply passionate about?' An empowering question to give you a result that will help you move forward is "How can my passion provide me with a more than adequate income?
Put simply, what can you do that you're excellent at, passionate about that can help you earn what you need, to sustain or improve your current standard of living.
Find out what you're passionate about. This is often where you invest a lot of your time, energy and thoughts, or would like to. It doesn't feel like a "waste" of time when you're doing it, time just seems to evaporate and you would do it for no payment, just because you love it.
You need to actively look for opportunities to where you can possibly create income from your passions. In my case it was taking the necessary qualifications to become a personal development coach, and now also a blogger.
Now my passions generate my income, and I spend most of my day doing a job I love, which in turn means I am always energised, and the day seems to fly past.
So if you could select one of your favourite hobbies or past times, and make a living from it, what would it be? Reflect on what you love and ask yourself 'Why are you not doing this already?'
For your whole life, so far, you may have been stuck doing jobs you hate just to make a living, so now just take a few minutes and think to yourself about the possibility of following your passions and allow them to create a whole new life for you. If you do make the decision to do this, and you are willing to be persistent, dedicated and put in a lot of hard work, the rewards could definitely be worth it.
You can do and be far more than what you have ever thought possible. So do what you love and enjoy the rest of your life!
Did you enjoy this article? Please pass it on to others, or share your own thoughts in the comments section.
Score Your Way To Good Health - With Our Healthy Lifestyle Plan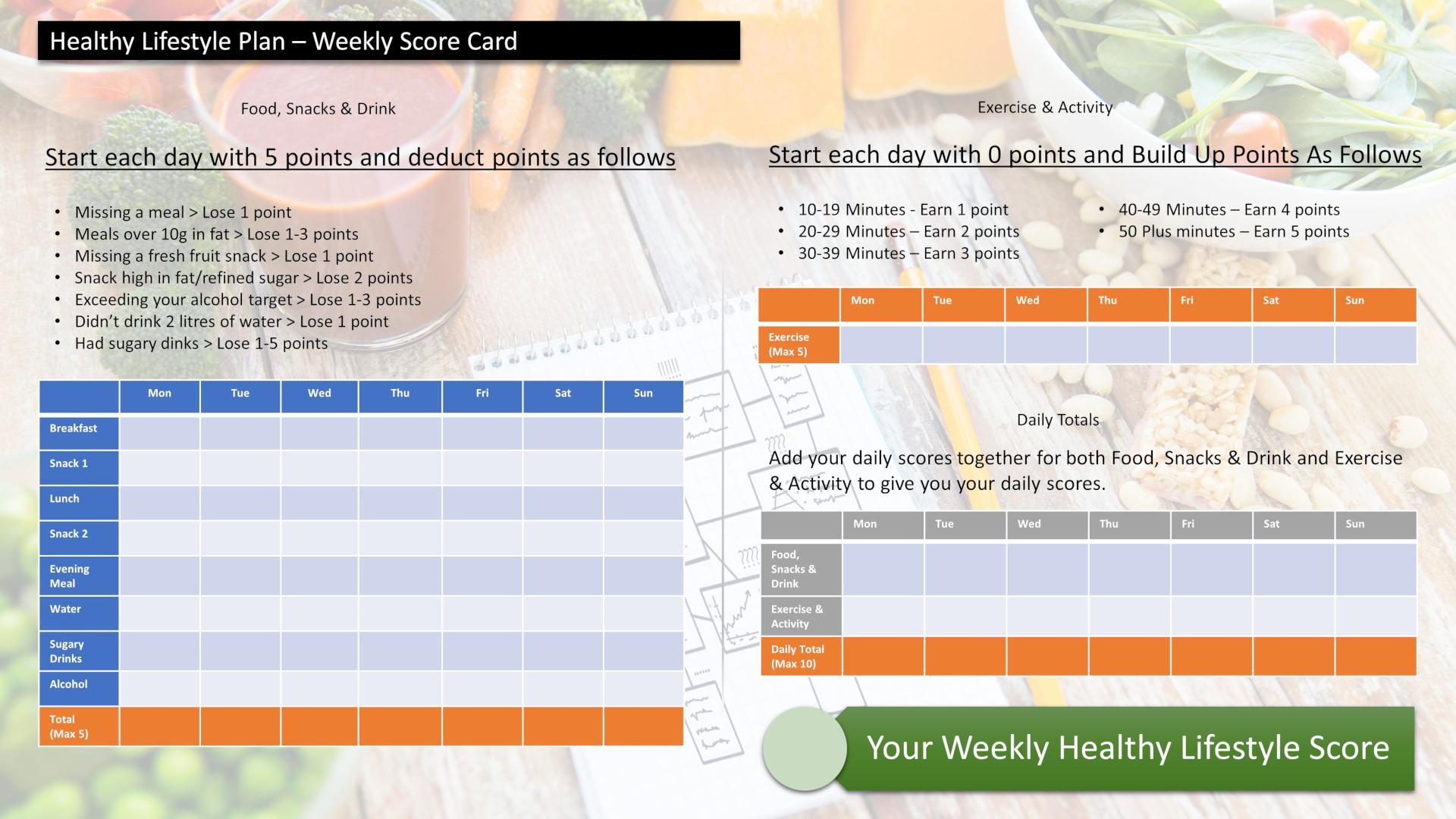 Score your way to good health with our healthy lifestyle plan and it's unique 70 point weekly scorecard!