Today we are going to look at making a list of the things we don't want to do. I was watching NCIS Los Angeles and smiled at a conversation that took place.
Sam: Everyone has one. What's on your Bucket List?
Kensi: I want to get married, have kids, own a horse, live in Bali, read all the greatest books on the earth, live on a desert island and ride my horse along the beach all day.
Callen: They're only things to do
Sam: That's the exact point. It's a list of the things I want to accomplish while I'm still here. There's got to be something you really want to do?
Then Callen responded with "Can we put on a list the things we don't want to do?"
Now although I frequently urge people to create their Bucket List, I wrote a blog about it a few weeks ago called Do You Have a Bucket List, the idea of also writing up a list of the complete opposite to include all those things we don't want to do appealed to me. In fact I believe that if we include the things we know waste our precious time then maybe this list has to be put into action to enable us to achieve those things on our bucket list.
I often write about the things I believe we all should be doing, trying or experimenting with in order to maximize our success and happiness. However, it's not always the things we do that make the biggest difference in our lives; it's often the things we waste time doing that have the biggest effect.
Work hard for what you want because it won't come to you without a fight. You have to be strong and courageous and know that you can do anything you put your mind to. If somebody puts you down or criticizes you, just keep on believing in yourself and turn it into something positive. Leah LaBelle
I'm working with a client at the moment and one of the things he has written on his things we don't want to do list is that he doesn't want to keep wasting so much of his time on the computer. He actually said: "I need to reduce my screen time. I've been plagued with this one and have recently been getting into a habit of getting home then wasting 2 hours on social media/Internet." He gets nothing constructive done. He wants to do some reading, plan ahead for the next day, do meditation, but he simply sits on his computer till he feels the need to go to bed. What a waste of his time. Eliminate this and he could do all these other things.
Another client is desperate to lose weight wants to stop binging on chocolate over the weekend, eating takeaways and drinking too much alcohol. It seems every Monday when she steps on the weight scales the weekends debauchery ends up with around 4lbs being gained. All her hard efforts during the week wasted.
I have no doubts you have things you don't want to do. Maybe this example list will get you focused:
You're way too distracted by modern technology.
• Watching TV, Videos or Netflix.
• Texting nonstop on your mobile device.
• Spending way too much time on Twitter or Facebook.
• Playing computer games or those on your phone.
• Throwing your money away on gambling sites.
• Browsing the internet.
• Constantly checking your email.
Giving space in your head to destructive negative thoughts.
• Whining about our problems instead of trying to put them right
• Fearing failure so we don't try
• Putting yourself down
• Being jealous of others
• Feeling Sorry For yourself
• Focusing On your Weaknesses
• Expecting the worst
Letting the past hold you back allowing the pain to consume you, unable to release, forgive and let go.
• Dwelling On The Past or our mistakes
• The bad things that have happened
• Lost loved ones
• Break up of relationships
Spending too much time working
Or a host of other things you no longer want to be doing.
If time be of all things the most precious, wasting time must be the greatest prodigality. Benjamin Franklin
When you look back over your life in the future, I want you to be happy about what you've done and the things you've ticked off your Bucket List, not having regrets about what you've not had time to do. I want you to be productive no longer wasting your time away as lost time is just not retrievable. So that's why I urge everyone to write up the things we don't want to do list, and act on it immediately.
The most important decision you will ever make is what you do with the time that is given to you.
How much time have you wasted today?
If you want to succeed in life cut out those things that waste your time. Larry Lewis
Score Your Way To Good Health - With Our Healthy Lifestyle Plan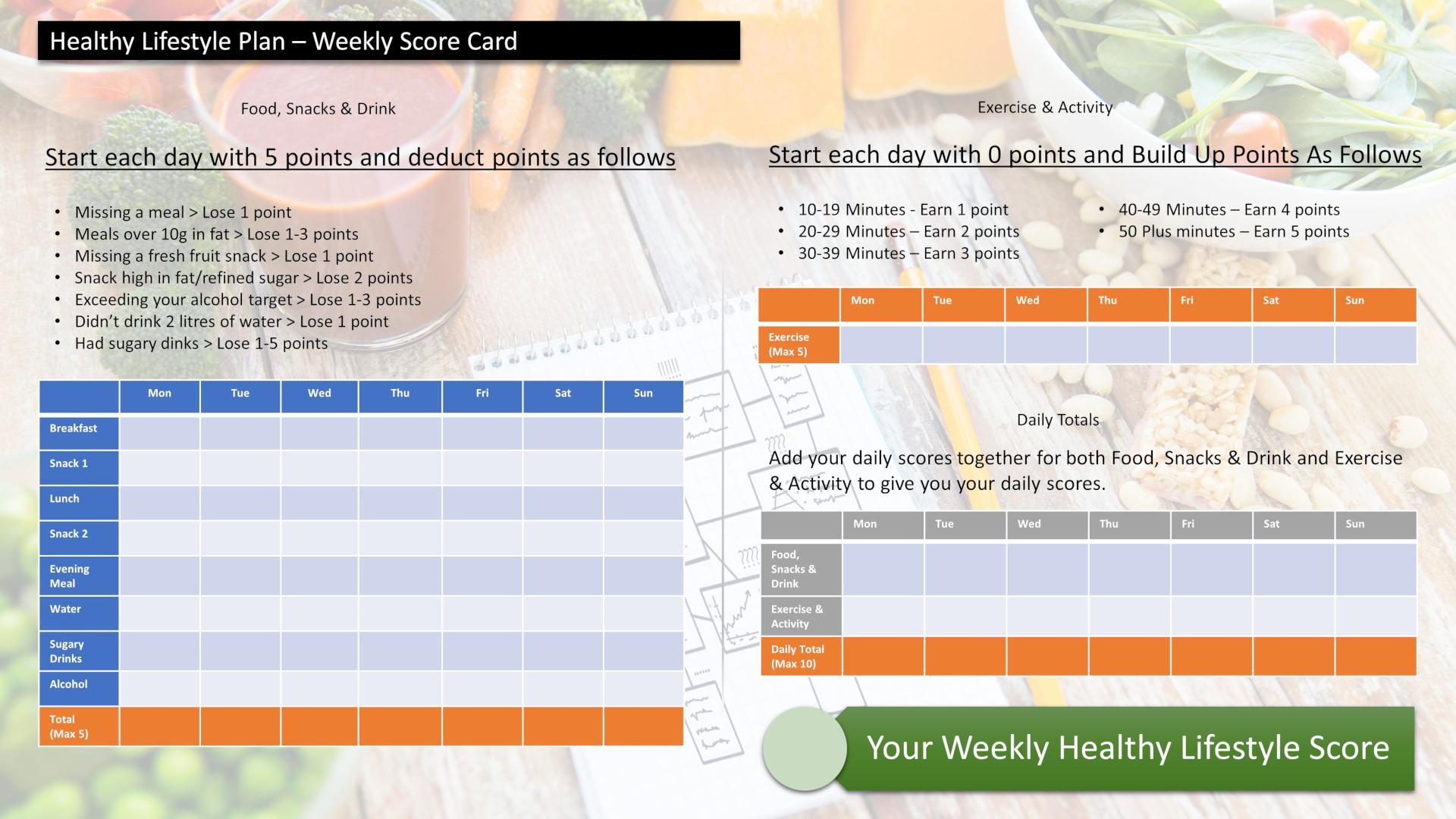 Score your way to good health with our healthy lifestyle plan and it's unique 70 point weekly scorecard!