There are so many things we can do with our life, places to go, things you must want to do, and a bucket list full of these exciting 'must do's.' I was watching the Men's Wimbledon Final yesterday afternoon and thought to myself that I'd love one day to be sitting on centre court watching the men's final play out. In fact I said to myself, I really do want to be able to do that, and it's time for me to create my bucket list and determine those things I really still want to do while I'm alive.
I'm somebody that believes in setting myself all sorts of goals. They inspire me and ensure I set my sights on things I really want to do, be or have. We all need something to aim for, things we really want to do. I am a firm believer in leaving nothing undone. If you want to live a life full of regret, then a bucket list is pointless, but alternatively if you want to live a life of excitement, fulfilment and adventure then a bucket list is essential.
There are too many people who seem devoid of any goals. They simply survive, living dreary generally unhappy lives yet often too busy to think about things that they'd find exciting.
They need to create for themselves a bucket list. It's a list where you put things that you want to experience and do before you die. There are no rules for a bucket list and the content of the list only depends on your aspiration and imagination. I remember watching a great film called "The Bucket List" starring Jack Nicholson and Morgan Freeman, and it showed the importance of making the most of your life before you die.
A bucket list comes from the expression to kick a bucket or in other words its "Now or Never" do it before you die.
For example although I've been very fortunate to visit Disney World in Florida multiple times, I certainly want to take my two grandchildren there and see their excitement and happiness, and for them to see mine.
Travel is very much on my bucket list. Not many of us are lucky enough to experience all that our incredible world has to offer yet we do truly live on an amazing planet, and owe it to ourselves to explore as much of it as we can. While much of the population sits indoors spending their days sitting on a computer or in front of the TV, so much is available to them just waiting for them to show their interest.
What saddens me the most is the life many young adults seem to accept. Struggling to climb the ladder of success, holding down jobs they don't enjoy, living to pay bills. More and more young people are struggling to find their way. They seem to have set no goals, setting their sights on nothing but struggles. Instead they should set their sights on those special things they want to do, places they want to go, the contribution they want to make in your world.
Yet, many twentysomethings today, dream about nothing,, seemingly happy with the little they've got, not desperate to explore or do anything amazing. Instead they should live life to the fullest and do all the amazing things that some people only dream of. We never know how long we have so don't waste any time, set your goals now and write your bucket list today and live the life others only dream of, and if you don't have a bucket list get writing. I know life can be tough, money a struggle, but having grandiose goals can inspire and motivate, helping bring about change.
What would you love to do, that you have not had to chance to do yet? It could be people who you would like to meet or see, a place in the world that you have always wanted to visit, an event that you have always wanted to go to. What would you do if you could?
Create your own personal dream list. Write down everything you would want in your life if you had no limitations whatsoever on your potential. Don't fall into the trap of limiting yourself in advance by thinking of all the reasons why it's not possible before you even begin writing. Just allow yourself to dream.
Start your Bucket List now
Score Your Way To Good Health - With Our Healthy Lifestyle Plan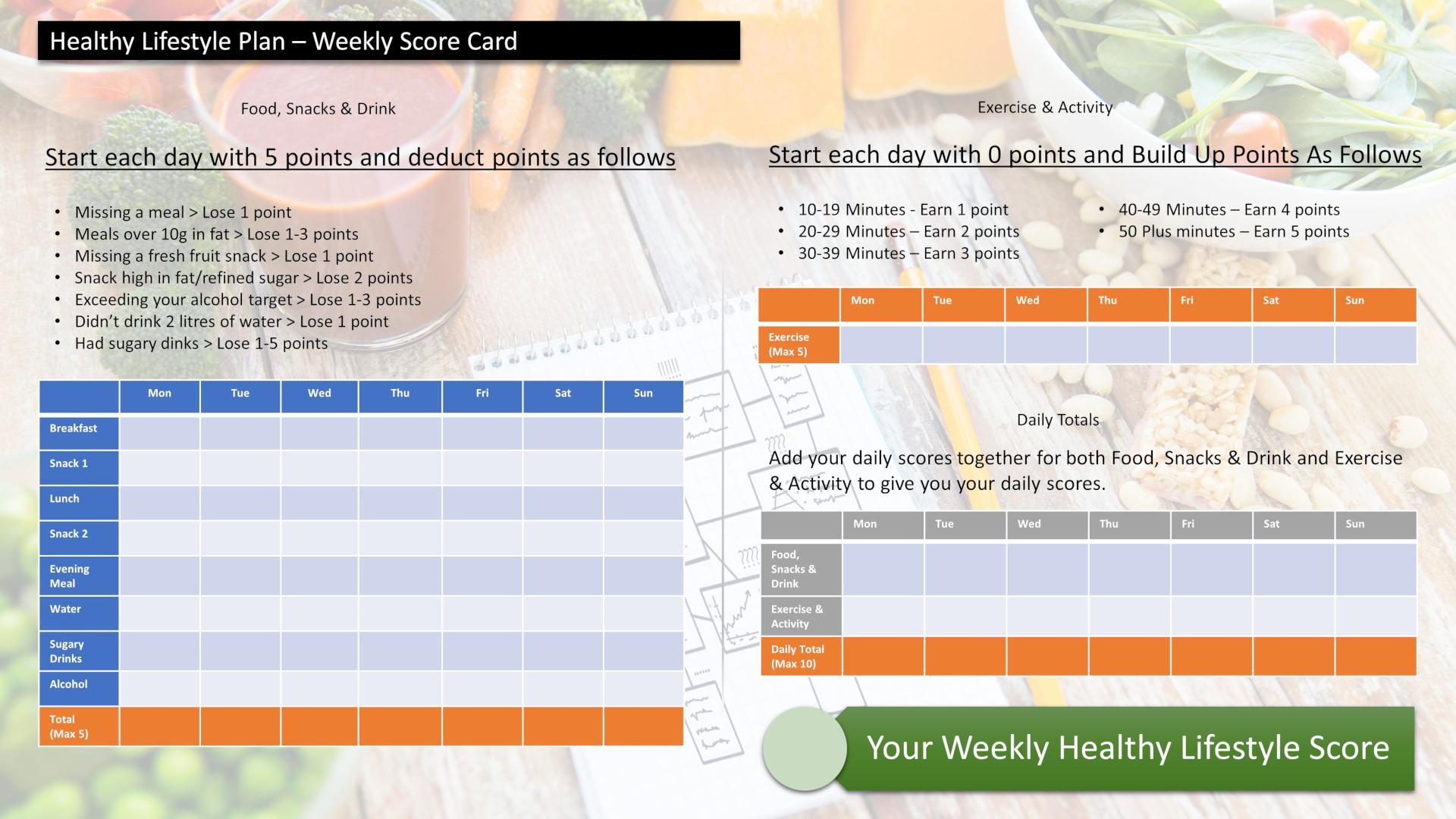 Score your way to good health with our healthy lifestyle plan and it's unique 70 point weekly scorecard!