Can you imagine being able to feel and see close to hand all those things you desire in your life? Looking every day at the images reflecting the person you want to be, the things you want to have, the places you want to go, and everything you want to do. If you could see these images close at hand, whenever you wanted to, this can only inspire you.
You will be excited by imagining that you can be, do and have all these things of your desires. And you can create a wonderful tool to make this happen. You have one of the most powerful tools in personal development where you can do this, and that is called a Vision Board.
A vision board is usually made of cardboard or a large piece of paper and consists of a collage of various pictures and words you tear of out magazines or acquire elsewhere that you glue or tape to the board, that define your dreams and desired future. The magic of a vision board is that it's like a treasure map that leads to hidden pathways to get you to the life you want to live. It truly does inspire you to go for these things you see.
I explained what I saw as the benefit of a vision board in a previous article called Vision Board Creating your Future. I said it's important to keep reminders of your goals in front of you at all time. If you don't, life has a funny way of getting in the way and pulling you totally off track from where you want to go. In this very same article are instructions to create a vision board.
So what do you want to create in your life in 2012 and beyond? As a life coach I enjoy assisting clients in creating what they really want in all aspects of their lives. So many of them have previously spent time writing a "I want list." It was like writing a shopping list for your groceries at the supermarket. The only difference was you don't go to the shop to get them, you just put them in your pocket, and re read the words every day. I don't believe words alone can inspire the human mind to action, e4specially where it involves fulfilling your dreams.
To me the power of an image is so much greater than what reading simple words can do. They say pictures count for a thousand words, I believe they also make it possible to visualise success. I love looking at my vision board focusing all my thoughts on an ideal future achieving all my dreams.
Successful people have one thing in common; Vision.
I have for a long time been producing my vision board. I swear by the power it creates for me.
I would advise everyone to make their own vision board, because by doing so they will be taking a major leap forward in bringing their dreams and desires into reality.
By spending time looking at your vision board you are offering yourself consistent, sharpened focus and vision of how you are going to live your life. Your Vision Boards goes one step further than goal setting.
As I've already said seeing pictures of the goals and dreams that you so badly want sparks emotional reactions within you, making you more focused and powerful in committing and taking action. Ultimately, seeing visual pictures of your goals significantly increases your ability to visualise the completion of them.
If you have not made a vision board yet then you should seriously consider in doing so. A vision board could be the missing part of the equation that is stopping all your success falling into place.
I promise you once you've decided what it is you really want to create in your life, a vision board will put you on the path to achieving it. If I don't create the life I want who will.
Creating vision boards to me is a way of setting goals of getting clear about what I want in ALL areas of my life. Vision boards are a concrete and daily reminder on what you really want. Keeping what you want in front of you every day and taking daily action steps to make it happen does allow you to create the life you want.
Building your vision board should be a lot of fun. In fact, it should be a joy! Ideally, it should fill you with the same joy you will feel when you have achieved your goals! Populate your vision board with your goals and aim high.
Building your vision board does not have to be done all at once, it can be a gradual process. However, the idea is to get started and begin moving in the direction of your dreams.
Your goals and dreams may even change with time. It is okay to fine tune and clarify your dreams as you journey towards them. However, get started as soon as you can, you have everything to gain.
The premise behind the vision board is that by frequently looking at the images of your dream goal, you will reinforce your desire and your drive, and you will ultimately attract that which is displayed on your board.
Many people find that the use of a vision board stimulates them to work harder towards their goals. Some even believe that their goals are achieved more quickly and easily by using this method.
So get your vision board made. You really will find it a magical tool for attracting what you want in your life.
But never forget, nothing happens in life without putting in real effort and commitment and lots and lots of hard work.
So go build your own vision board right now!
Score Your Way To Good Health - With Our Healthy Lifestyle Plan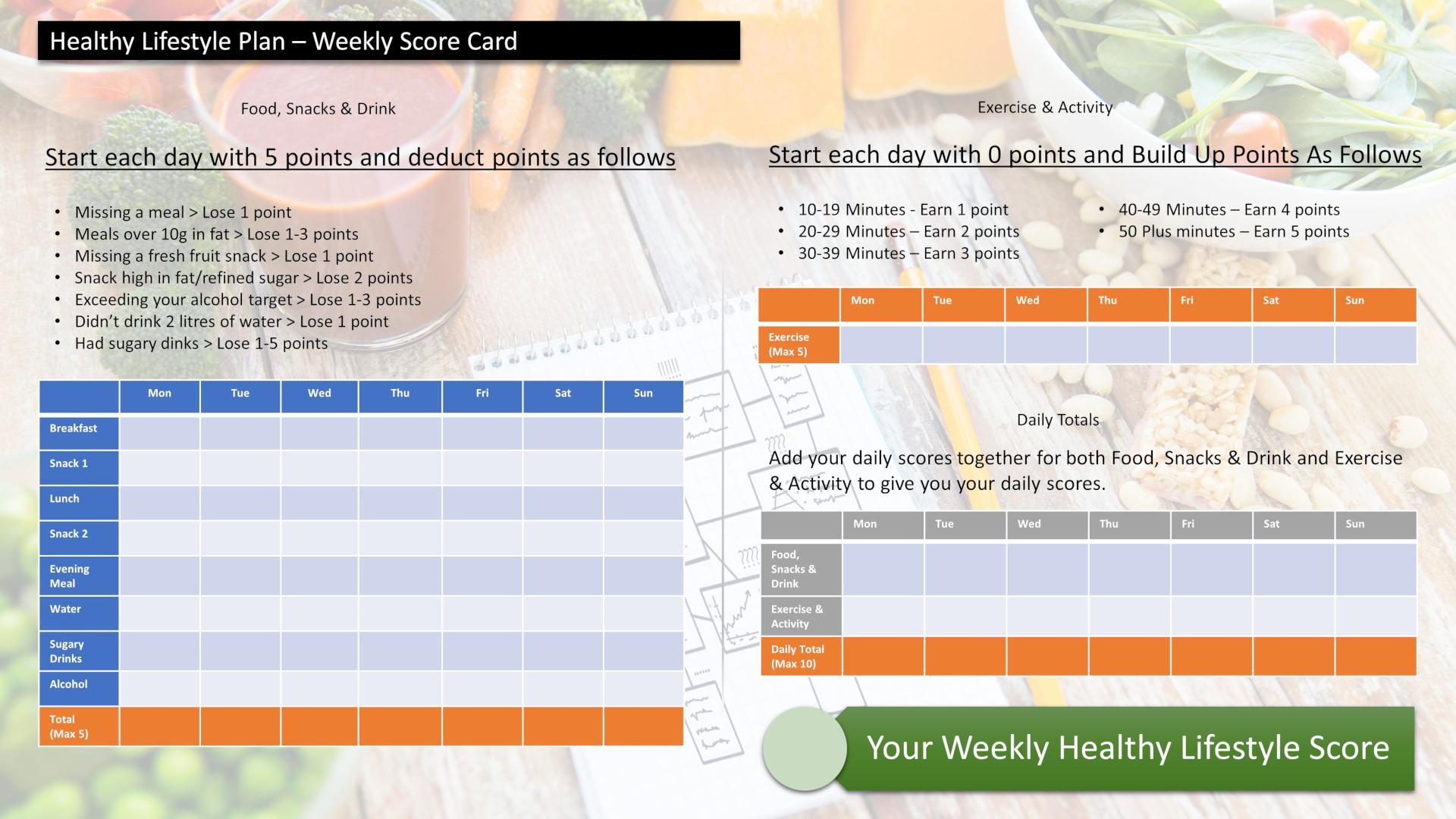 Score your way to good health with our healthy lifestyle plan and it's unique 70 point weekly scorecard!