Failure is something we are all going to face at some time in life. That's just the way it is. But the word failure is so often taken the wrong way, because in truth, failing doesn't mean anything other than you have had a setback. Nothing is permanent in life. Certainly not failure. To me every failure that has come my way was simply an opportunity to learn from my mistakes. When you are willing to accept failure, to learn from the situation you are faced with, you will certainly then be able to take your life onto the road leading to success, and happiness.
Develop success from failures. Discouragement and failure are two of the surest stepping stones to success. Dale Carnegie
There is one significant difference between those who succeed in life and those who fail. It isn't how often they fail, it is how many times they try. Successful people are going to have just as many failures as everyone else, if not more. The difference is that they keep getting themselves of the floor, dusting themselves down, and keep going again and again, trying new things until they get exactly what it is they want. I'm sure you all know that Thomas Edison invented the light bulb, but did you know he failed over 1000 times before he achieved his desired end result. He believed in himself, had the passion for what he was doing, so he kept going, never quitting, learning every time until he made the breakthrough.
Today's post is to me pivotal to my mind set. Passion will win over failure, every time. That's the reason for this strange title, Passion over Failure, No Contest. Passion gives me my driving force. The passion to make a difference. The passion to develop a business that of course benefits me but also everyone who comes into contact with it, partners, suppliers, clients, members, everybody.
The last few months have been chaotic to say the least. On a personal side there have been many situations that I have had to deal with. The health of my eldest daughter Laura Jayne is an on going concern, and is never far from my thoughts. My sister and parents and the situations they have had to go through were both very emotional and took much of my time. Then of course there is the health of my partner and all the turmoil that has caused. I could go on, but it's just life. We all come across obstacles, distractions, which if were not careful will knock us of course, or completely derail us if we let them. I am fortunate. My business is my passion, it is something I love. I love everything involved with it, and so nothing will stop me from carrying on and taking things to the place I want them to go. And I'm so very nearly there. Have no doubts passion is not only what gives me my drive, but the strength also to keep going when things get tough.
I'm not the only one. This really is a powerful reason why you have to find your passion. Sam Walton, the founder of Wal-Mart said that he overcame every single one of his personal shortcomings by the sheer passion he brought to his work. He went on to say:
'I don't know if you're born with this kind of passion, or if you can learn it. But I do know you need it. If you love your work, you'll be out there every day trying to do it the best you possibly can, and pretty soon everybody around will catch the passion from you like a fever.'
He was also a great example of somebody that demonstrates the value of persistence in the journey of life, particularly appertaining to success. He said:
'I had to pick myself up and get on with it, do it all over again, only even better this time.'
The point is you must not see failing as anything but a chance to improve and learn. Every time you fail just ask yourself the "What can I do differently?" and then just do it. Don't let anything stop you from moving towards your dreams. Just make sure your life is fuelled by passion.
Every one of us can make a big difference to this world we live in, we have to choose to live with our passion central to our life, believe in ourselves and never give up. Your Passion will keep you going forward even in the most trying circumstances.
I've always loved writing about inspirational stories of failure turned into success. I wrote in the post "Never Give Up Believing In Yourself":
"The road to success is paved with obstacles but you have to persist, keep at it, keep learning, and never give up. Refuse to give up, keep going, and when you get knocked down, just get back up and keep moving toward your goal. If it stirs you, if that vision captivates you, then do it, no matter how long it takes. Never give up on something that matters to you. Never let your dream die. Never given up on, or forgot, the goal that really means something to you".
My final sentence in a post titled "Never Give Up On Your Dreams" reads
"Never Give up! Let nothing stop you from achieving success. In the quest to attain your dream, be determined, be persistent, be relentless".
J. K. Rowling, author of the Harry Potter Books, is another excellent example of following a compelling passion. She took charge of her life in following through with an idea she was passionate in fulfilling. She said:
"Failure meant a stripping away of the inessential. I stopped pretending to myself that I was anything other than what I was, and began to direct all my energy to finishing the only work that mattered to me. Had I really succeeded at anything else, I might never have found the determination to succeed in the one area where I truly belonged. I was set free, because my greatest fear had been realized, and I was still alive, and I still had a daughter whom I adored, and I had an old typewriter, and a big idea. And so rock bottom became a solid foundation on which I rebuilt my life". – J. K. Rowling
So I thank my passion for giving me the persistence for seeing things through. I thank them for protecting me from the hassles, problems and unexpected situations that have been rearing their ugly head at me, and giving me the strength to keep going.
So within the next 48 hours I will be launching my latest online store, my dream 'Power of Passion Community' as well as opening phase two of our All The Missing Pieces Strategy – Passion to Profit package.
Launching something that you are passionate about is a big and exciting step, and of course you want it to be a success. I have no doubts my passion will ensure this ultimately will be the case.
Let me conclude for today. We need to take responsibility for our life, consciously choosing to live with passion, and allow the power it creates within us to make us aware of the ever growing potential that will come our way, helping us grow towards a positive and successful living unruffled by temporary setbacks or failure.
Defeat is not the worst of failures. Not to have tried is the true failure. George Edward Woodberry
Score Your Way To Good Health - With Our Healthy Lifestyle Plan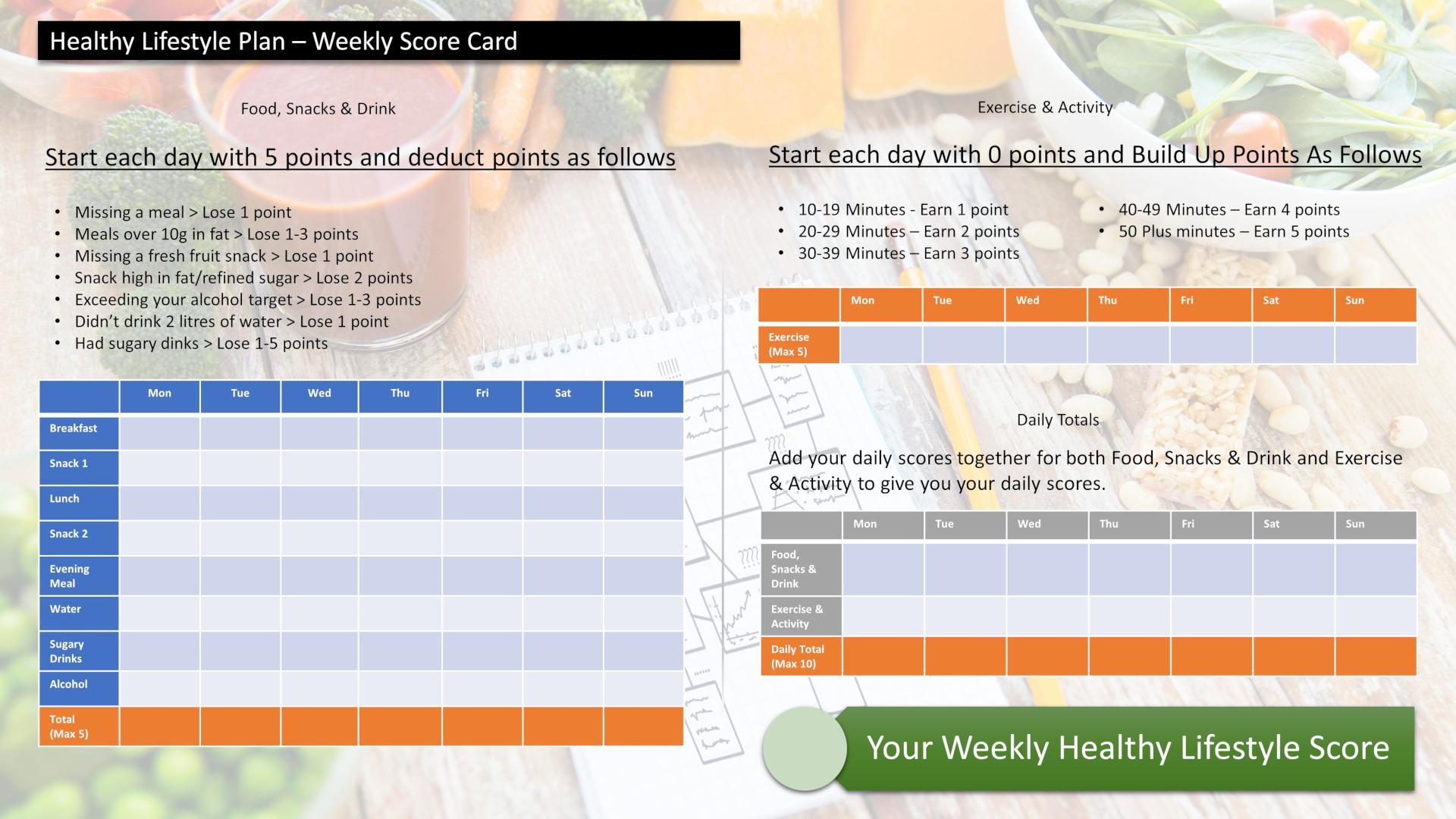 Score your way to good health with our healthy lifestyle plan and it's unique 70 point weekly scorecard!