There is a vast well of unused potential lying inside each of us, but Is fulfilling your potential of importance to you? It should be!
Let nothing stop you working towards fulfilling your potential so you wake up every morning full of energy and enthusiasm, falling asleep contented at night knowing you have made your mark in the world today…and knowing you're ready to do it all again tomorrow.
You already know the alternative isn't good.
Each of us is born with the potential to achieve greatness, yet many people, maybe the majority, live with that aching feeling of underachievement – the realisation that they never lived their life to the full.
As I wrote in a previous article "Every one of us has a principal message we want to share with the world and why it is important to us. This is your "what" and your "why" and it's crucial you discover what yours are and then bring them to the world in order to fulfil your potential."
In this world that we live it seems pain enters everyone's life in one way or another. Pain from ill health, financial difficulties, relationship breakdowns, failure in business. Alas we then use these as our excuses for not fulfilling our potential. They make us give up trying.
To many of you are sabotaging your dreams and limiting your potential in life because of how you're reacting to the pain in your life.
I know how tough it is being ill. In fact the last 12 months from a health perspective have been one of the hardest ever. Since losing any proper vision in my right eye I've been through a cancer scare or two, out of control blood pressure and difficulties breathing. Combined together these have made my energy levels very poor and an overall decline in my health. But I'm fighting back and getting things the way they should be.
Life's tough and it's common for many to feel discontented with their life both the way it is on a day to day basis and by what they have achieved to this point. When you get like this it's amazing how much time you wake by just feeling sorry for yourself allowing negative thoughts to spiral around in your head taking your complete focus.
You need the courage to face your pain and difficulties head-on and decide that you'll no longer just suffer and let your problems keep you down, but use it to direct your life towards a meaningful purpose.
Instead you need to take an honest look at every part of your life and consider how you're feeling discontent and what unfulfilled longings are rattling around inside your soul and most importantly what you can do about them.
Ask yourself how would you feel if you went through your whole life never fulfilling your true potential or achieving your dreams?
Clarify who you are and what you should do in life to best fulfil your potential. Take time to answer these questions. What more do you want to be, do, have, and give in life? Let the answer to these awaken you to the fact that your potential for a better life exists.
Realize that you have the power to make choices that will change your life for the better. Rather than being a victim who believes that the worst always happens to you, decide to be a victor who believes that you can, and you will be successful in fulfilling your potential.
Don't be someone who goes through life knowing they've missed out on fulfilling their potential. There's no guarantees you will achieve what you set out to do, but the journey truly is what matters most. Putting time and effort into what's important to you, what you enjoy is surely better than every day being hard and stressful.
Have the courage and confidence to follow your dreams.
What would make a fulfilling life for you?
If we did all the things we are capable of doing we would truly astound ourselves. Thomas Edison
You have to make it your mission to unlock your potential, turning the future of your dreams into reality!"
Know that every single one of us has greatness within, but it will only come out when you allow yourself to follow your vision, intuition, and inspiration.
Score Your Way To Good Health - With Our Healthy Lifestyle Plan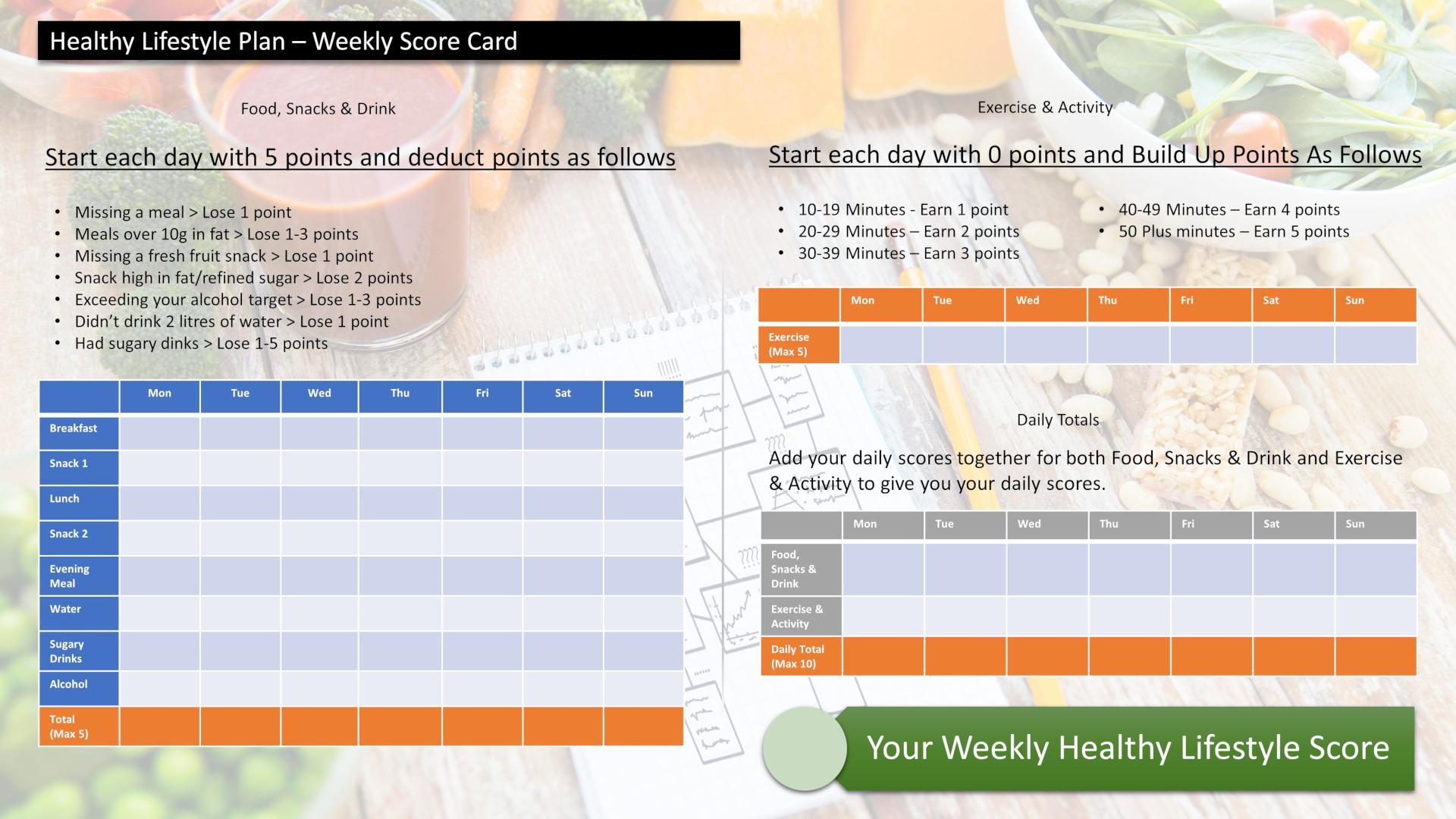 Score your way to good health with our healthy lifestyle plan and it's unique 70 point weekly scorecard!