You've been walking on this same road for a large part of your life. One day, darkness overtakes you, and you lose your bearings. You now can't find your way in the dark that has overwhelmed you. You suddenly realised that you were totally lost. You are caught in a fog.
You have lost count of the sunrises you've watched on nights where sleep escapes you. Yet there are moments when it doesn't seem like any time has passed at all. It seems more like time has stopped, simply frozen. You have lost your way. Your mind is empty, as is the rest of you.
The feeling of losing your way causes immense distress. You have lost your sense of direction and don't know where you want to go. But there's nothing stopping you from picking yourself up again! If you feel like you're off track, now is the perfect time for you to gather your thoughts and move forward again. This is perfectly achievable, but you must be willing to give it your all.
You have a choice, either to rise above your challenges and live up to your fullest potential, or allow your life to stay in turmoil.
Be honest with yourself, you know deep inside that you haven't done your greatest work yet, you know you can make a difference in the world and all you have to do is find your way.
Right now your life feels like it's not moving forward, your career is slipping through your fingers, your relationships are stagnant, you have reached a point where you need to change direction.
Realizing that you are the only one that could find your way out is scary.
In my article Embrace the Journey … Stop and Smell the Roses I say that the path we walk on this road of life is uncertain. It is full of mystery and takes us on a journey, a long and winding road, with many experiences waiting for us. As Ralph Waldo Emerson says "Life is a journey, not a destination." Yet life can be difficult to navigate sometimes, and we just don't know what to do or which way to turn. It's so easy to get lost and be scared to take a wrong step.
People often say that this or that person has not yet found himself. But the self is not something one finds, it is something one creates. Thomas Szasz.
When we feel that we are not on the right track we will always be uncomfortable, there will be tension between our body, mind and soul and we know within ourselves that we must make major changes in our lives to get back on track.
So when you feel lost it's your wake up call for you to reawaken yourself to the greater possibilities that await you. Sometimes it's necessary for your life to change in some ways to get you back on your true life path, even if it causes disruption.
I know well what I am fleeing from but not what I am in search of. Michel de Montaigne
So now take the time to think about your life and what you want to change You must devote the time to discover why you currently feel lost or are unsure if you are on the right path.
Ask yourself these big questions about your life.
Ask Yourself "What do you want in your life?"
Ask Yourself "What matters most to you right now?"
Ask Yourself "Where do you want to go from here?"
Ask Yourself "Who Am I?"
Ask Yourself "What Do I Love To Do?"
Ask Yourself "What Experiences In Life Were Really Fulfilling For Me?"
Ask Yourself "What Is My Purpose In Life?"
Ask Yourself "What Am I Afraid Of?"
Ask Yourself "How Do I Put My Purpose In Place?"
Ask Yourself "What's holding me back?"
Now once you've looked at these questions, and found some answers, ask yourself these final three:
Ask Yourself " Why am I here?"
Ask Yourself " What did I come here to accomplish?"
Ask Yourself " What gifts and talents did I bring with me to accomplish my mission?"
No longer allow yourself to be lost, find the direction that's closer to your true self and get on that path?
Not until we are lost do we begin to understand ourselves. Henry David Thoreau
Score Your Way To Good Health - With Our Healthy Lifestyle Plan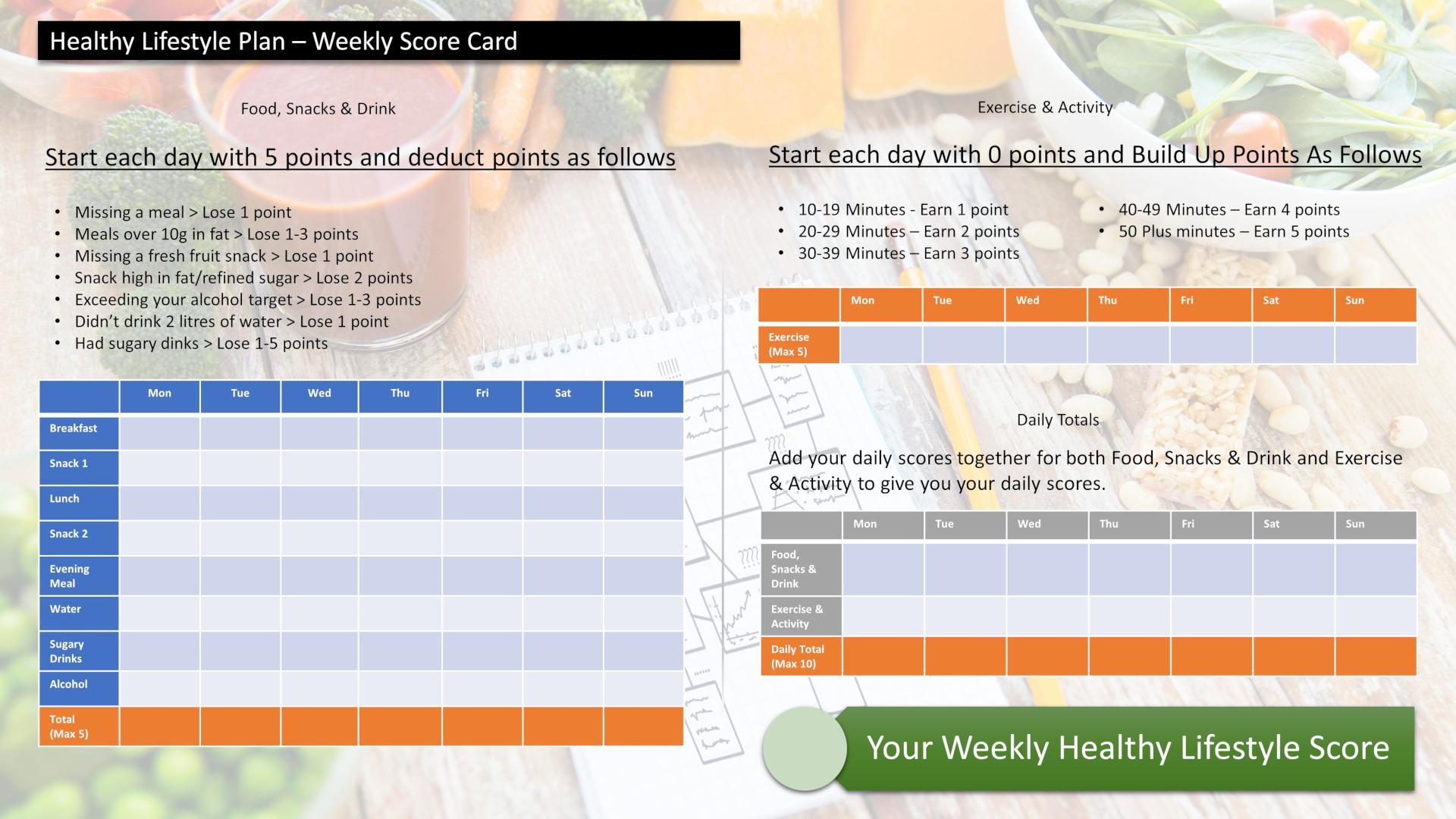 Score your way to good health with our healthy lifestyle plan and it's unique 70 point weekly scorecard!