Personal development is a constant journey on the road of life. Happiness is a result of making this journey an adventure full of fun times.
The path we walk on this road of life is uncertain.  It is full of mystery and takes us on a journey, a long and winding road, with many experiences waiting for us.
We take this road on a quest to reach our destination.  But our happiness depends on us not rushing through our lives, as if we were in a hurry to get somewhere.
"The road of life twists and turns and no two directions are ever the same. Yet our lessons come from the journey, not the destination."  Don Williams, Jr.
So many of us hold on to a vision in our minds where we see ourselves on a long journey that spans many years, but the primary thought in our mind is the final destination where on arrival we hear bells ringing, see flags waving and bands playing, feeling elation in ourselves, signalling that our wonderful dream has come true. Until that moment we are restlessly, pacing around, looking ahead, moving, working, waiting to arrive at that destination.
How crazy is it for us to waste our life away just to get to a destination in the future?
I am the first to confess that goals are important in life, but I also know that if we don't take time to look around and enjoy the journey, our goals will be at the cost of throwing away far too much time on trying to achieve them, at the cost of our day to day happiness.
Of course I look forward to the future, to where I want to reach. But I don't allow my focus to be solely on the destination. No matter how important my goals are to me, no matter how hard I strive to reach them, I will never allow this to be at the cost of my journey, because what a waste it would be if one day I look back along my path and wonder where had the actual journey gone.
It is essential to "find joy in the journey of life." This is the key to happiness. The journey and this present moment is all we really have. So you have to allow yourself to stop, stop rushing, take your time and smell the roses. Give yourself the opportunity to see the beauty right in front of your eyes in every small moment of each and every day.
"Focus on the journey, not the destination. Joy is found not in finishing an activity but in doing it."  Greg Anderson
Live your life being fully aware in the moment, each moment. Don't let the years pass you by so that you wake up one morning once you've made it, reached your desired destination, but you've come to realise how much you've missed out on along the way.
Life is about the journey, not about the destination. Spend time trying to reach your goals but notice and enjoy everything on the way. It's not just the goal, or the place we are striving to arrive at, that is the only thing that matters or that is worth enjoying.
"Happiness is not a destination. It is a method of life." Burton Hills
Most of us are in far too great a rush to get somewhere to enjoy the journey, we call life. We are completely focused on the future, believing that it is the achievement of the goal that we chase that will provide us with happiness, so we miss all the wonderful opportunities presented to us along the way.
You must stop to smell the roses, do the things you enjoy, to spend enough time with the people you love, your children, your family, your friends, live fully and enjoy life now, enjoy the journey. Once you get to the destination enjoy arriving their.
"The journey is what brings us happiness, not the destination." Socrates
If you go through life, ignoring everything with a steely determination and focus on your ultimate goal, even when you fulfil your dream, when you make it happen, life will seem so empty, all those years you have allowed to fade into one another, not allowing yourself to enjoy anything.
If you believe that the accomplishment of your goals will make you happy, you may have the situation where you reach your goals only to find that you are no happier than you were before. So don't forgo your joy in order to achieve your goal. Identifying the right goal for you will ensure that both your journey and the end result will add to your current level of happiness, as well as bring you success.
Each new day is something to look forward to with eager anticipation, another wonderful opportunity to smell the roses.  Know that the secret to life is simply enjoying every step of the journey.
When we stay focused on the "destination", we miss the "journey". We miss all those tiny moments that make life worth living. You must take time to enjoy all the little things. Don't wait till you arrive at your destination to enjoy life, take the time to enjoy every minute of the journey you undertake to reach your goal. It is the journey that matters, in the end
"The journey is the reward". Chinese Proverb
Don't spend all your time and energy working towards the time where you can  at last cut free and have a great time. Life happens, every second of every day. Your life is happening right now so pay attention to each moment which will also give you a better chance of enjoying the future you want.
Score Your Way To Good Health - With Our Healthy Lifestyle Plan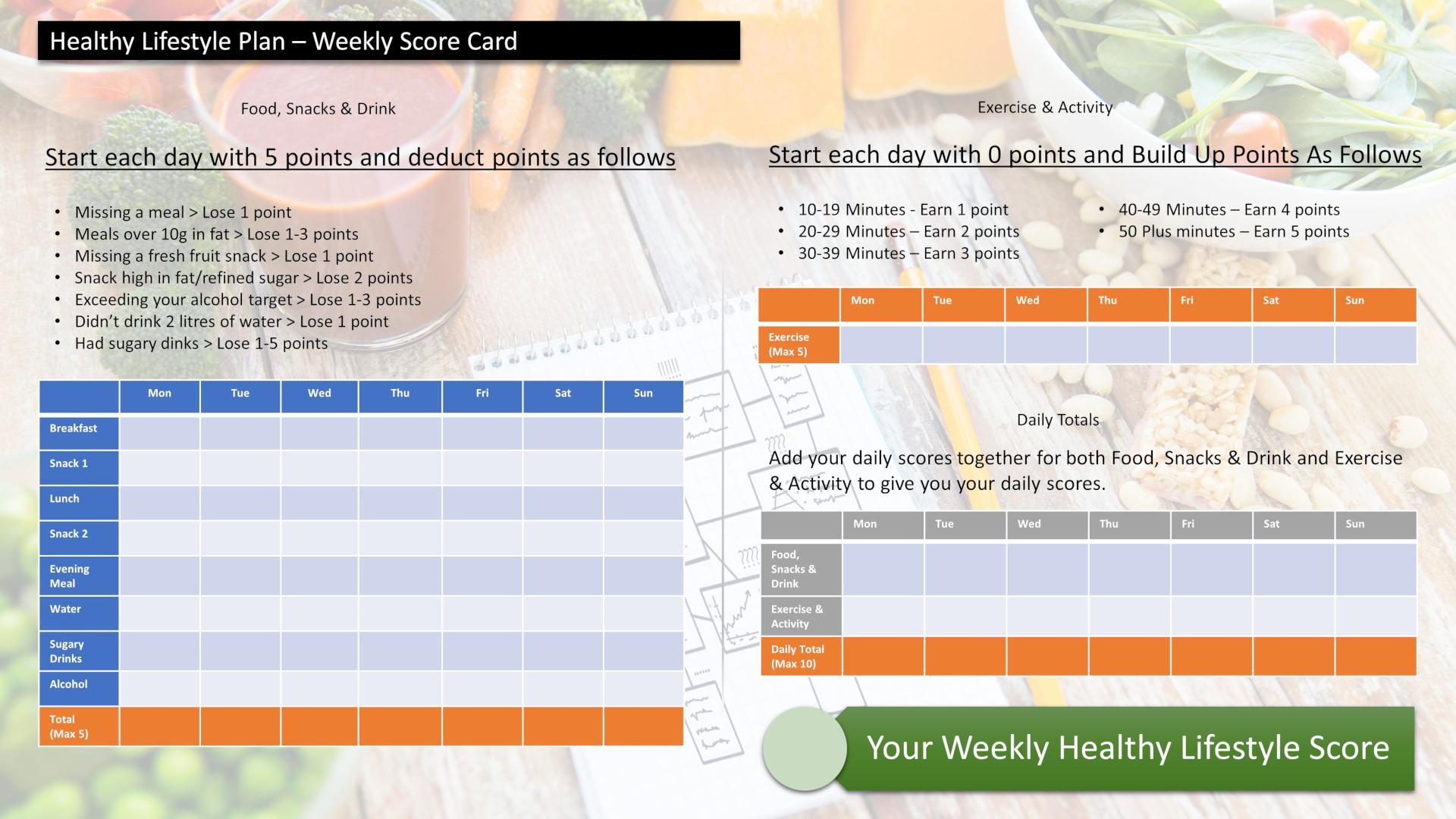 Score your way to good health with our healthy lifestyle plan and it's unique 70 point weekly scorecard!