Do you have the kind of life you want—where you wake up and look forward to your day with a sense of excitement and anticipation, and at the end of the day feel fulfilled and satisfied with what you have accomplished, or does it feel like drudgery and frustration?
Having a personal vision is critical to having the life that you want! Your personal vision statement is your reason for being; it's what you want out of your life. A personal vission statement is "a powerful document that expresses your personal sense of meaning and purpose." Once created it should inspire and motivate you to be the best that you can be.
Your personal vision is how you see yourself in the future. It is a detailed visualisation of how you want your life to be in the future. By understanding what you want, you can drive yourself forward through actions, behaviours and thoughts to achieve your ideal life.
Your personal vision statement will:
guide your life.
provides the direction necessary to guide the course of your days and the choices you make.
Having a personal vision is critical for having the life that you want! If you don't create your vision, it will be determined for you by your circumstances and by other people. Having a defined vision helps you live your life on purpose rather than by chance.
Your vision statement should also cover the important areas of your life. Here are some suggestions for what these areas may be:
Work.
Family.
Hobbies.
Travel.
Values and Beliefs.
Habits to develop.
Self Development.
Spirituality.
Finances.
Living location.
Relationships.
Health and Wellbeing.
To create your personal vision statement, set aside some quiet time for yourself. Find a place where you won't be interrupted or distracted. Allow yourself at least an hour or two. Get comfortable and relaxed. Prepare to be open and explore your values and vision. Your mission comes from deep inside you, so listen to your heart's desire.
Here is a list of some useful questions to ask yourself as you develop your personal vision statement, answer them thoughtfully.:
What are the things that I really enjoy?
What brings me happinesss/joy?
What were the two best moments of my past week?
What are three things that I would do if I won the lottery?
What are the issues and causes that I care deeply about?
What are my most important values?
What are the things that I do at the good-to-excellent level?
What are the things that I'd like to stop doing or do as little as possible?
What would I most like to have in my life?
What qualities and characteristics are most important to me?
What activities in my personal life are most fulfilling?
What activities in my professional life are most fulfilling?
What do I want to accomplish in my lifetime?
If I had unlimited time and resources, what would I do?
What talents and skills do I have?
How can I best contribute to others?
What legacy do I want to leave?
Let me add a few other questions that I find truly empowering:
If you never had to work another day in your life, how would you spend your time instead of working?
When your life is ending, what will you regret not doing, seeing, or achieving?
Take the time to formulate your answers to the above questions, and get yourself ready to write your personal vision statement. Write the statement as if you are already making them happen in your life, fully articulate your vision.
Start thinking about your dreams and your vision for the future.
Take your time when writing a Personal Vision Statement. It needs to be positive and inspirational – do not use any negative words or phrases.
Now from the answers you came up with for the questions you asked above, create your personal vision statement.
Once it's written, look at it every day. You might even learn it by heart, so that it becomes entrenched in your mind. Your personal vision becomes your personal road map. Use it to guide your day-to-day decisions and actions, so that you move closer and closer to achieving your vision.
It can be beneficial to turn your personal vision statement into a vision board as I discussed in this article.
Once you are crystal clear about the end result that you want to produce for your life, all the ways that it can come about start to reveal themselves to you.
Now begin designing your personal vision statement.
Score Your Way To Good Health - With Our Healthy Lifestyle Plan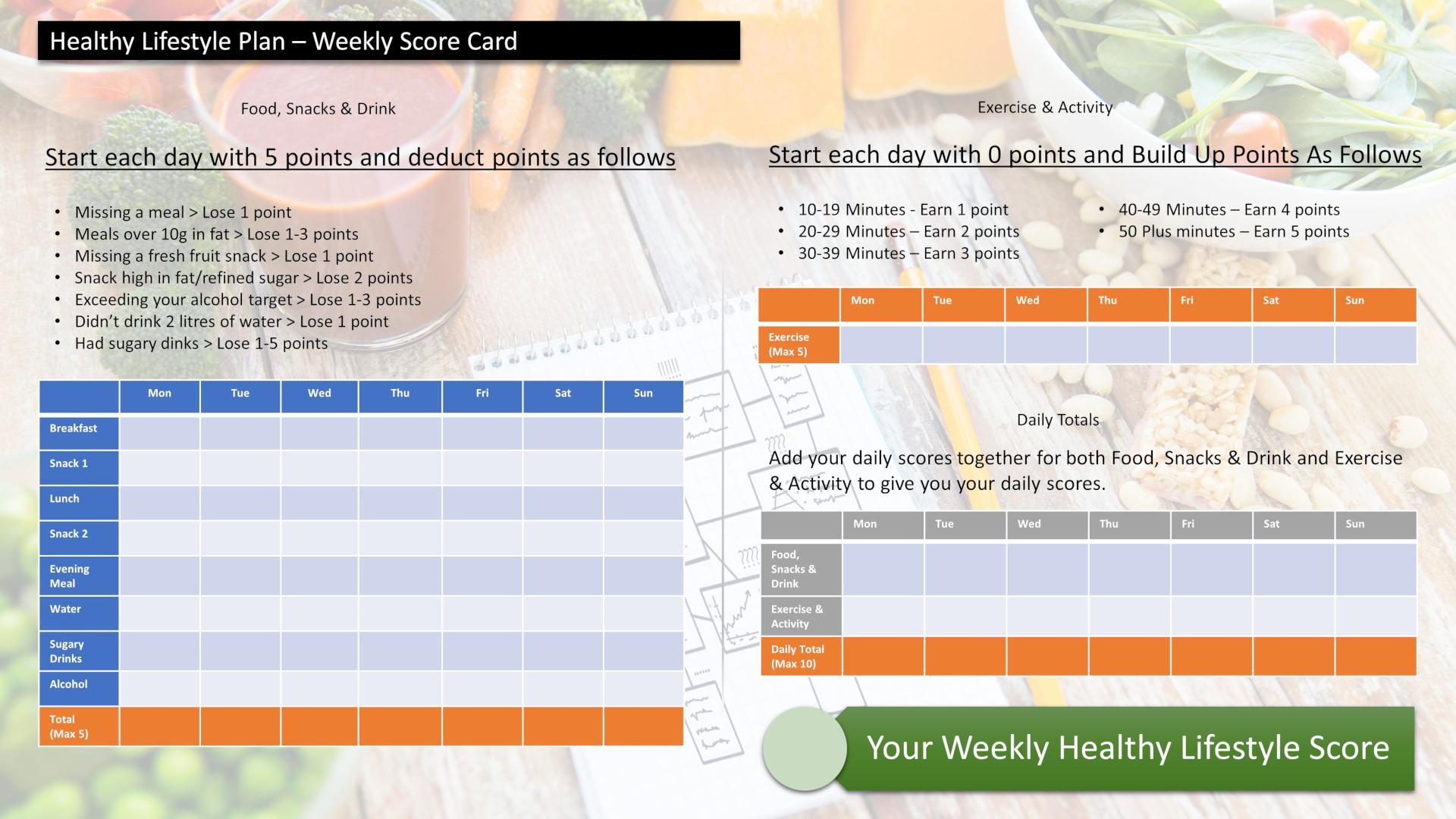 Score your way to good health with our healthy lifestyle plan and it's unique 70 point weekly scorecard!