Be honest to yourself if you want to make the most out of your life. As I write this morning, I am closing a door not only on my holiday, but a year of many personal and business victories and a few battles and defeats. Yet whether I win or lose, I always learn something about both my situation and myself.
So today I have returned from my wonderful holiday and already my eyes are set on my tomorrows and the new heights I wish to reach for. To me my focus has always been to forget those things which are behind, and reach forth to those things which are in front of me, to press forward towards those things I want to achieve, do and have. One of the most important mantras of my life has been to forget yesterday and reach for tomorrow.
So many people I meet are held back by their past. It is so easy to be trapped in events of the past and to allow them to prevent us living the future we would truly choose. I focus most of my energies on the future. Forgetting the past and looking forward to what lies ahead.
Today I want you to be honest to yourself. Ask yourself this question:
'Am I all I want to be?'
Most of you know in your heart that you are not all you should be, nor are you all you want to be!
Alas many of you live a life that has carried way to many disappointments and failures. But any time you choose you can look forward to a new beginning!
I am better today because of my battles yesterday. I am better today because of my previous failures. I learnt from every failure as would you if you could be honest to yourself.
"Above all, be true to yourself, and if you cannot put your heart in it, take yourself out of it." – Hardy D. Jackson
I wrote in a previous article:
"With all of the hustle and bustle of life, how often do you find yourself longing to be somebody else, living a totally different life? If your life has come to feel like an endless barrage of turmoil every single day, maybe it's time to look at yourself for some solutions". – Larry Lewis
Our life always expresses the consequence of our prevailing thoughts. Your world is very much shaped by the thoughts you have about yourself. And that is why you should always think positively, and see the world in a positive way. Never lose track of the contribution you want to make and the dreams you want to fulfil.
Every choice you make including the thoughts you think have consequences. When you pick the thought, you pick the consequences. When you start picking the right thoughts you'll get the right consequences.
You need to be honest to yourself and assess where your life is right now and why. If you do this you're giving yourself the best chance of truly creating and bringing to fruition an inspiring and effective life.
Going through life without assessing performance, results, and direction only encourages failure and disappointment.
You must keep focused on exactly what you want in life. When you can envision a future that is fulfilling, happy and more productive you are more likely to make the changes necessary to reach those dreams for your life.
The first thing to do is to assess your current life. Before you can determine how to move things forward it is important to assess where you are right now. So ask yourself these two questions:
What do I want more of in my life? Create a list of the things you have in your life right now you would like to take forward with you into the future and create more of.
What do I want less of in my life? Create a list of the things that are not serving you well in your life that you want to leave behind.
Do this if you can handle the truth. You will benefit in two massive ways. Once you see the reality of your situation you have the ability to learn from your mistakes, and the ability to handle the truth and change things for the better.
You need to be doing what's best for you!
You need to find your passions. You must be honest to yourself and find your ultimate passion. Are you willing to sacrifice all that prevents you from practising what you truly have a passion for. What is your passion? It is what you feel everyday. Something that never bored you. It's what you love the most, so ask yourself what that is, nobody can answer it for you.
Don't ask what the world needs. Ask what makes you come alive, and go do it. Because what the world needs is people who have come alive." – Howard Thurman
Be honest to yourself. This is not about finding yourself, it's about rediscovering yourself, uncovering what you really want and creating a life built around your passions.
Are you in need of the support and encouragement to follow your dreams, live true to you and create a life of unprecedented joy and happiness? Are you looking for a mentor to walk the journey with you, support you unconditionally and help you discover what you're meant to do and be in the world (plus make a ton of money at it)? Check out my Personal Development Coaching Services.
Score Your Way To Good Health - With Our Healthy Lifestyle Plan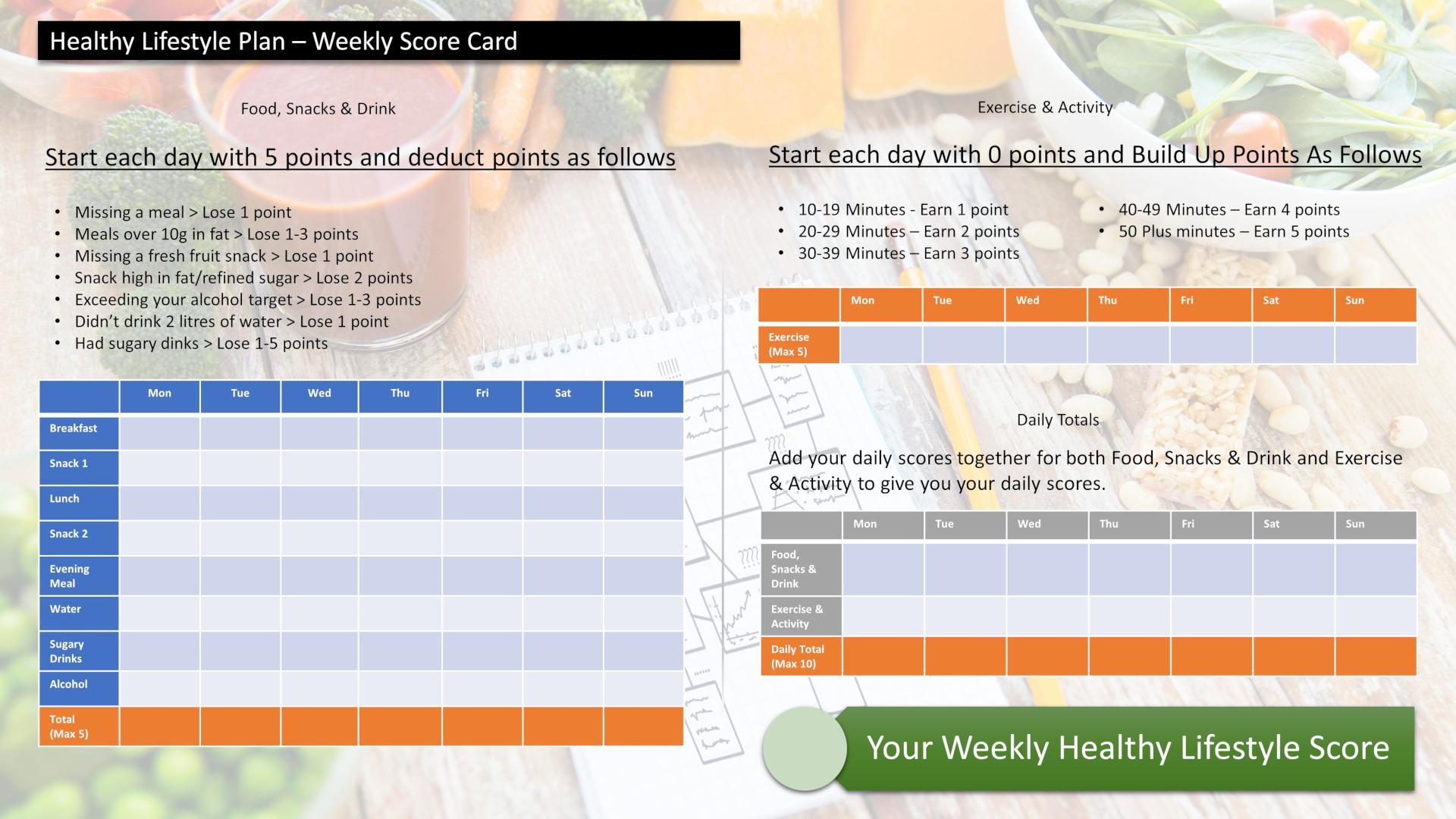 Score your way to good health with our healthy lifestyle plan and it's unique 70 point weekly scorecard!