So, what is a Personal Development Plan?
A PDP is a tool to:
identify your required areas for development
list what learning activities you are going to undertake to achieve this development
state how the development links in with your individual needs, as well as those of your business
indicate the evidence that will show achievement of the learning in your plan
The definition of A Personal Development Plan can be found on Wikipedia.
A Personal development plan (PDP) provides a powerful, flexible way for you to link your professional and personal development goals and growth.
A PDP is a precise, definite written document that maps out how a person can develop skills and progress in their life and their career. It will provide you with the way to maximise your personal potential and that of your business.
By creating a personal development plan you will experience more harmony, health and happiness in your life as you tune in to who you really are, what you really want and where you want to be. You will design the plan that you need to execute your personal development plan to get there.
It's a fact that in today's hectic world people end up spending most of their time fire fighting dealing with many of life's little problems. This keeps them away from being able to focus on themselves, and their lives to discover what they truly want, let alone giving them the needed time to use personal development to enable them to grow.
Personal development planning will help you achieve your potential as it will help you identify skills gaps and improvement areas. Then the skies the limit for you and your future.
Life holds so much potential. But when we don't know who we are any more or what we want, we miss the opportunities for a rich and meaningful life.
Your own Personal Development Plan can clarify what you need to change and map out the process you need to take to make it happen.
Do you feel that life is passing you by?
Do you feel empty or dissatisfied with yourself?
Have you read all the latest self-help books but your life isn't changing?
I want you to see a personal development plan as being the vital step you need to take for you to be able to achieve something in your life.
Tomorrow I will provide you with a simple personal development plan so that you can begin your journey to creating the life of your dreams.
Score Your Way To Good Health - With Our Healthy Lifestyle Plan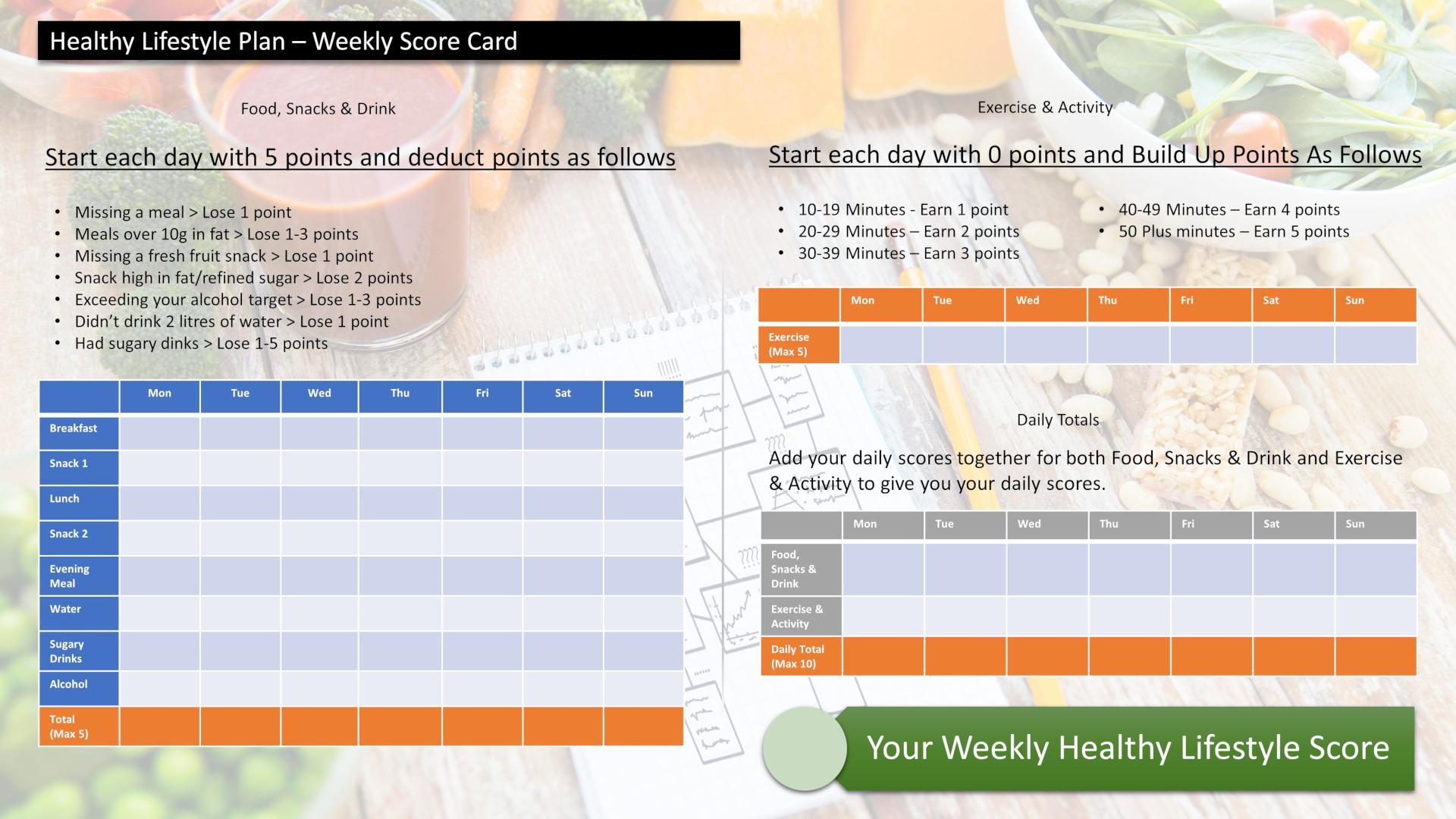 Score your way to good health with our healthy lifestyle plan and it's unique 70 point weekly scorecard!