Nobody likes to feel frustrated. Unfortunately, frustrations seem to be part of many people's life. So a very important skill you need to acquire is to learn to manage your frustrations. If you don't they're going to leave you stressed, burned-out or worse still depressed.
My lesson to you today is don't let your frustrations prevent you from setting goals and living your life to the maximum. Yesterday I wrote part 1 of this article 'Learn To Manage Your Frustrations' , and today I want to offer you some suggestions how to blast through your frustrations, once and for all.
"Character cannot be developed in ease and quiet. Only through experience of trial and suffering can the soul be strengthened, ambition inspired, and success achieved." – Helen Keller
1. Get Perspective – Let's be realistic here, most of the problems you are frustrated by in reality won't effect you much in the grand scheme of things. How many times have you felt the full effect of your frustrations yet they've been pushed over the edge by something fairly inconsequential and minor, you know what I'm saying, losing your keys, getting stuck in traffic, or that world ending moment when somebody stole that parking space when you were about to take it. Getting perspective about the problem will enable you to keep your mind on a level keel and not go over board. Whenever you feel frustration stirring within you, take a step back and ask yourself:
Is my response appropriate?
How important will it be in a month's time?
How can I improve the situation?
What will I do differently next time?
2. Acknowledge the Problem – After struggling with a particular problem for a while you have to do something to produce a breakthrough, because when you do you're going to feel great. When we've been dealing with a problem for a while and it goes away or resolves or we get what we want, it is very satisfying. There are several methods for creating breakthroughs when we are stuck. One powerful method is just to acknowledge the problem. Admit that you are stuck or unhappy or struggling with the specific problem, acknowledge what it is. So now you can be more focused and powerful in addressing the issue. Admitting what a problem is gives you a good start to fixing it.
3. Never Give Up – Overcoming the barriers standing in the way of you achieving your goals is part of life. It may not be fun, but you can learn from it. The option you must never consider is to quit, to give up, to run away. But, if what you are doing isn't working, figure out what's not working and fix it. You must constantly be taking action to keep moving yourself forward. See every obstacle as an opportunity to learn a lesson and make you better, to move you forward. Just remember giving up is not an option, you have to keep going. When you hit the wall keep in mind even through the most difficult of times, that in time this too shall pass. Hard times don't last for ever!
4. Stop being Irrational – We can all get to a place where we feel overwhelmed by our frustrations. We all have moments when we secretly want to pack it all in. These irrational feelings can come at us at any time, and your choice will either break you or make you. Sadly too many of you crumble at this moment, and take what you feel is the easy route, to just stop trying. Well you're being irrational when you do. You are the one allowing this thing to spiral out of control. It's you that has allowed yourself to take this path of no return. You are 100% in control of the choices you make, only you choose how you will respond or react. Will you surrender to the setbacks you face or tackle it head on till you get through. Make sure you make the rational choice, use your logical thinking, don't let your mind force you to make an irrational choice. Consistently ask yourself empowering questions and take responsibility for your decisions.
5. Kick fear into touch – Fear is a self imposed barrier that many people face. It can be very powerful and a huge barrier to achieving our goals. Fear of what people think. Fear that one may not be able to achieve what they want. Fear of failure. Even the fear of what happens if I get what I want. Ignore the fear, ignore the voice that says "I can't possibly do THAT!". So face your fear and make things happen. I'm not saying ignore any potential Worse Case Scenario. Of course consider what is the worst thing that may happen to you in a particular situation. Weight up the pros and cons. List everything. Try to foresee every little detail of this worst case scenario. Then just go for it! I never let anything hold me back.
6. Believe in yourself – You have to believe in yourself, particularly when others don't believe in you. I love proving my doubters wrong. In my book, when others don't believe in me, I let their doubts be extra fuel to drive me towards reaching my goals. The drive to accomplish anything and persevere until you reach your destination comes from the inside of you, and nobody can prevent it, unless you let them. Of course you have to get real. Ask yourself what you can do, not what you cannot do! Remind yourself of past succeses, use them to draw strength from. Seeing yourself succeeding will definitely weaken all that frustration you feel right now and will also give you some hints about how to completely overcome it. Tell yourself out loud, you can do it!
7. Stop saying "I can't" – I don't ever let myself say those words. Instead I affirm inwardly, "I can, I will, I must!" I recognize frustrations for what they are, mere obstacles, and I know there can be no real victory without coming through difficulties. The greatest successes in life are first won in the battlefield of your mind. What your mind tells you, you believe. Think and reflect. We will all come to that time or point in our live's when it seems that there is some form of blockage that doesn't allow us to get to that next level. Instead of saying 'I can't do it' take the time to reflect, learn, and plan your next move. Then ask the question of your mind, "what can I do next?"
8. Keep Your Goal In View – Focus on the satisfaction and joy that will come with the achievement of your goal. At worse the obstacles you face are merely temporary disappointments, ad they will never break your determination to reach those goals. Always keep your goal in sight. Stay the course. Keep pressing forward. There is nothing that can be compared to the celebration of victory you will enjoy when you reach your desired destination. So what something bad has happened, don't spend your day thinking about it, instead imagine how beautiful life will be once you achieve your goal. Let this make you stronger and stronger. Keep moving forward.
Make today and every day great day. And keep it free from frustration.
What were the struggles you had to overcome to get where you are?
Our greatest glory is not in never failing, but in rising up every time we fail. Ralph Waldo Emerson
Score Your Way To Good Health - With Our Healthy Lifestyle Plan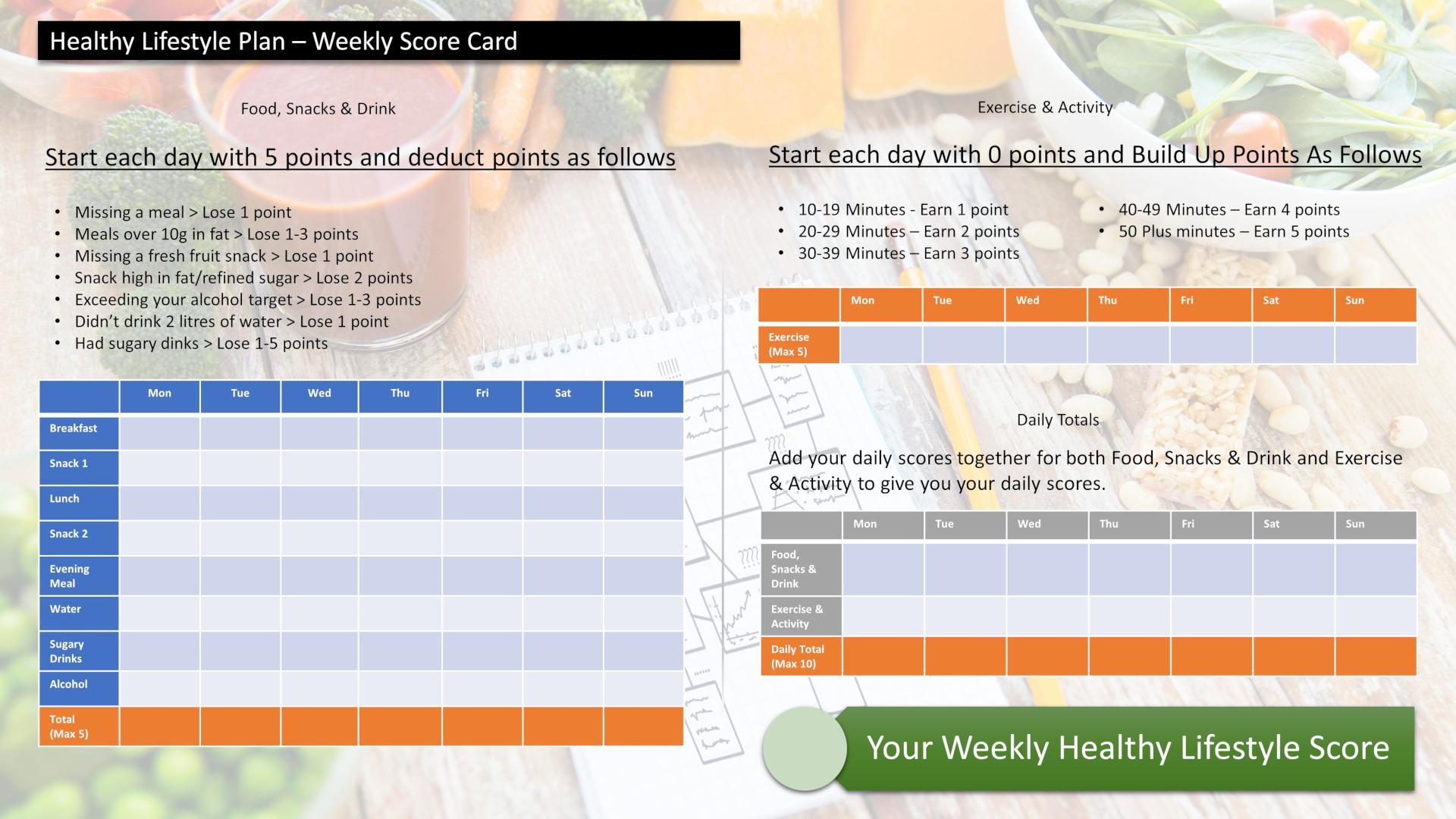 Score your way to good health with our healthy lifestyle plan and it's unique 70 point weekly scorecard!