Many of you today struggle with chronic health problems, whether its heart disease, diabetes, depression, arthritis, or other conditions, which impair your ability to enjoy life and you are desperate to find out how to improve your health through making lifestyle changes.
If you're looking for the best strategies for how to improve your health, then you've come to the right place.
Dealing with a chronic illness for the past few years has led me to focusing on my own lifestyle and ensuring it is the best it can possibly be.
I am so passionate about promoting healthy living and helping others. And that is why it is so important for me to provide you with the information from my own personal experience in hopes that it will be useful in your search for living a healthier, more natural and balanced life for you and showing you how to improve your health.
It will require you to make a firm commitment to making big, long lasting lifestyle changes. Once you're ready to make a change, the difficult part is without doubts committing and following through. Creating a healthy lifestyle is within reach of all of you no matter how unhealthy it may have been to this point. But don't be fooled to thinking it is going to be easy. If you have decided it's time to begin creating a healthy lifestyle then you are making a long term commitment, but be ready to meet the challenges.
If you're like most people, your health, or lack of it, is the most important aspect of your life that needs improving. Without adequate health and well-being, you can forget about most of your other goals. Declining health and vitality will steal you of the energy you need to achieve your personal or professional goals.
Let me introduce you to each of them:
Physical health – You need to keep your body in top condition. Consuming a healthy diet and getting an adequate amount of exercise to build cardiovascular health, endurance or flexibility are essential. Getting a sufficient amount of sleep, avoid harmful substances like tobacco products, get annual physical exams is also necessary.
Emotional health – Ensuring that you are attentive to your feelings, thoughts and behaviours, seeking an optimistic approach to life, enjoying life in spite of occasional disappointment is imperative.
Intellectual health – Finding a way to engage in creative and stimulating activities that allow you to share your gifts and expand your knowledge is essential to your overall health.
Spiritual health – Bringing purpose to your life and finding meaning behind your existence is vital to creating harmony with yourself.
Social health – Developing meaningful relationships and interacting well with people, respecting yourself and others establishing a support system of family and friends is important to you.
Occupational Health – It is important to find something that you love to do that uses your skills and talents but which doesn't rob you off all leisure time.
Environmental health – The environment in which you live and work can have a significant impact on your overall health.
Financial Health – Have financial resources to meet practical needs and current expenses
For you to learn how to improve your health requires you to learn how to balance each of these areas.
You are a whole person that consists of mind, body and spirit going through life, which are essential to balance for good health. To do this therefore requires you balancing all 8 of the above areas. If they are off-balance then your body will respond.
If you are ready to take that next step towards a healthy lifestyle, and improve your health, which is why I'm sure you are reading about how to improve your health, then you need to begin working on all of these key areas. Make a start by downloading FREE my Beginner's Guide to a Healthy Lifestyle.
Score Your Way To Good Health - With Our Healthy Lifestyle Plan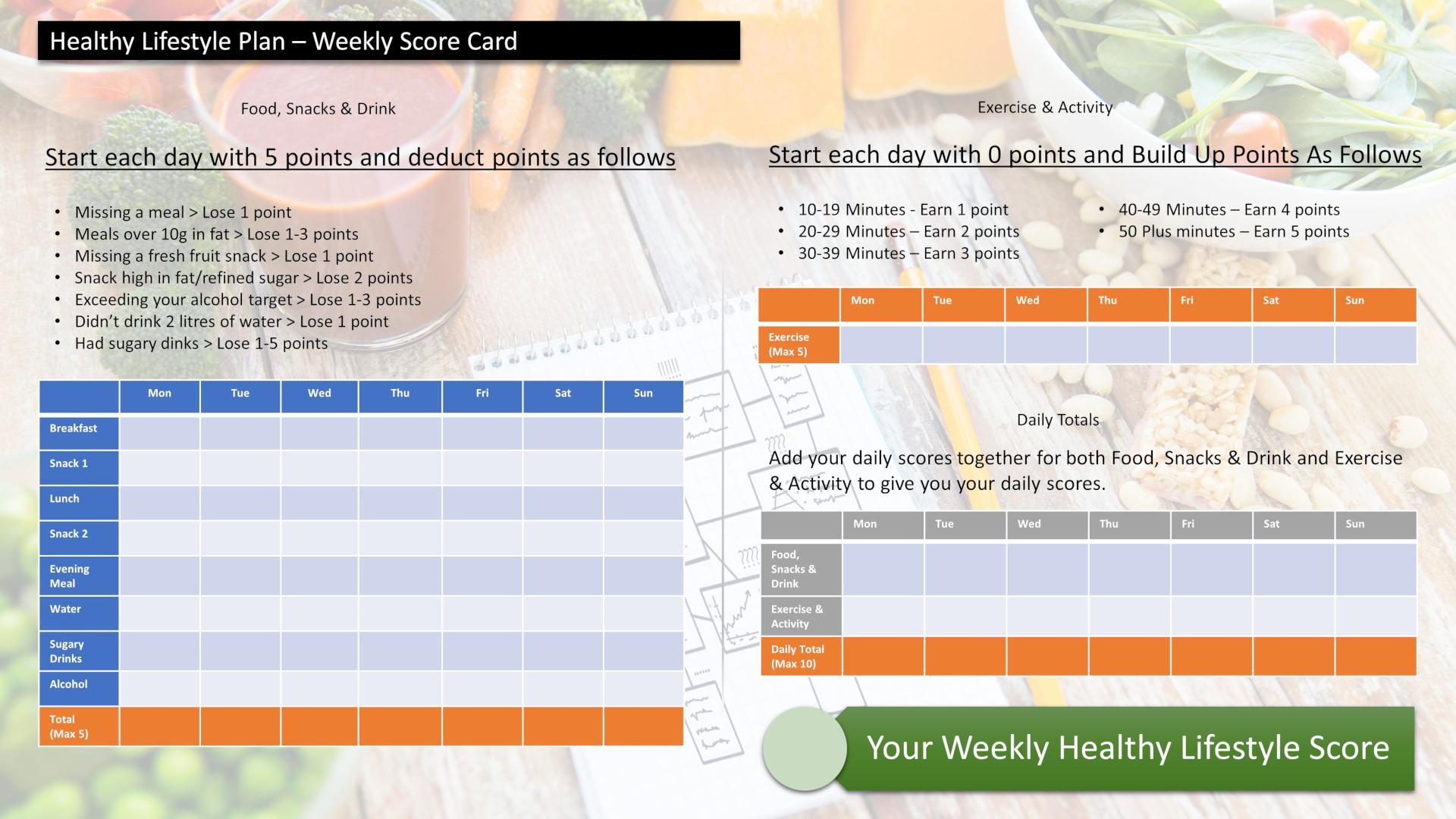 Score your way to good health with our healthy lifestyle plan and it's unique 70 point weekly scorecard!