Within the UK there is an obesity epidemic which can be ascribed to an increased consumption of foods high in sugars and saturated fats together with a decrease in physical activity. Poor diet and a lack of exercise can make worse specific health conditions, such as hypertension, heart disease, diabetes and cancers through their direct impact on weight and obesity. Obesity continues to be on the increase across the whole range of age groups in the population from cradle to grave. The consequences of this are disturbing increases in many avoidable diseases such as diabetes, heart disease and certain cancers with additional pressure placed on the NHS. Tackling obesity is the most important public and personal health challenge facing our society. The crux of the problem is simple – we eat too much and we do too little exercise.
In England alone, nearly a quarter of men and women are now obese. The trends for children give even more cause for concern, with 18 per cent of 2 to 15 year olds currently obese and a further 14 per cent overweight. The Foresight report on obesity, published last year, indicated that nearly 60 per cent of the
UK population could be obese by 2050. Being overweight or obese is the most important predictor of chronic disease risk. Recent data on incidence of obesity in the young suggest that children and adolescents should be the focus of prevention plans and efforts.
Better lifestyle habits will reduce YOUR risk of heart disease, diabetes, obesity and more! You will feel better, have more energy and reduce your risk of other illnesses. Living healthy also elevates your mood, helping you to feel happy and have more self confidence, which results in a better quality of life. Living a healthy lifestyle is very important in older people and is positively related to a reduced risk and a delay in the deterioration in their health. It slows down the aging process and helps the older generation stay strong and healthy. Living a healthier lifestyle also slows down the disease development and contributes to a longer life.
The importance of a healthy lifestyle in children has grown tremendously. Obesity in children is increasing in all countries. Because of this factor it is more important than ever that we educate our children on the importance of a healthier living. They need to learn to eat healthy foods and they need to be put on a daily or 3 times weekly exercise schedule. Let your children know the health risks involved in being overweight. If we teach our children the pros of living a healthier lifestyle they will carry this knowledge throughout their lives and become more productive and happier adults.
Score Your Way To Good Health - With Our Healthy Lifestyle Plan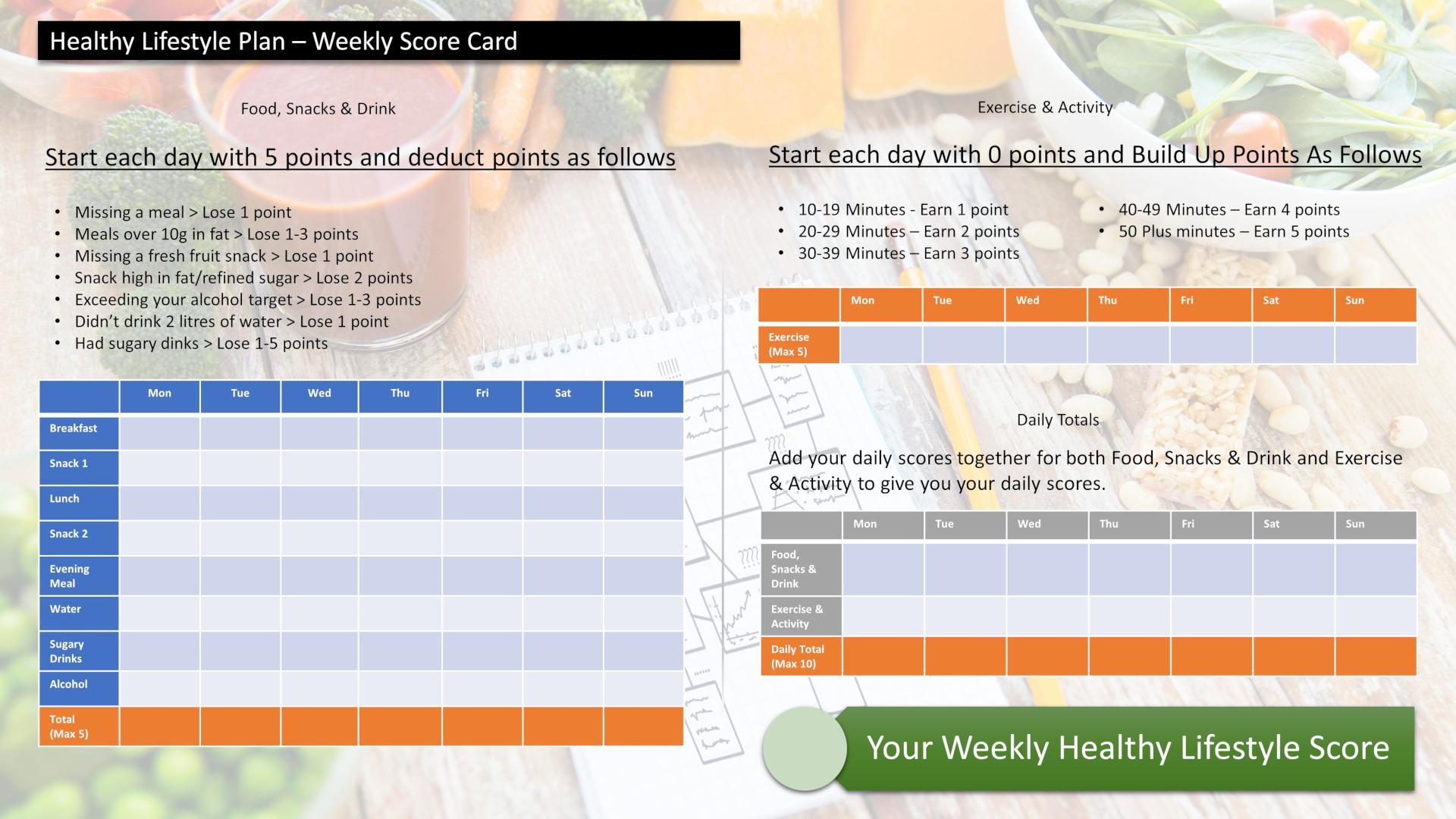 Score your way to good health with our healthy lifestyle plan and it's unique 70 point weekly scorecard!