I'm Larry Lewis, author of The Beginner's Guide to a Healthy Lifestyle. Download my free eBook and discover how to implement a Healthy Lifestyle, easily.
If you're like most people, you want to maintain good health or restore your health after long term illness. Whether young or old everyone would benefit from a Healthy Lifestyle.
"A healthy lifestyle is making the best daily life choices to preserve good health and well-being, lowering the risk of being seriously ill or dying early." Larry Lewis
There are three things everyone needs to know if they are to successfully implement a healthy lifestyle.
What is it?
Why you need it?
How to get it?
Many of you are confused due to the many conflicting opinions out there. Worse still most who promise to provide you the information just whip you off to something that tells you nothing but tries to sell something.
I provide all the answers in this book simply titled the Beginner's Guide to a Healthy Lifestyle and am giving this away totally FREE to the readers of this blog. In this you will find all the answers you seek.
It covers the following:
What is a Healthy Lifestyle
Benefits of a Healthy Lifestyle
It comes down to choice
How Healthy Are You Now
The Components of a Healthy Lifestyle
Don't Make Excuses
Don't Smoke
Don't Drink to Excess
Don't Drink Coffee to Excess
Take One Step at a Time
Be at a Healthy weight
Have an active Lifestyle
Include Fitness as part of your life
Healthy Eating
Get Enough Sleep
Maintain Personal Hygiene
Drink Plenty of Water
Practice Stress Management
Powering up your Mind
Be at peace with the world – Spirituality
Life Balance
Turning Theory into Practice
My Brief Story
Once you have read this guide, you will be able to begin implementing your healthy lifestyle. A healthful lifestyle is easier than you might think.
It's about having an active lifestyle, staying healthy, and making the right decisions. Life is about balance. Not everybody wants to run a marathon, but we could all start working out and being active, whether you walk to work or take an extra flight of stairs. Apolo Ohno
The Beginner's Guide to a Healthy Lifestyle is for people who are saying to themselves, "I want to live a healthy life, but it seems so complicated; where should I begin?" Here you find the answer!
Go kick start your healthy lifestyle. Good luck!
Once you've read it, I'd really appreciate it if you share it with your friends and family so they too can go on and enjoy the health benefits of reading it. Also please drop me a comment once you've read it and ask me any questions you may have.
Go and download your free copy now.
Score Your Way To Good Health - With Our Healthy Lifestyle Plan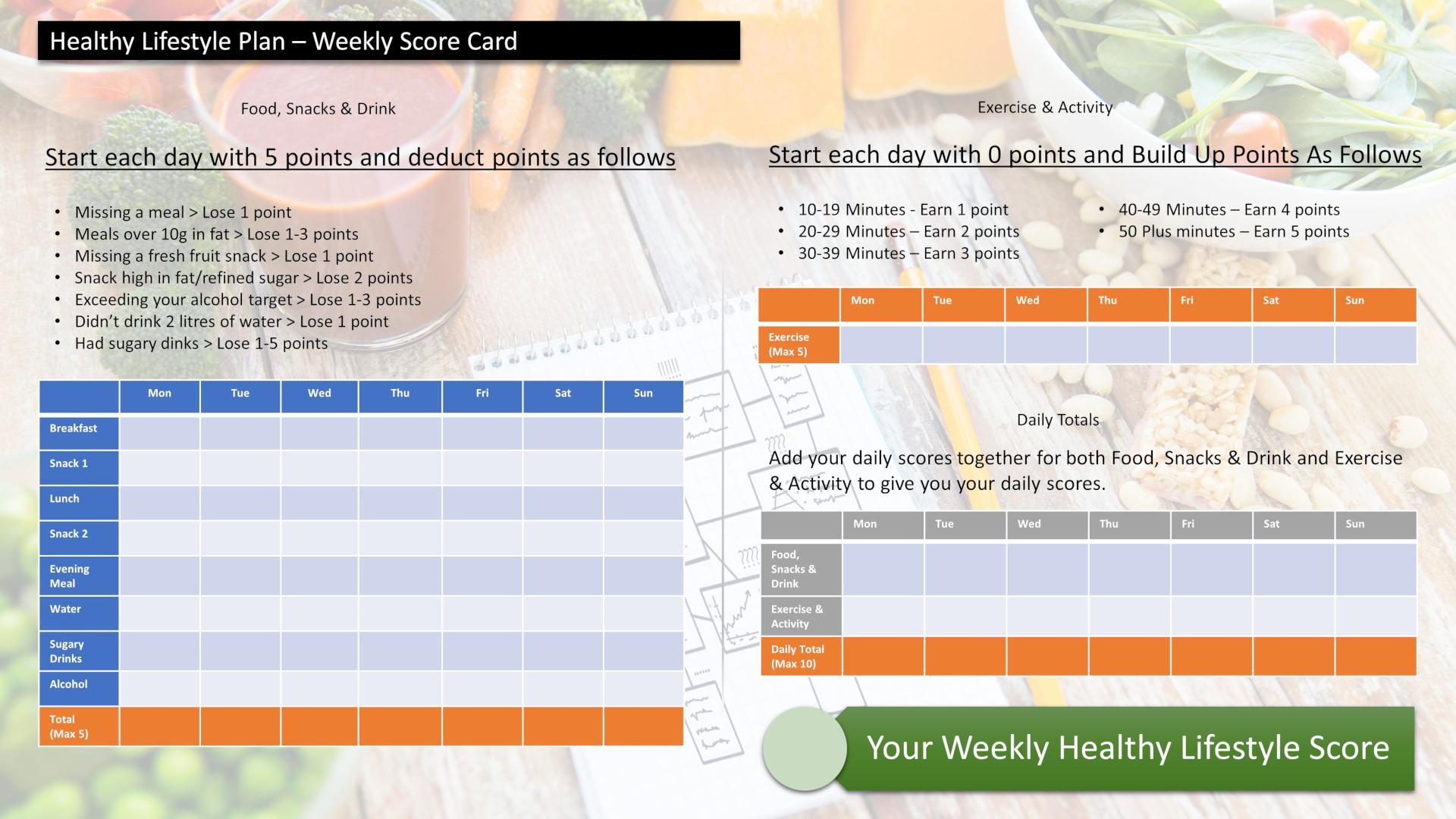 Score your way to good health with our healthy lifestyle plan and it's unique 70 point weekly scorecard!