There is nothing worse than needing to blog, and being struck down with man flu. Previously I wrote a blog regarding this dreadful life threatening disease that only us poor male species can attract, it was called When Even a Healthy Lifestyle Can't Protect You.
This seems to have happened to one of my favourite bloggers Alejandro Guzman who writes Raising Amelie . He is reeling from the man flu as I write this post. I'm sure every one of you has experienced waking up one morning with a sore throat and the start of a head cold.
When struggling with a cold each of us tries to "soldier on" and take something to ease the symptoms and assist us to get through our working day, when what our body really needed was some rest to help us recover more quickly. All bloggers know we can't afford to take time off due to illness, we have far to much to do. So we just have to fight on, with our cloudy brain, dripping nose, and irritating cough.
The best thing we can do is work at building up our immune system, so it's ready to fight off the next germs that try to attack us.
Start a Detox Diet
A detox diet focuses on removing toxins from the body, allowing our bodies to focus on self-healing, with the goal being to raise energy levels, stimulate digestive health, clear headaches, remove bloating, improve concentration and mood, avoid getting allergies, regain our natural ability to ward off colds and flu, and prevent premature aging and disease. It is normally a 7 to 14 day diet where you will eat healthy foods, such as fruit and vegetables, while drinking water.
Supplementation
Echinacea – this is from the purple coneflower plant and has been shown to be an immune booster. Echinacea's immune-stimulating properties may be due to polysaccharides and polysterols that help to activate macrophages that destroy viruses and other infections.
Garlic – this has antiviral benefits.
Chuan Xin Lian – a Chinese herbal medicine that reducea the severity of cold symptoms and shortens the duration of a cold if taken at the first sign of infection.
Vitamin C – this is an immune booster and antioxidant. It can help prevent the onset or stop the progression of a cold if taken as soon as symptoms appear.
Zinc gluconate and zinc acetate lozenges are used to reduce the symptoms of a cold and lead to faster recovery.
An assortment of all nutrients is vital for good health. Research from Harvard Medical School states, "It is essential that all adults take a multivitamin".
A Healthy Diet.
The important things to keep in mind, with relation to supporting your immune system, is eating a variety of highly coloured fresh fruits & vegetables, lean meat, fatty fish, nuts & seeds & whole grains. These foods provide your body with an assortment of highly absorbable antioxidants, nutrients & essential fatty acids – all vital for a healthy immune system.
Exercise.
Regular exercise is essential for a healthy immune system, as this helps stimulate our lymphatic system to make its specialised cells called lymphocytes, which help fight infection. Walking is one of the best overall exercises for helping your whole body function at its best, however cardiovascular & resistance exercises are also vital.
Good Hygiene.
Viruses are passed via the transferring of bodily fluids, so having good personal hygiene is vital to help to prevent the spread of these. Always wash your hands thoroughly after coming into contact with infectious people.
In fact Maintain a healthy lifestyle.
While there isn't direct evidence to show that eating well or exercising can prevent colds, maintenance of a healthy lifestyle, with adequate sleep, good nutrition and physical exercise can help ensure that your immune system is in good condition and ready to fight infection if it occurs.
As all this is to late for Alejandro, all I can suggest is to stay active where possible to loosen mucus, and get as much good, quality sleep as you can. Drink lots of water to remain hydrated and prevent mucus from thickening. Make sure to sneeze into a tissue and wash hands frequently to avoid spreading the germs to anyone else. I do wish you better.
Score Your Way To Good Health - With Our Healthy Lifestyle Plan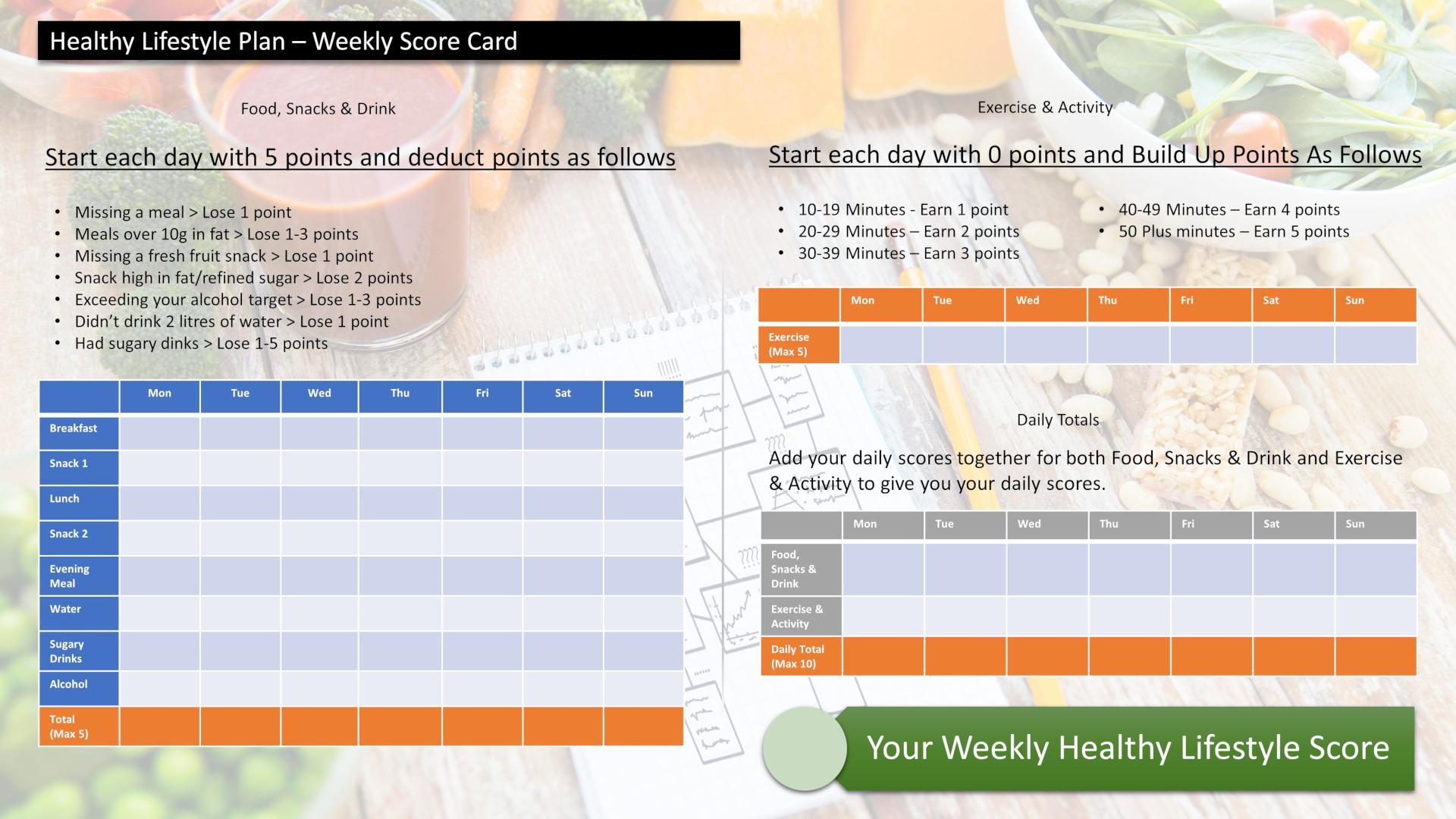 Score your way to good health with our healthy lifestyle plan and it's unique 70 point weekly scorecard!