My mind appears to have gone totally blank. Writer's block! I'm sitting in front of my computer, trying to think of something to write and I've got nothing. It's probably because Healthy Lifestyle is not a sexy concept. It's not getting me going today. Healthy Lifestyle. Doesn't sound very sexy does it? In fact, to many people the words sound downright boring! Not-sexy, not-exciting, not-fun! Does anyone really want to read about how to get started living a healthy lifestyle. Particularly in the blogosphere. Isn't this the area people just want to interact, have a laugh, get away from the mundane everyday things. I wish I could make the words Healthy Lifestyle sound as enticing as "chocolate brownie sundae", but I can't.
I wrote yesterday about how important it is to teach our children how to lead a healthy lifestyle. We know that's no easy battle, particularly when you have to persuade children to trade crisps and chocolate bars for fruit and vegetables. What a difficult task that is. Those Chocolate lovers out there know how hard it is to say no to a little chocolate, don't you? It's a feeling you can't describe! But it's so special and wonderful. The taste of chocolate on your mouth! And here am I trying to tell you 'no'. As the chocolate started melting on your tongue, your brain has a pleasant and intense long lasting pleasure. See you can taste it now, your mind is tempted. But here am I trying to excite you of the virtues of healthy lifestyles. It's made even more difficult to get some of you interested in my subject when you're from the fast-food generation who give little attention to health.
Do you know what the most important thing in life is? It's HEALTH! This is the "one" thing that we all need to take care and control. The reason is very simple, without HEALTH everything else is useless!
I was checking my keywords. Exploring which ones had created the most visits. I was gobsmacked when I found this article 'What to do when you overeat', was the most found on search engines. Why? Because it featured Cadbury's Chocolate Fingers in it, and that phrase is often searched for. Healthy Lifestyle Living is way down on the list. Sad really!
Healthy Lifestyles is such an important subject. Living a healthy lifestyle is important for us all. Being physically active, eating a healthy diet, recognising the importance of good mental health, all play an important part in determining our overall health and wellbeing. Yet for many healthy lifestyles blogs aren't the most appealing to read.
In fact at times I think that everyone is bored to tears reading about healthy lifestyles, healthy eating, and that horrible concept of exercising. Yet every time I start thinking like this something happens that makes me change my mind again. Normally somebody just shows up in my life through an email, a comment on my blog or personal contact that I've been able to inspire. This week somebody even put me up for a bloggers award, stating that I had helped change their life. Gulp! I feel pretty good about that. Yep, someone's reading my blog, and my words are causing that person to want to make themselves better for the long haul. That is enough to make me want to write and write.
Living a healthy lifestyle doesn't have to be hard. It just takes the motivation to change our bad habits into good, healthy ones. I still am not convinced writing a healthy lifestyle blog is going to entice thousands of people to visit and read what I've got to say. Maybe I need to be creative, introduce more appealing headlines.
Is your partner's growing waistline taking its toll on your sex life?
Regular Sex Benefits Men's Hearts
A Health Lifestyle will Rev Up Your Sex Drive
Maybe I need to get even more creative
New Sexy Body Tips
Cameron Diaz Diet Secrets To A Sexy Body
How to stay healthy and keep that sexy, stunning body of yours for the rest of your life!
How to get a nice, ripped, sexy body!
Would you more likely choose to read an article titled 'Who doesn't want to look lean and sexy' or 'Eating a Healthy diet for maintaining a healthy lifestyle'?
Right now, the true headline for this article, should be 'Where am I going with this?'
It's too easy to simply forget the importance of living a healthy life when we're going through the daily grind. However, the benefits you can enjoy with a healthy lifestyle are worth making healthy living a priority! This particularly applies if you are a blogger! (Got your interest?)
When we live an unhealthy lifestyle, eat badly, and simply don't exercise enough, our body can not function at peak levels, and nor can our mind. Brain chemicals (neurotransmitters, such as serotonin, dopamine and acetylcholine) influence the way we think, feel and behave and these are affected by what we've eaten.
Optimum performance of the brain is dependent on eating the right healthy foods. The right foods and nutrients play a crucial role in the development, as well as maintenance of many brain functions especially cognitive properties such as memory, attention, language and problem solving.
One thing that many bloggers ignore is their health, but you can't expect your brain to work at optimum levels if the rest of you is unfit, over-weight or out of condition. You want to get the best out of your writing; well you need your brain working at its best, so you need to feed your body the right stuff.
Think about it. When you last found your brain wasn't working as well as normal, when your creative juice seemed to have dried up, could you track it back to poor eating habits over the previous week or so.
When you adopt a healthy lifestyle by making good choices about food, exercise rest, and positive thinking, you'll enjoy the new ways you think, feel, and live. You will think clearer, feel happier, enjoy more energy, avoid illness and write better.
Your body requires healthy foods and exercise to function efficiently. So it should come as no surprise when you haven't been eating the nutritious foods that your body desperately needs, or doing any exercise, that your body feels sluggish and your mind can't focus on anything for very long. You may have noticed that on some days you just can't seem to concentrate, your thoughts are obscured by fog. It is the brain power you use to really think about what you are doing and takes all of your current thoughts. By making adjustments to your daily diet and increasing your daily physical activities you will boost your mind's performance, improve your writing and find your blog work gets done in double quick time
As a writer I know fresh ideas really begin to flow when I take time out to exercise. Exercising forces us to step away from the constant barrage of external information, whether it's through email, blogs we follow, our social network messages, TV, or other people, and therefore we are more open to exploring our own thoughts and ideas. Physical fitness also plays a role in the brain's function, increasing the amount of mood-enhancing seratonins, and it's a great way to work off excess stress!
So trying to get as many people to take action today so they will no longer be a slave to obesity and ill health and instead start living life to its fullest isn't a big enough call to action, what is?
What would make you read a Healthy Lifestyle Blog?
Remember, this is your body, no one else lives there. Take care of it and it will take care of you. You have one life, one body, but different choices. Choose wisely!
Score Your Way To Good Health - With Our Healthy Lifestyle Plan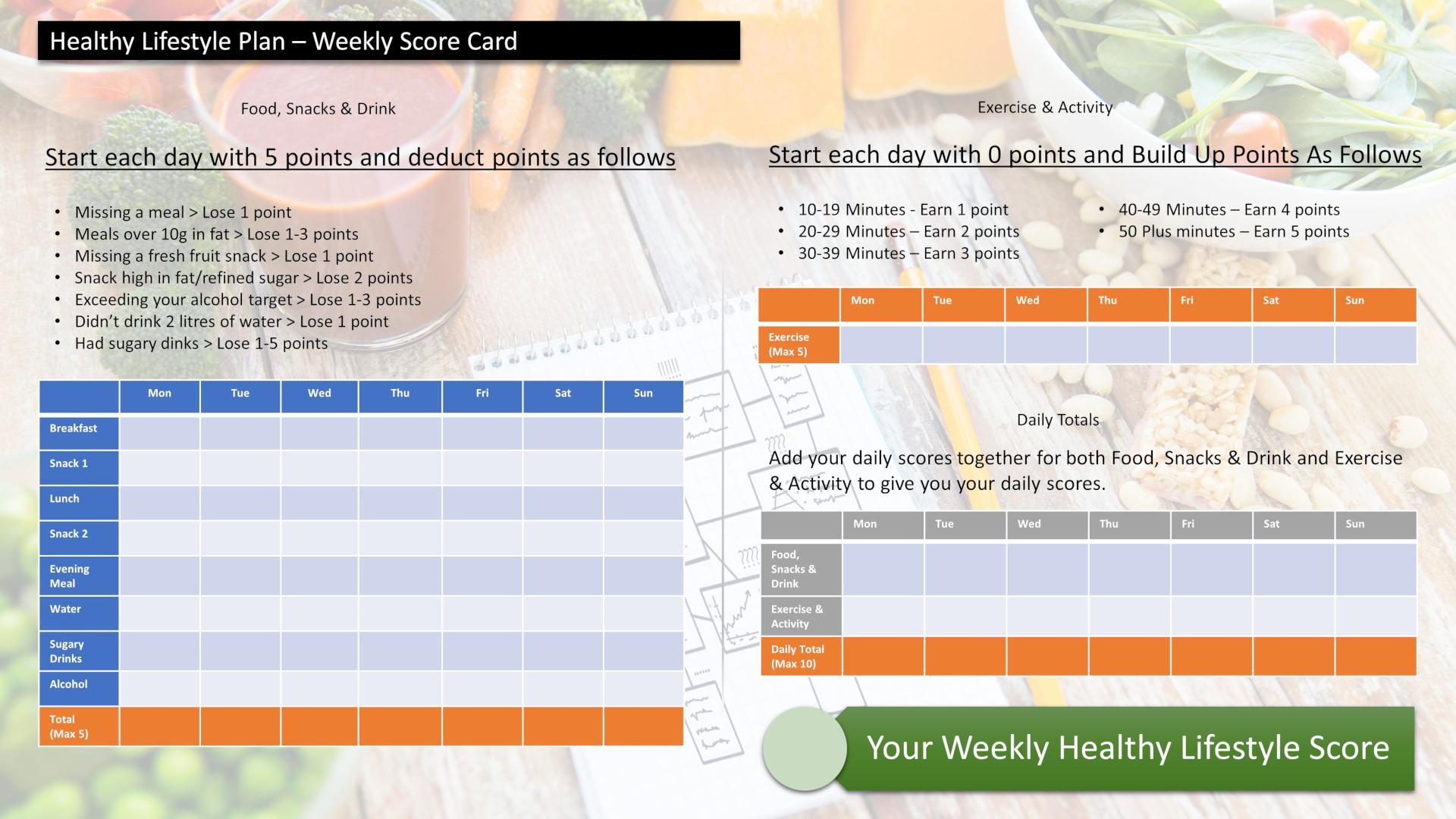 Score your way to good health with our healthy lifestyle plan and it's unique 70 point weekly scorecard!