The ideas for blog posts come from the strangest places sometimes. As a Lifestyle Coach I am often advising my clients and readers on all matters healthy lifestyle, often paying particular attention to health eating. Frequently I am having to answer all sorts of questions. One of the most common questions that I answer has popped into my head following a rather unusual event in my daily schedule.
My car couldn't cope with the big freeze, and the radiator decided to pack up. So to the garage it went. Having cancelled all my appointments rather than let the day go to waste, I went over to see my Mum and Dad. They must have found my company exhilarating demonstrated by them closing their eyes and off to the land of sleep they went. I used this opportunity to do some blogging, so of to their kitchen table I went, set up my lap top, and then enjoyed a couple of hours of unsuccessfully trying to get on line. I know other bloggers would have experienced the same calm if faced with a big black hole where the on line communities they enjoy so much should have been.
Now lying on this kitchen table were some rather innocent looking Cadbury Chocolate Fingers. They are finger shaped crisp biscuits smothered in yummy Cadbury milk chocolate. They are a very pleasant treat for anyone on a calorie controlled diet being just 30 kcal per finger!
The chocolate that covers these biscuit fingers rapidly melts in the mouth and the biscuits are small enough that they are gone within a couple of bites. I find that the chocolate easily melts onto fingers which makes me eat them quicker than I should and leaves me with empty hands that reach for the packet again!
The packet contains on average 24 biscuits. Well after my two hours of unsuccessfully trying to get on line, I decided to rejoin my parents. Having packed my stuff away, I went to reach for another biscuit, to find none left. In a space of just two hours I had accidentally eaten around 20 of these little chocolate fingers, and filled myself with the 600 calories' they offer. I only remember eating a couple, where did the rest go?
How many times have I had to help one of my clients, or readers deal with the aftermath of a binge? Such a common occurrence, but one that puts so many people through unnecessary anguish. Most dieters panic when they have a binge or a bad day. They get hysterical and guilty and think they're doomed to stay overweight for ever.
It happens to all of us. It's inevitable that we will occasionally give in to temptation. Whether it's indulging in a fry up, or having seconds and thirds of your mum's home made chocolate cake, or slowly demolishing your mums chocolate fingers, we all slip up in our diet sometimes. But the damage isn't irreversible- and it doesn't mean you've failed and have to give up on your dreams of losing weight. It's so tempting to just wallow in your guilt and give up on your weight loss plans.
No matter how carefully you plan what you are going to eat each and every day, you're probably going to experience a 'Bad Diet Day' somewhere along the line – a day when you feel like cleaning out all the racks in your local bakery, particularly all those freshly made cream cakes, and piping hot pies.
After all those days, weeks and sometimes months of making healthy diet choices, you'll want to ensure that your diet stays on track, and not let one day bring it all to an erupt halt. Every dieter has bad days. However, no one stays fat because of the occasional binge, or bad day. It's our daily diet habits that keep us fat.
You can't let one bad day spoil all that time and effort you've put in already. Ok, you've gone off track ………. put it behind you and start afresh. So get back on it tomorrow. Accept what you've eaten.
Hysteria about how much weight you'll have put on will only cause unnecessary panic. Give yourself a reality check. It takes 7,000 extra calories for you to put on a kilo, so you're unlikely to have impacted your weight too badly with just one slip up.
Of course, if it's happening every day then there might be a problem- in that case, try to identify why you are overeating. There is probably an underlying reason (stress, depression, boredom) that is causing you to binge regularly, and pinpointing it will help you to come up with healthier ways of resolving your feelings.
On the other hand, if it was just a special occasion and you ate extra helpings, recognise that it was just a one time thing- feeling guilty will only cause extra stress that in turn is likely to make you eat more. Recognise that you didn't make the best diet decision, forgive yourself, and make a promise to yourself to make smarter choices tomorrow.
My solution was easy. I got the call from the garage that my car was ready. So, laden down with chocolate fingers in my tummy off I went on a 5 mile trek to get it back.
This made me feel better about having over-indulged. So, as hard as it might be to force yourself to get moving, you'll feel so much better once you do, after a day of over indulgence.
Score Your Way To Good Health - With Our Healthy Lifestyle Plan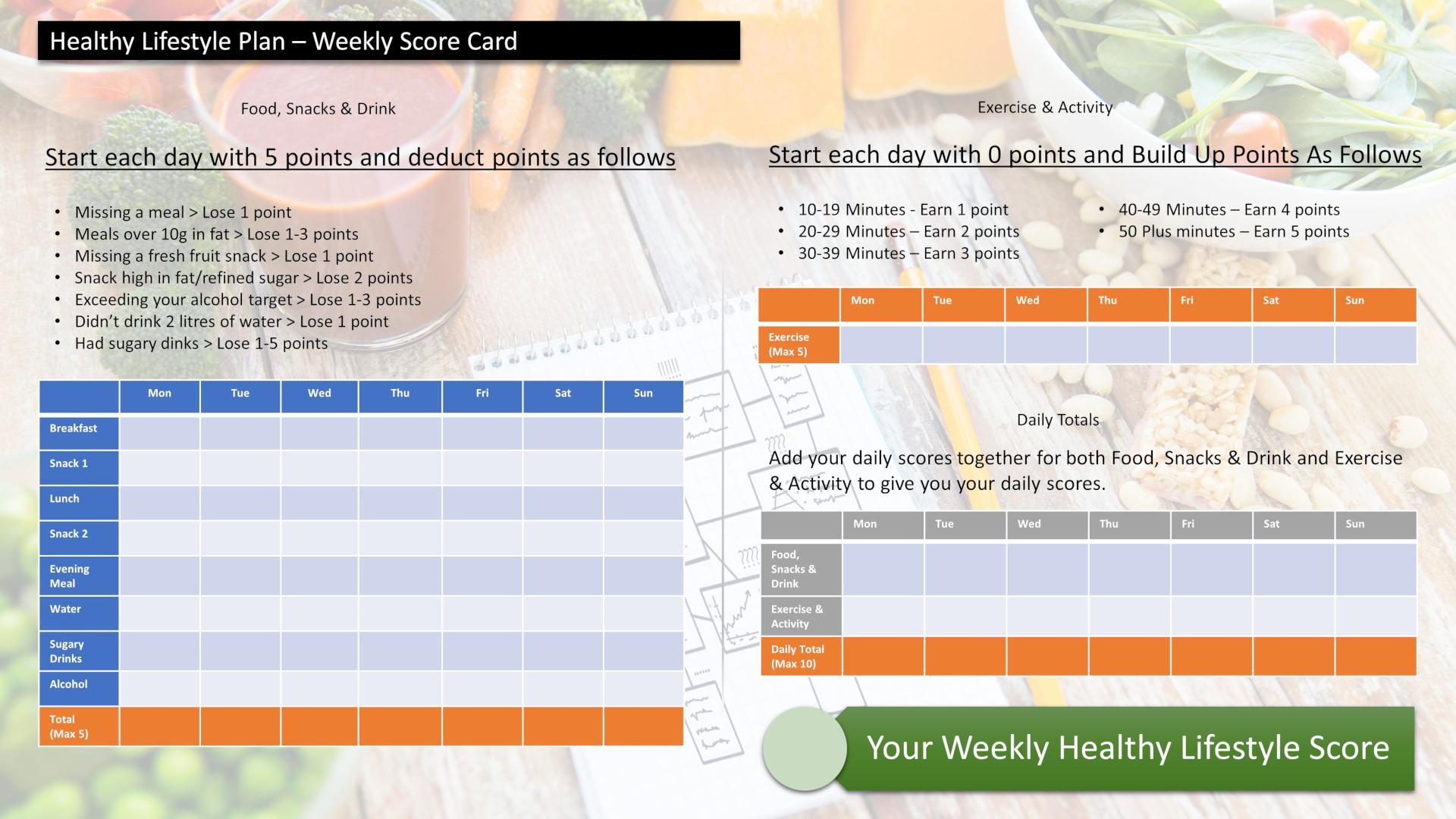 Score your way to good health with our healthy lifestyle plan and it's unique 70 point weekly scorecard!