Find out more about the Single Page Plan
Are you somebody who consistently fails to reach your goals? The reason for this is more than likely to be that you see goal setting as the whole process, rather than just part of the process. Today I would like to introduce you to the single page plan, what I believe to be the ultimate goal achievement process, and explain to you how it works.
Setting effective goals is essential, achieving them is life changing, but unless you have a process to use to help you then as I'm sure you've already found out many times before they don't work.
The main reason that we fail at goals is not the failure to set goals. Most people do set some form of goal, either formally or informally. While most of these people could set their goals in a more effective manner, the bigger problem is the lack of a process.
I'd hate to think of how many of you reading this blog post today, in the third week of February 2015 have already given up on your New Years' resolutions. Are you one of them?
I want you to be successful in changing your life for the better, someone who can achieve every one of your BHAG—Big Hairy Audacious Goals, or as I call them your Breakthrough Goals. I know how different your life can be if you learn this process to bring your goals to fruition.
Today I want to help and encourage you to embrace a future full of unlimited possibilities and shed some light onto why goals haven't worked for you in the past, and what you can do about it. The answer is simple, to this point you haven't had a process to follow. That is exactly why I have created the single page plan which introduces you and teaches you a very powerful yet simple goal-setting process.
Each step in the process is important, and if you follow the process, you'll increase your chances of success dramatically. Thousands of people have used similar methods to achieve their dreams, and you can learn to do the same. I promise you this is exactly what you need if you want to turn from a goal underachiever to a goal master.
Let me briefly explain to you how I know the importance of setting goals and having a process to follow. I will share part of my story. Having led a life where I enjoyed great success I then fell into a life of incredible struggle and failure. For a while I just allowed myself to hibernate, losing myself in a fight for survival, and this went on for two years. This was a period where I simply felt sorry for myself and mourned everything I had lost, ~It wasn't until I woke up to the importance of goals for me during my successful times and my realisation that for two years I had refused to be guided by my goals or chase any dreams. I was stuck looking back at the past, and this simply created more troubles for me.
This realisation enabled me to begin my total reinvention, a personal transformation where I allowed my life to once again be driven by goals, and using the process I had created long before I was able to rebuild my life one goal after another.
The most important lesson this taught me was understanding that all my successes came down to one skill: setting, sticking to and staying committed to BIG goals. I know my purpose is to share this with others.
To support others in changing their lives I have created the single Page Plan program which will give you a beautifully crafted single page which gives you everything you need to achieve your goals.
No matter your background, education or current level of success, if you master the skills and processes I will take you through, you can instantly bring about incredible improvements in your life, bringing your dreams into reality. You know it's time to at last fulfil far more of your potential and accomplish in the next 5 years more than you have in a lifetime so far.
Let me explain to you the process
STEP 01: NOW
Take time to look at where you are now. How do things stand right this minute? Set yourself a starting point for your goal.
STEP 02: WHERE
Take a look at where you want to be once your goal has been achieved. Generate an overview of everything you will need to do to complete your goal.
STEP 03: WHY
This is an essential goal processing step so many people tend to miss out. You need to know the reason why you want to achieve your goal.
STEP 04: HOW
Now work out exactly how you are going to achieve your goal. This will be a lot clearer when you look back over the three previous steps.
STEP 05: REVIEW
Constantly review your progress. By introducing the review process your goal goes from a wish to a successful goal.
If you join before the end of play Sunday 1st March, you can join for £99 saving £200. You will get Single Page Plan Coaching through Live Webinars which will also be recorded and provided on demand so you can watch them again, the editable template to create and revise the Single Page Plan, unlimited uses so you can get your family to create their own, the Workbook, unlimited email support for 30 days, and FREE membership of our online community and support forum saving you another £89.97, and finally you will receive an invitation to try our Goal Tracker Software which will be beta tested from next month. As a I want to make this decision easy for you I am also giving away totally FREE my Compass for Life Course including all 12 modules and 5 bonus modules.
Join me for Live Coaching starting Monday 2nd March to create your Single Page Plan.
Still not convinced the Single Page Plan is for you? Check out exactly what the Single Page Plan is all about and how I can help.
Score Your Way To Good Health - With Our Healthy Lifestyle Plan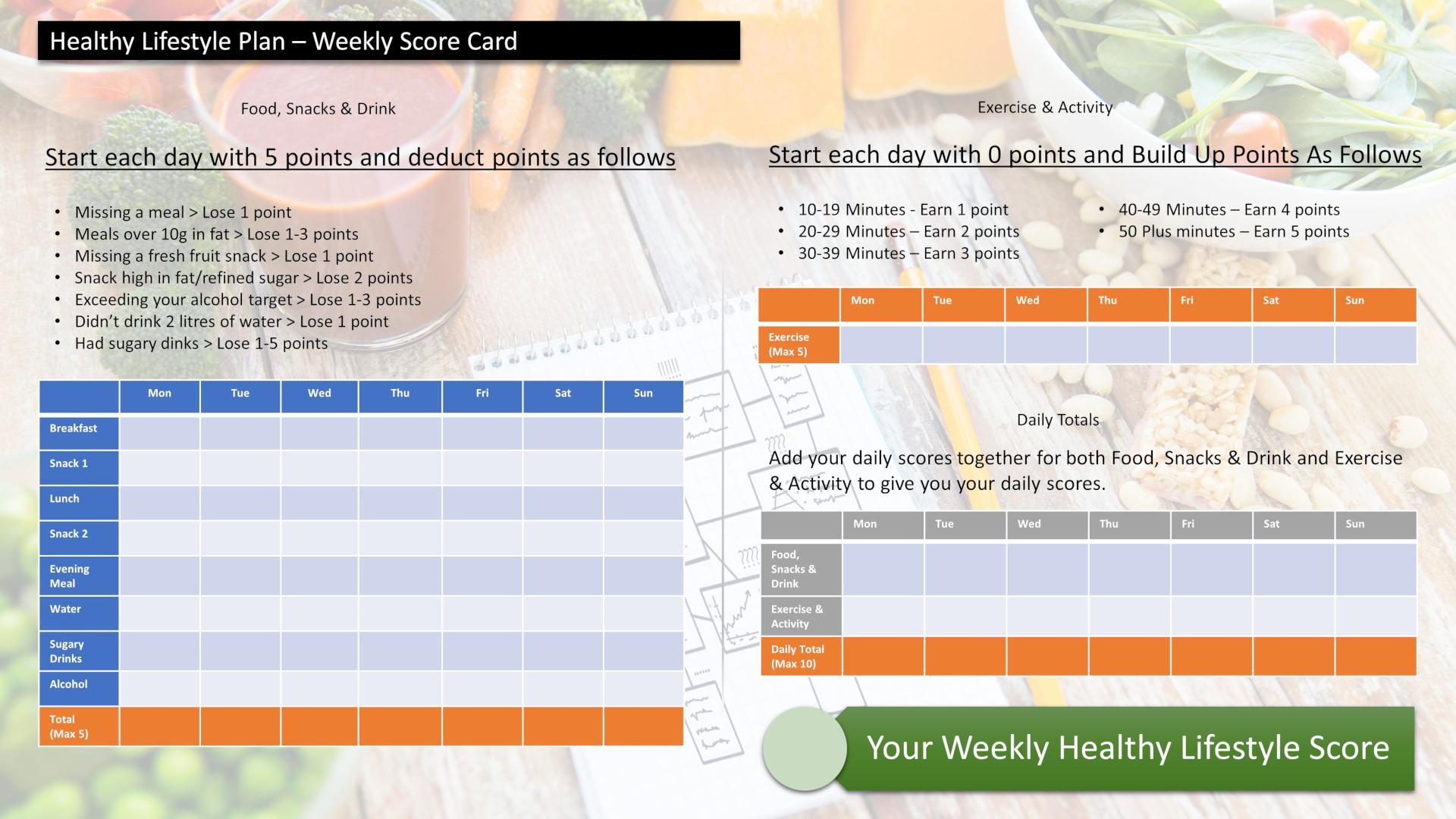 Score your way to good health with our healthy lifestyle plan and it's unique 70 point weekly scorecard!