It's now time to take a look back over your year just gone. We are fast approaching that time of year where we sit down and think to ourselves what goals would we like to achieve in the next 365 days. Of course I'm talking about the clock ticking to twelve and suddenly we have entered a new year and we formulate our new year's resolutions.
What's it going to be for you this year? Time to lose that excess weight, find your soul mate, improve your finances, or like me to finally write and publish your book.
We all know that normally our new year's resolutions are merely good intentions that rarely we achieve. More often than not we give up even trying before the month of January has reached its end. Why is that?
It's not usually a lack of motivation or desire. We want each of these things that we set as a new year's resolution, yet this doesn't prove a strong enough pull. Often each resolution on its own doesn't bring with it a real power, by this I mean its accomplishment although bringing a positive benefit, it will not dramatically improve or transform your life.
Power to change comes through big picture thinking. By this I mean creating in our minds something significant that will change our lives.
So how do we go about doing this? The first thing that I believe is essential is taking a look back over your year just gone. Truly analyse it to see what's gone well and what hasn't worked out for you.
There have been many highlights for me in 2014, not all good, but each has had a telling impact. I won't list them all but a few examples would include the death of my mother in February, my eldest daughters graduation from university, my youngest daughters beginning at Canterbury university, my divorce after 20 years of marriage and finally, writing the compass for life course and launching the Reinvention University.
The year hasn't ended well for me having suffered from a retinal detachment and having had to undergo eye surgery. This has made it very difficult for me, finding it nearly impossible to read and therefore made writing incredibly difficult. Not great when you want to blog daily and communicate on line with your followers and coaches.
Yet it just makes me even more determined to make 2015 my best year yet. There is so much I want to achieve, in all of the important areas that should matter to all of us. By reviewing my year just gone I can assess how I've done in all the important areas.
This is what I do. On a scale of 1 to 10, with a 1 meaning that things are as bad as can be needing a lot of improvement and a 10 showing things are great and no improvement is necessary I rate myself in all of the following areas:
Health and Wellbeing (includes physical appearance; general health; fitness level; quality of diet; level of exercise; body weight; energy levels and the effect of stress.)
Relationships (this includes healthy blossoming relationships with family, spouse or partner, Children, parents, brothers sisters and friends.)
Professional (this includes whether you are passionate about your job; advancing within your field; growing professionally; challenged and stimulated by your work, doing what you want to do, performing at a high level.)
Financial (this includes your current income level, savings in the bank, level of credit, current net worth, amount of debt, satisfactory investment level; level of financial security.)
Personal (this includes having fun in your life, able take vacations, taking time for yourself, living in a nurturing environment, having a balanced lifestyle.)
Mental & Emotional (this includes Personally growing and learning, levels of relaxation, happy with yourself, excited and positive, feeling good about yourself and your life, loved and supported by those close.)
Contribution (this includes what you are contributing to others, whether you are making a difference, providing support to others, feeling your life matters, being clear about your life's purpose, supporting a cause important to you.)
Time (we each only get 24 hours a day. How well you manage this time has a big part top play in determining how life works out for you.)
So now you should go through each of these areas and identify where you are currently, what's working and what's not working? What areas do you want to improve? Give yourself a mark for each of these areas between 1 to 10.
Doing this you will now have a clear picture of where you are right now that's the importance of taking a look back over your year just gone. So your next step is to get the clear picture of where you want to be in 365 days time. So look again at each of the 8 areas and create 2 to 3 must do's for each area. Then put them together into a vision that you build within your mind where you see yourself at the end of 2015 as the person whose achieved all your goals, dreams, resolutions or whatever you want to call them.
Now ask yourself one final question, which one goal brought it all together for you. The one that empowered you to bring about change, the one that woke you every morning excited about the day ahead. Find this, you have your breakthrough goal, the catalyst to bring about complete change for you.
See the picture in your mind, decipher your answer.
Score Your Way To Good Health - With Our Healthy Lifestyle Plan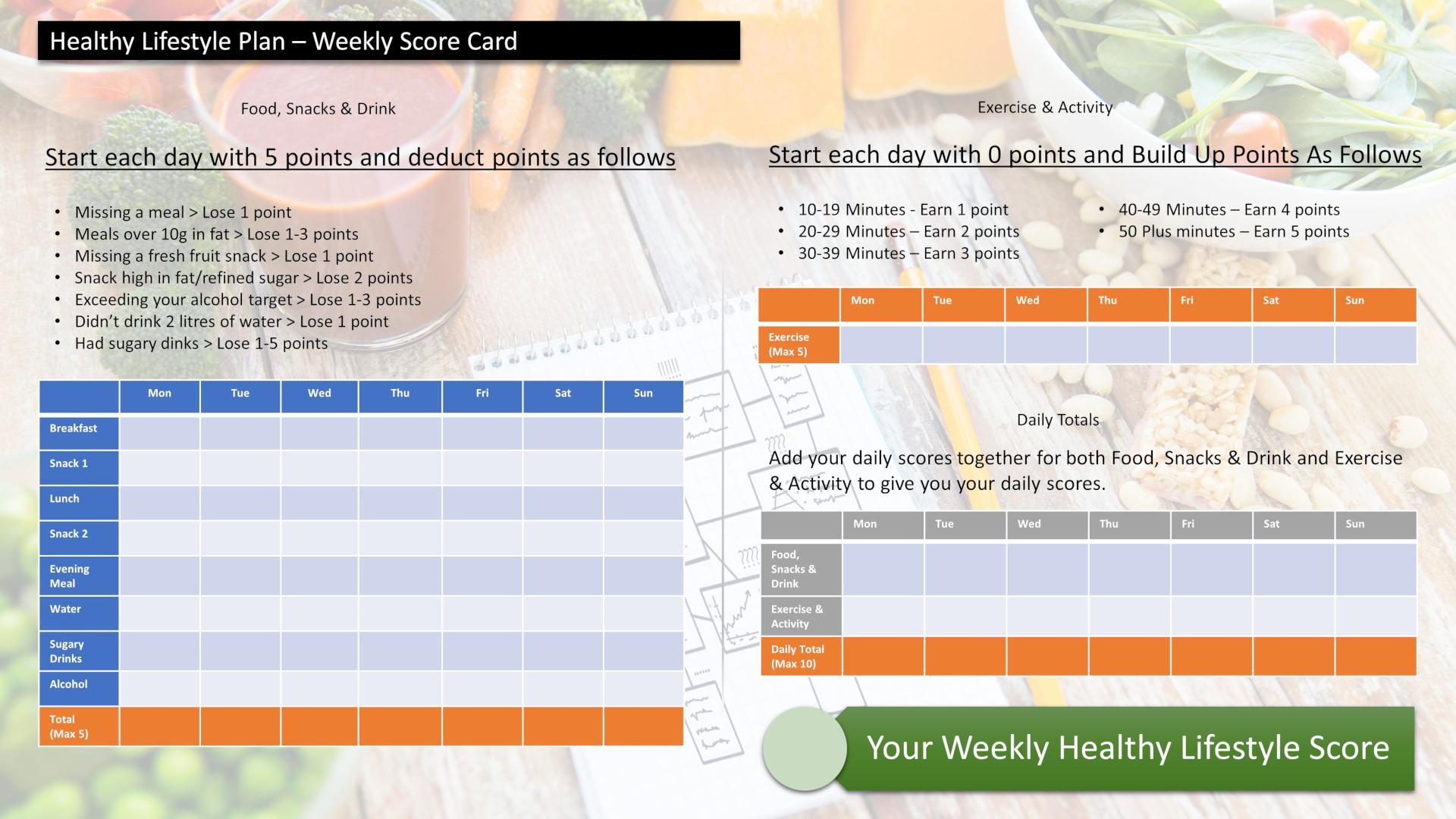 Score your way to good health with our healthy lifestyle plan and it's unique 70 point weekly scorecard!