I'm sitting here in the sun at poolside in the mid afternoon sun thinking to myself this is a great way to live. This has got me thinking about the life I've lived to this point. It has had many ups but some significant downs. I am determined to et to the end of my time here with no regrets.
Many would now be thinking about winding down what they're doing at my age, but no way is this the way I look at it.
I can't deny I'm aging. The trace of grey hair definitely is a sign as is my enjoyment of a good cup of coffee instead of a beer. I am 51 years old. I have probably lived well over half my life. Maybe I will live to my late 80's who knows. But who knows me more importantly, to this point what legacy have I left? Can i yet say I have no regrets?
I've just finished a book called Lionheart written about Richard the Lionheart and the many characters that were part of his life. They are all remembered 10 centuries later. How long will I be remembered for? Maybe that's not the important question, what I should perhaps ask is what will I be remembered for. Life is not about what we have, the things we collect, but what we do and who we are, how we contribute to the world.
My desire to make the difference is perhaps what keeps me young, slowing down the aging process.
I believe every day has to be lived to the full. The message I want to give to both old and younger people is do not forego the moment in an attempt to build just a future. Our future is important, and as a goal getter myself I would never deny that, but putting life on hold till we achieve our goals is simply stupid. Yet so many do including me in the past. This is not the way to ensure you live life with no regret.
We all think we'll live to be 100 and have the time to do all we want, but there are no guarantees. You have to ask yourself this question, "Am I living each day to the fullest. If I live to be 100 or I'm gone tomorrow have I accomplished what I was put here to do? Did my life really make a difference?"
I don't want to come to my last days with regret!
I have created a system for myself to ensure I make the most of my time. Let me share it with you.
I live by the 100 day rule. I ensure in every 100 day period I do the utmost to use the time to create my legacy. I do everything I can to honour my dreams.
To quote from the book Lionheart written by Stewart Binns the words of Abbess Hildegard "glance at the sun. See the moon and the stars. Gaze at the beauty of earth's greening. Now, think." Think of the legacy you wish to leave, the goals you want to achieve, and what can you do in the next 100 days to bring you closer to their achievement.
"Being the richest man in the cemetery doesn't matter to me. Going to bed at night saying we've done something wonderful… that's what matters to me." Steve Jobs
What would your biggest regret be if this was your last day of life?
Empower your year by finishing this sentence … 2014 is going to be my best year yet because ….
Make sure this year you have no regrets!
Score Your Way To Good Health - With Our Healthy Lifestyle Plan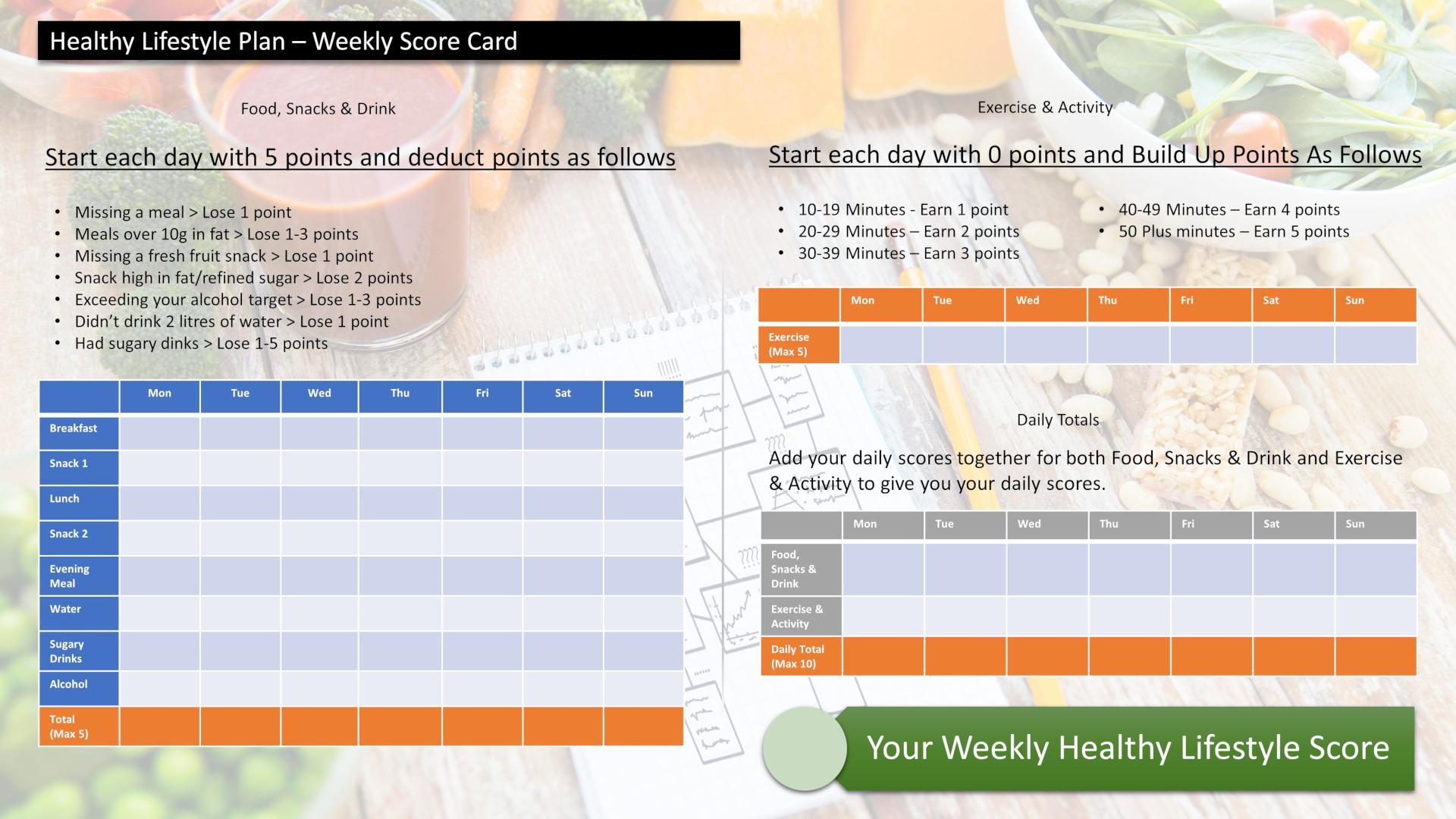 Score your way to good health with our healthy lifestyle plan and it's unique 70 point weekly scorecard!