I would like to take this opportunity to wish my readers a very happy New Year. At the stroke of midnight today the calendar will turn over to the 1st of January and another year starts. What I hope for each of you is this is the year where you make it great. As Oprah Winfrey said "Cheers to a new year and another chance for us to get it right."
It truly is possible to make powerful life-changes and what better time than the start of a New Year. New year, new you, right? Perhaps that means: losing weight, getting a great job, living a healthy lifestyle, learning something new, or setting up that business of your dreams built around your passions all of which top the list of the most common goals going into the start of a new calendar year.
Unfortunately, New Year's resolutions are notorious for their short-lived life span. Many resolutions are already long forgotten before the month of January is over. I'm sure every one of you can hold your hands up and say, yep that's the way it normally goes. Well don't let it happen this year.
So as 2015 is now just hours away I want to tell you to ignore all the rubbish you read about giving up on making New Year resolutions. You need to learn where you go wrong. Well in truth it's not the resolutions themselves, it's the process you need to follow that you're probably not got right before.
Apparently, more than a third of New Year's resolutions are broken by the end of January. Don't add to this statistic this year. Be one of those that succeed. I'm excited to offer you some help. I am doing a live webinar on Wednesday 7th where I am going to teach you the One Page Plan which will supercharge your New Year Resolutions. It's totally FREE, and it's going to provide you with everything you need to get 2015 off to a flying start, and help you stick to your goals all year long. A bold claim I know but come and check it out and decide for yourself.
This year you want to get it right don't you? As I have mentioned in my writings on more than one occasion, you can't make things work if you don't get things right from the start. One of my favourite sayings is one day you will die, and "when you look back on your life, you'll regret the things you didn't do more than the ones you did." So do everything you want and don't miss out on your possibilities.
The coming of a new year is a great time to reflect on past accomplishments and to set new goals for the future. As we bring in 2015, pause to think about all of the lives that you touched all those things you have achieved and those magic moments that touched your life. Also reflect on those things that went wrong and see what you can learn from them so this year you have more successes than failures.
Now design your life so you are doing more of what you enjoy and create a vision of the life you want to be living. Ask yourself 'what would my Perfect Day look like?' How many of you have had a perfect day, one that was so amazing where you were unbelievably happy and fulfilled and grateful for that day? You have to create the vision what this day will be like, what you're doing, who you're with, what you contribute, because this vision is where your goals should be coming from. Ask yourself this question: What can I do to make my life one where I live my perfect day every day.
I encourage everyone to make a resolution that counts – the resolution to remember. It's a brand new year, so make this the year you make it great
If you are ready to make this the year you get it right, then you really cannot afford to miss out on a very special opportunity… on Wednesday 7th January at 9pm I will be doing a live webinar teaching you The One Page Plan, don't miss it. Come and join me.
Score Your Way To Good Health - With Our Healthy Lifestyle Plan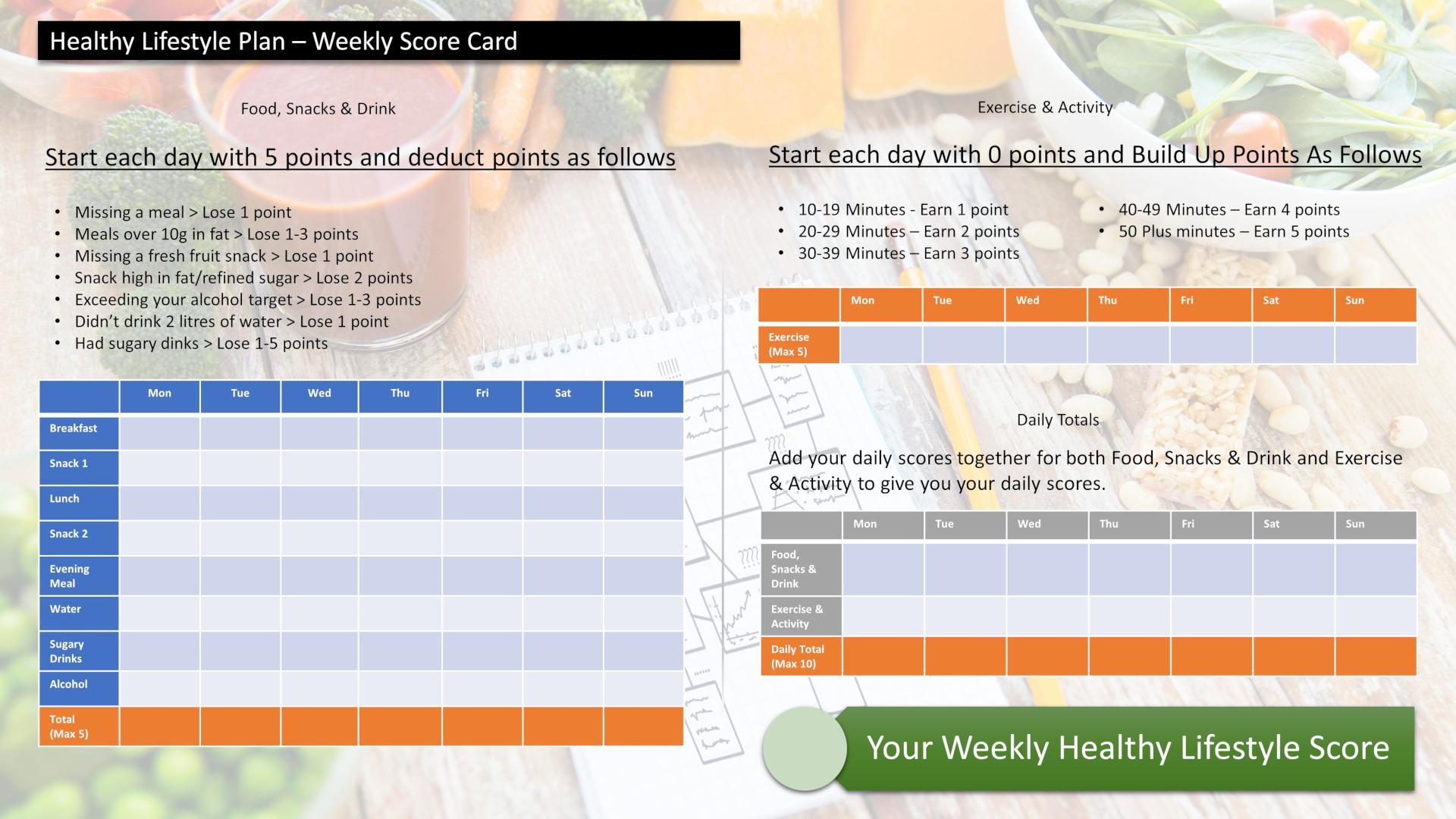 Score your way to good health with our healthy lifestyle plan and it's unique 70 point weekly scorecard!