So the Christmas festivities are over and now many of you are setting your sights on the successful achievement of your forthcoming New Year Resolutions. Well don't wait till January before you get ready for your new year's resolutions start putting your plan together now.
It really is fast approaching, the time where you can take the opportunity of starting off the new year ready to create that new you. It's the chance to make a new beginning at the beginning of this new year.
The sad thing is that most New Year's Resolutions have been dropped before the month of January is over. They die a slow and quiet death. They're tossed aside like the leftover snacks from your new year's eve party. The main reason for this is poor planning, or in most cases no planning.
I am a big believer in goal setting. I know the power of goals and how they focus your mind giving you something definite to aim for so you're not just blindly carrying on with your life. I strongly believe in New Year's resolutions and strongly suggest so should you.
Instead of waiting until January 1st to start on looking at setting your new year resolutions, I'd like to encourage you to start working on them right now.
You see the new year certainly offers a clean slate to you lending itself for you to make some resolute plans and setting important goals. So it's important that you learn what you can do to stick to them and see them through.
A New Year's resolution is a promise you make to yourself to do something good (or to stop doing something bad) in the New Year. In my mind there is no better time to commit to something like this than on January 1st.
Here are some popular resolutions:
• to eat more healthily
• to exercise regularly
• to stop a bad habit, such as to quit smoking
• to be more positive
The time between Christmas day and new year's day is a good time to take stock and decide what you need to change in your life. Look to see where life is for you right now, and consider your medium- to long-term objectives.
Find a goal that excites you. Decide on something you really want to achieve, have or be.
Many of the New Year resolutions are associated with people's health and fitness. Your first challenge is to choose something that will mean so much to you that you'll be empowered to keep going through the rough times. A resolution that you can totally commit to.
Once you have done this you need to create a long-term effective 12 month plan, and develop a health & fitness strategy that you can stick to. It is all about setting those important goals in advance, and having your plan ready to get started as the calendar turns to one.
Less than eight percent of people are successful at keeping their New Year's Resolutions.You be one off them.
So decide what goal you want to work on, consider the ways you could benefit from achievin it and think about the steps/actions you need to do to achieve this goal.
You need to consider ways to achieve your goals for long-term health benefits and identify ways to prevent the inevitable slip-ups.
To build up your desire, answer these 4 questions
1. Perceived Cost of Continuing Current Lifestyle Behavior – How is my current behavior hurting me?
2. Perceived Benefit of Adopting New Healthful Lifestyle Behavior – How will this new behavior help me?
3. Perceived Benefit of Continuing Current Lifestyle Behavior – What do I give up if I change?
4. Perceived Cost of Adopting New Healthful Lifestyle Behavior – How much will this change cost or hurt?
Your goal will be to firmly establish the new behavior as a lifelong habit by anticipating problems and preparing to overcome failures, and by rewarding your successes to stay committed. Tis committment will be fueled by askin the above questions.
Get started today on your plan.
Score Your Way To Good Health - With Our Healthy Lifestyle Plan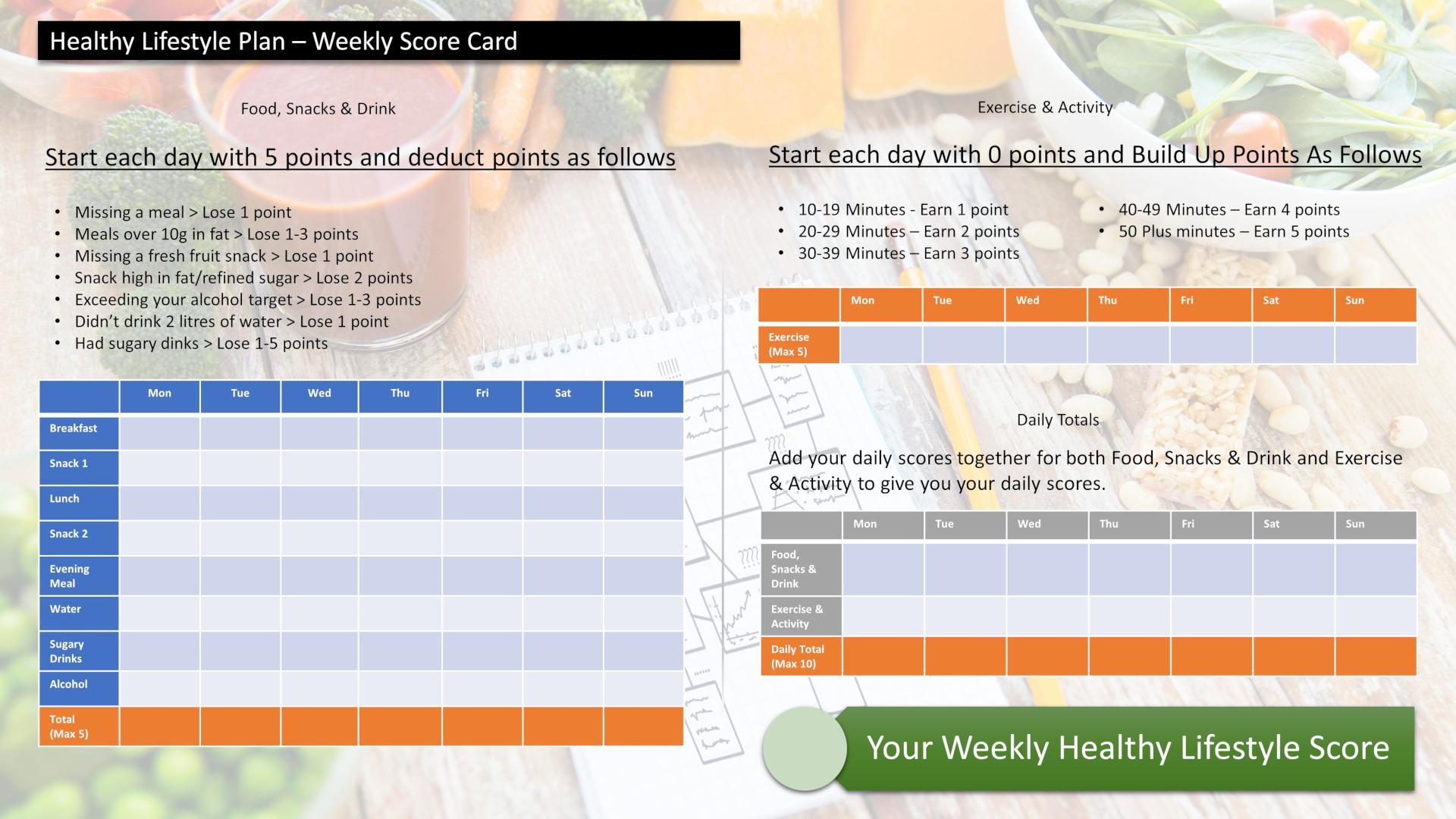 Score your way to good health with our healthy lifestyle plan and it's unique 70 point weekly scorecard!