I'm so excited to be telling you guys about today's announcement!
I am proud to announce the publication of my book, The Single Page Plan (Kindle £4.97, Paperback £14.45/Amazon ). This 276-page book provides you a system to use and a process to follow to power up your goals, and go on to become a goal achiever. Whether you are someone who wants to achieve lots of small targets or big hairy audacious goals this process is going to help you to finally succeed. No longer will you see your goals or New Year resolutions fade away.
The book is intended to help you transform your goals from being merely wishes to outcomes you go on to achieve. If you've been unsuccessfully trying to achieve your personal goals up to this point, led a life where you have faced to many disappointment, continually knocked down by events and situations, then this book will provide you a process to keep going, moving forward, finally be able to achieve all your goals.
I would like to ask you a question, 'If nothing changed in your life over the next 5 years, would that be OK?'
Most of you will answer 'No' and you're not alone. It seems a majority of people are discontented with the life they live and want to bring about change.
This book shares with you a complete personal goal setting system giving you a structured systematic step by step process that will enable you to set goals and go on to achieve them. It provides you with a goal setting system to achieve your goals and keeps you focused in the right places until you do.
After almost a year of formatting and editing, and over two years' worth of writing, I'm thrilled to say at last it's ready to help you to transform your life.
Through this book I introduce you to Trevor, a man who thought his life was perfect until one day everything came crashing down around him. Now broke, without his home and finding himself recently widowed, the book will show you the process used to enable Trevor to get his life back on track by using goals and The Single Page Plan.
Each chapter of The Single Page Plan focuses on Trevor going through a coaching session where he sets about creating his single page plan for life. Through the power of the process provided by the Single Page Plan he follows the step by step process and produces a plan that is on a single sheet of paper which shows him what he needs to change to bring about the biggest improvement in his life; it includes his bucket lists of the things he wants to do, be and have; a big breakthrough goal to be achieved in the next 365 days and the 4 smaller goals he has to complete to bring this about. Also his compelling reasons, the ones that excite him, reminding him at a glance why these goals are so important. Every day he needs to take action and his plan reminds him of all the high valued activities he needs to concentrate on to achieve his goals. You can now have exactly the same.
Each chapter provides you with not only Trevor's Single Page Plan example but also many tips, questions, instructions and techniques which will enable you to complete your very own Single Page Plan and be able to provide you with an amazing goal setting strategy for yourself.
You will be able to utilise The Single Page Plan to set and achieve goals that will stretch and challenge you while you benefit from the energy, focus and satisfaction of knowing you have the perfect life plan to bring you both success and happiness.
You will transform your life through having a single sheet of paper that will clarify exactly what you want to be, do and have; it will provide you with the priority actions you have to take to achieve your goals, and constantly remind you of the things you want to change, the goals you want to achieve and the core reasons you want them.
You will acquire at long last a proven goal system that's easy-to-understand and easy-to-use, yet is so powerful and it will support you in achieving phenomenal change. Once you have completed your Single Page Plan you will have a blueprint for the rest of your life. You know where you want your life to go, you have the goals to help you get there and a plan to follow to make it happen.
It will enable you to create a life plan, and all you now need to do is allow it to direct your life. It only takes about a minute to overview it each day and this reminds you of what it is you want, why you want it and how to get it.
Let it transform your life!
"Write down your goals, make plans to achieve them, and work on your plans every single day." Brian Tracy
To me, this is the core message of the Single Page Plan. It is a process and a place to capture your best thinking about the changes you want to make in your life, and it provides the necessary ingredients to bring these changes about.
Review copies are now available on request in PDF format. If you have any questions about the enclosed information, wish to receive a review copy, or would like to set up an interview, please e-mail your request to larry@singlepageplan.com. I also invite you to visit Amazon to purchase the book here.
I have also set up a website totally supporting you in your effort to not just create your own Single page plan, but to help you in achieving all of your goals. You will find it at the Single Page Plan.
Thank you in advance for your interest.
Respectfully,
Larry Lewis
Score Your Way To Good Health - With Our Healthy Lifestyle Plan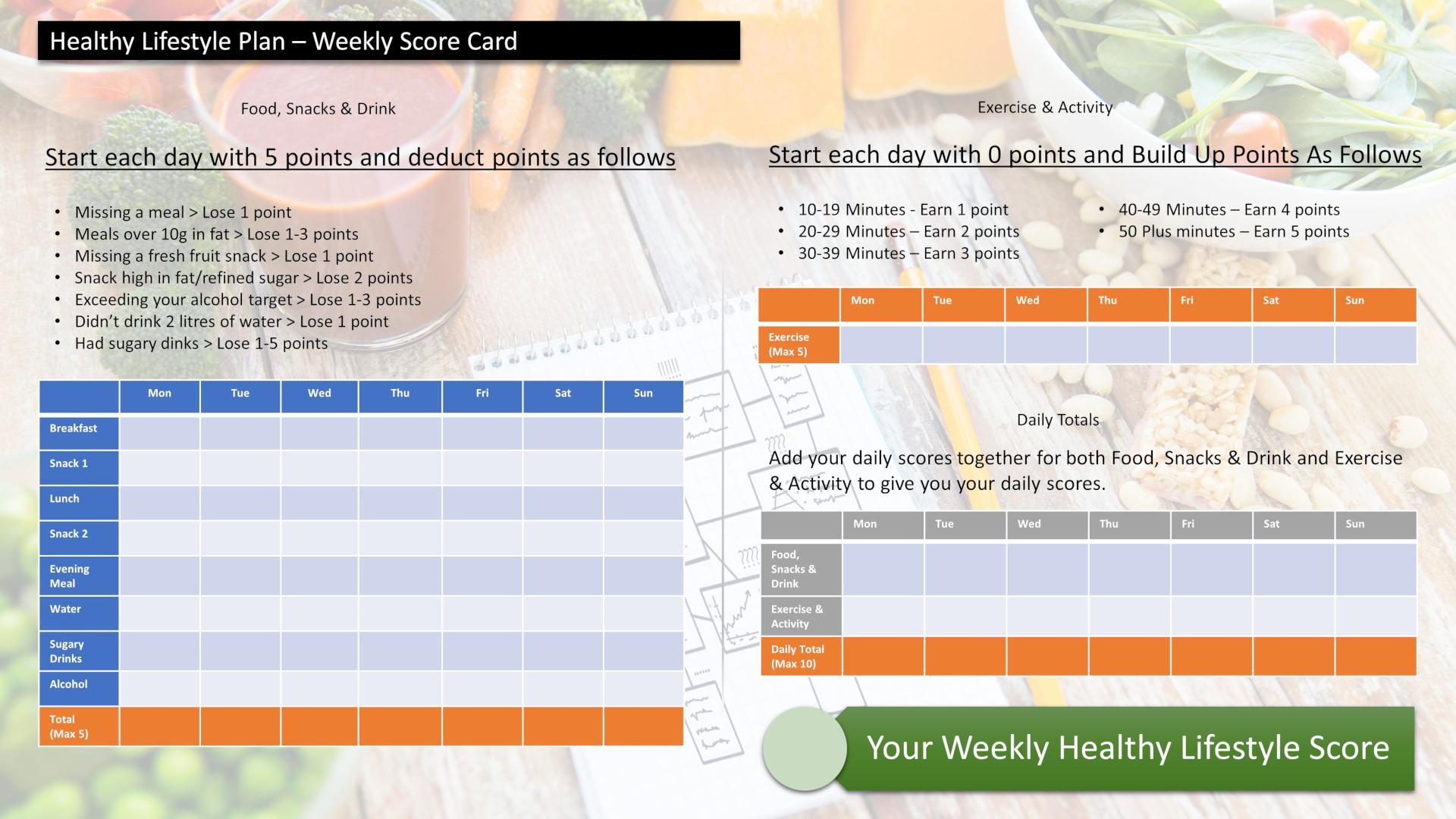 Score your way to good health with our healthy lifestyle plan and it's unique 70 point weekly scorecard!