I am 100% confident that every one of you reading this article has heard the phrase 'Work-Life Balance.'
Let me just confirm what this means.
My favourite definition is from About.com which states:
"Work-life balance is a concept that supports the efforts of employees to split their time and energy between work and the other important aspects of their lives. Work-life balance is a daily effort to make time for family, friends, community participation, spirituality, personal growth, self care, and other personal activities, in addition to the demands of the workplace. "
Alas it seems that a majority of you struggle to create the perfect balance, and spend a disproportionate amount of your time working.
It seems to you that you can't avoid this unbalance in your life. The bills need paying and your job requires you to put in these crazy hours. I've heard so many times people say how great a good work life balance would be in a 'perfect' world but today's economic climate is anything but, so the pressures are enormous and that's why our lives are out of balance.
All of which I really do understand. I doubt there are many who put in longer hours than me and my business partner. Today is a perfect example, we'll be in the office till midnight. We started at 9am.
But one thing I know is that you cannot get the full benefit out of life when things are out of balance. Focusing some of your effort and time on ensuring you strike a better balance will in fact provide you with so many benefits, both on a personal level as well as a business one.
You need to realise that working yourself into an early grave, or at least down the road of exhaustion and ill health just isn't the sensible thing to do.
You need to start helping yourself to find the time, or more specifically make the time for the joys of life.
I know I've admitted to working long hours. At least in the first place I'm doing a job I absolutely love. But also I make the time for rest, relaxation and family. So this week I'm putting in 4 hard and long days, then I'm taking Friday through Sunday off, staying in a hotel with an awesome gym for me to work out, and that's only 15 minutes from both my parents and daughter, so I'll be able to spend lots of time with them. A few good meals particularly if Rachel remembers the name of a rather wonderful wine we had the last time we stayed there will be a nice way to further spoil ourselves. You see in my mind, put in the time and effort, and take it out to, you get the right balance.
I don't believe that you have to spread your time equally throughout the week every week. I know my business is way too important for me to keep dropping everything I'm doing to just get away, but I also know I'm way to important not to give myself time for that much needed rest and relaxation.
I believe we can always find time to do those things that are important. I'm now playing badminton twice a week, and going to the gym daily. I want to do both, in fact I know I need to do both, so I make the time. When I return to my desk I am refocused and energised.
Today let me make things simple for you. If you want to establish a work-life balance it doesn't have to be that hard. It is also easy to tell if you've been successful. If you feel you are achieving a lot and at the same time enjoying life as well as feeling great and healthy then you can probably say you've got a balanced life.
Remember – life is a marathon, not a 100-meter dash! Pace yourself. Thank you to @FrancisYong for that quote.
Whatever you can't complete today, there's always tomorrow.
Score Your Way To Good Health - With Our Healthy Lifestyle Plan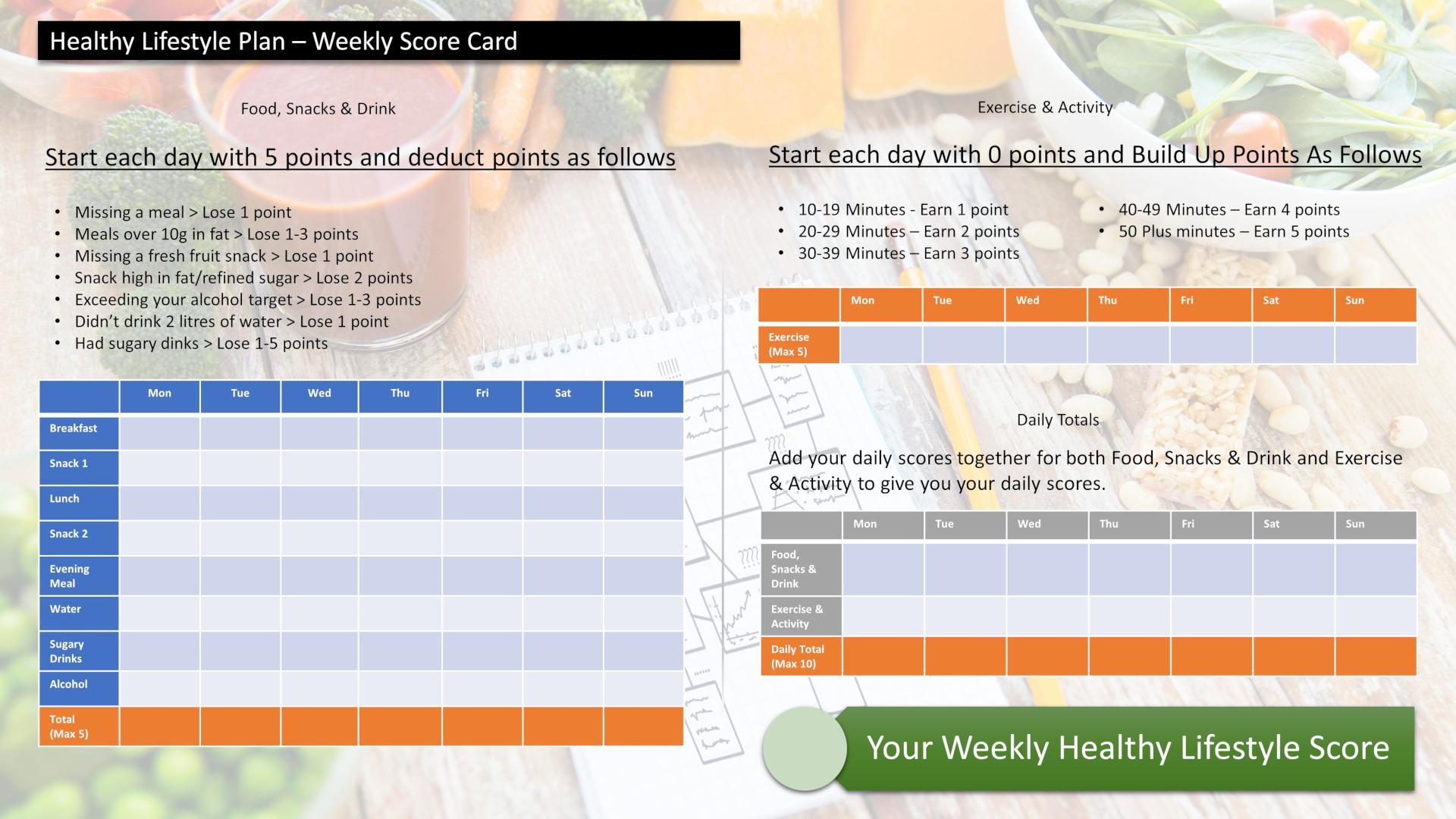 Score your way to good health with our healthy lifestyle plan and it's unique 70 point weekly scorecard!