Today I am paying honor to my daughter the nurse, who has transformed her life totally, and was driven by the passion and determination to achieve her calling.
The founder of modern nursing Florence Nightingale, perhaps the most famous nurse in history said:
"So never lose an opportunity of urging a practical beginning, however small, for it is wonderful how often in such matters the mustard-seed germinates and roots itself." Florence Nightingale
This reminded me of the mustard seed of an idea that kept growing in my daughter's mind while her grandmother, my mum, was in a type of coma in hospital for over 3 months before eventually passing away. Seeing the skills and care of many of the wonderful nurses, my daughter, Carly started thinking to herself that she could see this as being her calling. In a very short space of time, she returned to London where she was living, and made the decision that she wanted above all else to become a nurse. She refused to allow any obstacles stand in her way and began the journey that would eventually lead to the news she shared with her family last week.
Way back in August 2014 I wrote an article titled The Turning Point for My Daughter written in celebration of her receiving a place at University to study Nursing where I said;
"Enjoy your university time and your journey to nursing. I know you're going to be brilliant. And your grandma Paula will be so proud! You have overcome so much adversity and turmoil in your young life, please realise what a remarkable achievement you have made."
Now three years later, having virtually completed her three-year nursing course at Canterbury Christ Church University, having put in many hours on placement at various hospital departments and medical center's, and having her dissertation marked, she can now confirm she's qualified and from September will begin her full-time career as a nurse.
Have no doubts as her Father I am so incredibly proud.
"A person can succeed at almost anything for which they have unlimited enthusiasm." Charles M. Schwab.
She is an example to all of us. Proof that if you are fearless in the pursuit of what sets your soul on fire then you will find the energy, determination, desire and guts to succeed. She showed all those traits and proved nothing is beyond you if you have a passion and feel the calling towards something important.
What a challenging and difficult journey it has been for her. Yet she accomplished everything she set out to do driven by the desire of her heart to help and heal people. Well now she's done it.
"Nothing great in the world has been accomplished without passion." Georg Wilhelm Friedrich Hegel.
Every person has passion. Whether it's passion about business, family, reading, or your favorite sports team you are have passion. Your passion is the x-factor to success.
I strongly believe in the quote "Do it with passion, or don't do it at all."
It is passion that makes a person not accept the status quo. It is passion that makes someone not want to be mediocre.
Life is a journey and there are many journeys in one's life. If you take each with passion then you won't go far wrong.
For my daughter it was her caring, compassion, and empathy that made her a natural to become a professional nurse. Caring is at the heart of nursing and is fueled by genuine passion.
Being a nurse is like no other career in the world. The dynamics of the job are endless, as well as the trials and the rewards. Her three years of study's have transformed her into a confident young lady. She seems to have made many lifelong friends and has also experienced the very best and very worst moments that the nursing profession can deliver. There have been hard days but nothing has lost her desire to care for others and make the difference. She really does care about the people she serves.
Yes, nursing is a career, but for my daughter it is also a passion. My hat goes off to my youngest child with great pride – she is an unsung hero.
Another of my favorite quotes from Mother Teresa is this one:
"At the moment of death we will not be judged according to the number of good deeds we have done or by the diplomas we have received in our lifetime. We will be judged according to the love we have put into our work."Mother Teresa
Well Carly soon you will have that diploma, and bring a tear to your dad's eye when he sees you receive it at your graduation, and I have no doubts you'll always put love into your work.
Let me share this Nurses Prayer that I think will reflect my daughter's nature and passion to make the difference:
Let me dedicate my life today
To the care of those
Who come my way
Let me touch each one
With healing hand
And the gentle art
For which I stand
And then tonight
When day is done
O let me rest in peace
If I helped just one …
I have no doubt Carly will touch the souls of many a patient in the future and will be not just the pride of her father but of the profession in which she serves.
To the rest of you, be fearless in the pursuit of what sets your soul on fire. Go find your passion.
Score Your Way To Good Health - With Our Healthy Lifestyle Plan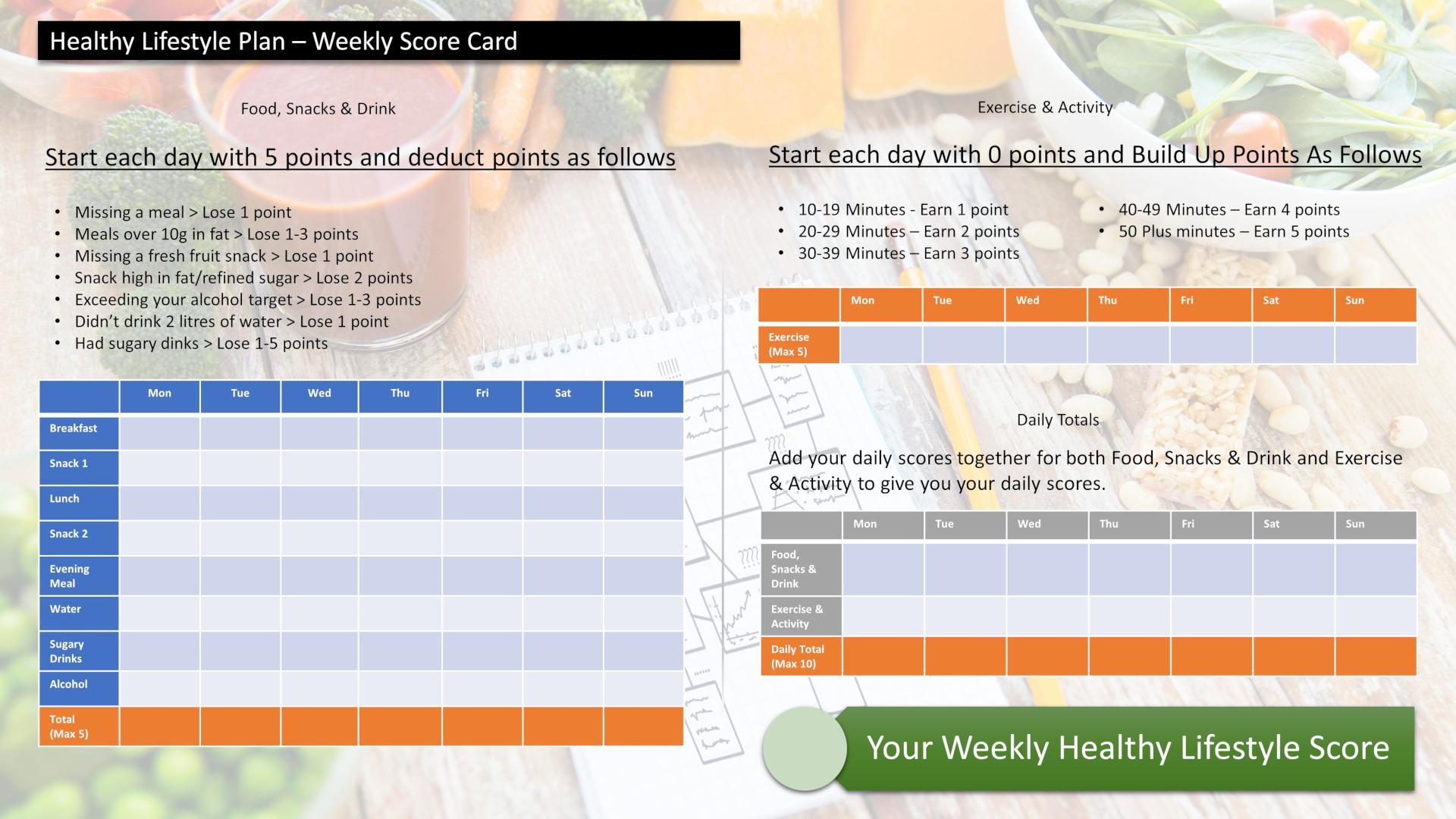 Score your way to good health with our healthy lifestyle plan and it's unique 70 point weekly scorecard!