The G.I. Diet concentrates on the Glycemic Index, which is how quickly the body digests foods to produce glucose. The Glycemic Index gives a rating to each food, from 0-100. You want to avoid foods with a high index rating, as those are digested quickly and leave you feeling unsatisfied following a meal or snack.In just 30 pages this book introduces the concept of a low GI diet and the scientific reasoning behind it. It contains a pretty thorough introduction to the nutritional basis of the diet. GI diets emphasise that the major problem is not counting calories but understanding how different foods are broken down and either converted into fuel for your body or stored as fat against leaner times ahead. It's a natural process – the trick is to burn fuel rather than lay down fat.  Watching the GI of the foods you eat is far more effective and certainly far more sustainable than simply counting calories (which usually leaves you feeling hungry … and then guilty when you succumb to temptation).
Last month I bought to you the Body for Life programme which combines both an exercise and diet plan. It is my belief that it is essential to not just go on a diet, but to also introduce an exercise programme.Having said that, there are many of the principles of the Gi diet that I believe in, so here I introduce a book written about this diet.
The Book
This book introduces you to the glycaemic index diet. The Glycaemic index (Gi) is based on the effect a carbohydrate food has on our blood sugar levels. Low Gi foods release sugar slowly into the blood stream, providing us with a steady supply of energy. This helps us feel fuller for longer, reducing cravings and eating these filling, low Gi foods makes it easier to reduce our calorie intake without hunger, boosting weight loss painlessly! Low Gi foods are also important for managing diseases, such as diabetes where controlling blood sugar levels is essential.
When following the GI diet you should aim to include more foods with a low glycemic index in your diet. Your body will digest these foods slowly leaving you feeling full for longer and allowing you to eat less calories without feeling hungry. Adding a low GI food to a meal will lower the glycemic index of the whole meal. The G.I. Diet (Glycemic Index) is the truly simple, healthy way to lose weight without going hungry. This is how you will eat for the rest of your life.
A summary
But what makes this book special from all the other GI books, is the recipes. There are well over one hundred recipes in this book, and like the recipes in his TV programme, they are really imaginative and tasty, managing to balance healthy eating with great taste. Many are recipes that you might normally cook, just adapted to create a lower GI value. There is a stimulating range of recipes on offer – from main courses to sweets, soups to fish, fowl, and meat, from breakfast to evening repast.
This book emphasises the need to adopt a more healthy lifestyle rather than see yourself as on a diet. This is definitely about lifestyle and the acquisition of lifelong, good eating habits.  This book will help you to, learn healthy eating habits, and adopt a balanced diet which provides your body with the fuel and nutrition it needs yet does not leave you feeling hungry.
The value of this book is in its ability to stimulate your imagination and motivate you to think lifestyle, think choice, think experiment, think plan ahead, and learn good shopping and food preparation habits. Don't think diet and hunger! Be positive! Visualise yourself enjoying healthy eating, enjoying filling meals, enjoying the experience of pounds easing off, enjoying the feeling of being fitter and healthier, more vital, more energetic.
Lifestyle and health are about learning good habits and developing the self-confidence to take control of your life. This book offers an excellent stimulus and a good value product which should encourage you and help get you focussed.
Conclusion
The GI diet is a realistic and sensible weight loss programme and I have no hesitation in recommending it to those who want to be more healthy generally, or to those who wish to lose weight. However, in order for the GI diet to be truly successful it should be followed in combination with a regular exercise routine and you should also cut down on the quantities of fats you consume.
Score Your Way To Good Health - With Our Healthy Lifestyle Plan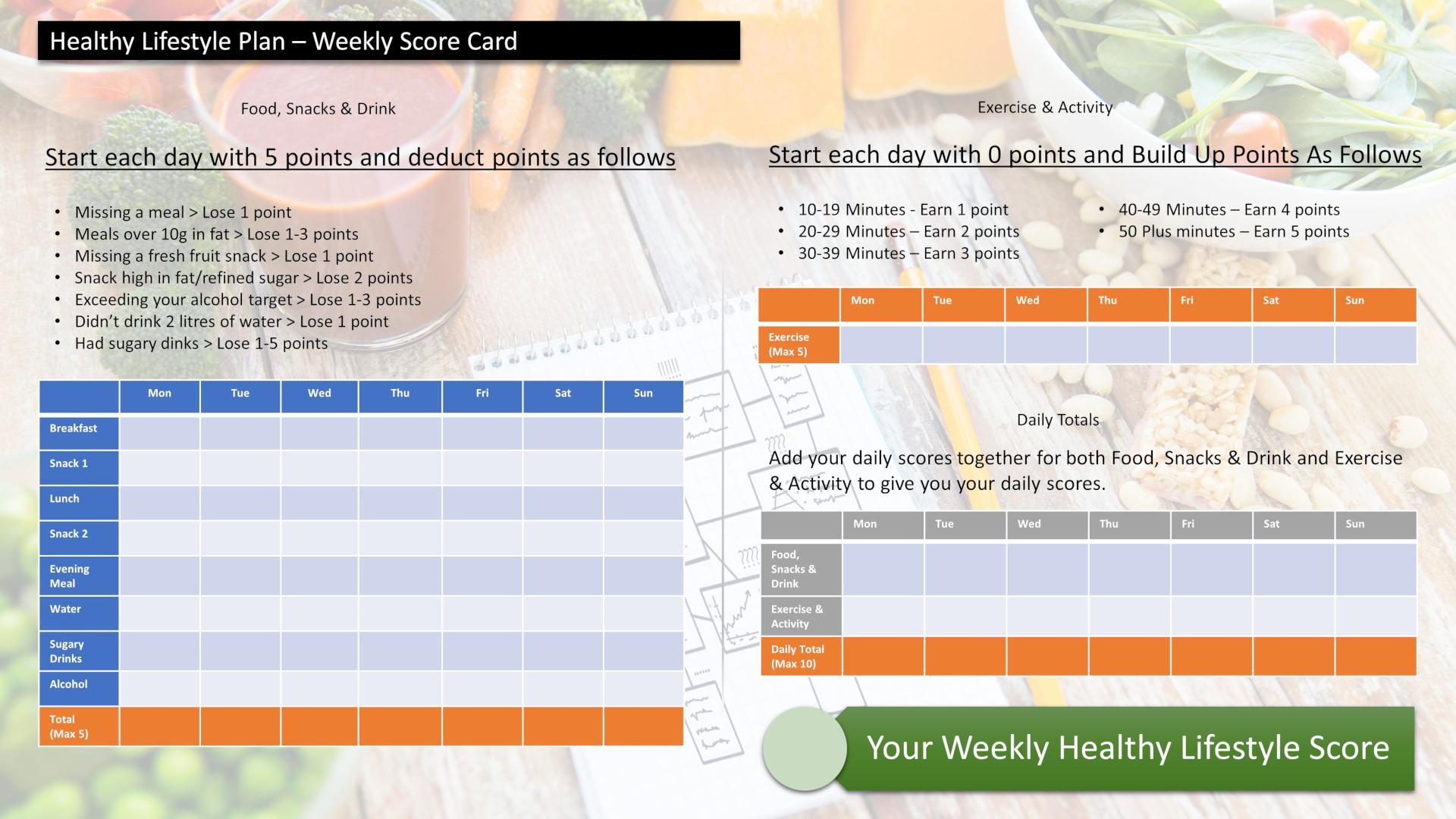 Score your way to good health with our healthy lifestyle plan and it's unique 70 point weekly scorecard!